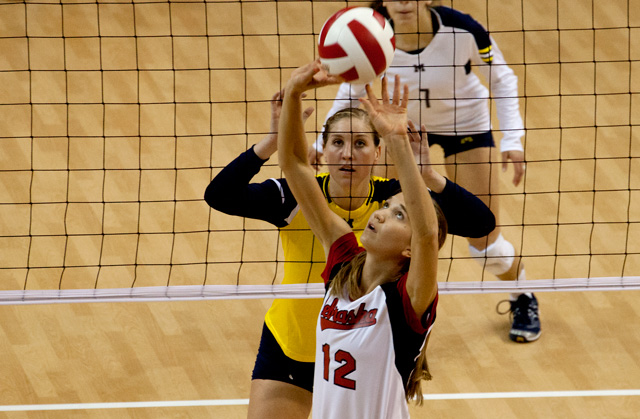 For the ninth straight game, the Nebraska volleyball team was victorious over its opponent; this time, it was No. 25 Illinois. The Huskers took the Illini 3-0 for their second straight sweep, dominating 25-16, 25-23, 25-16.
The win, which brought NU to a 17-2 (9-1) record and dropped Illinois to 10-10 (4-6), might as well have been a metaphor for the season thus far: starting off strong, hitting a few road bumps and finishing stronger.
"The Huskers did a good job today," NU coach John Cook said in a radio interview after the match. "They came focused and I thought we executed our game plan about as well as we have all year."
Nebraska seemed in control for the majority of the match, excluding the latter part of the second set, relying heavily on serving to take Illinois out of their game.
"We've been serving well, and we knew we could stress them, we just kept telling (our players), 'Attack with your serve and stress them' because (they've) got some big hitters that are tough for us to deal with," Cook said.
Morgan Broekhuis was a star in the match, accounting for the team's three service aces. She also dominated the court 10 kills, six assists and 1.5 blocks.
"I thought Morgan was really solid tonight," Cook said. "She got really tough sets out of her system and just really managed the game well."
Gina Mancuso also put up big numbers, especially in the first two sets with nine kills and a hitting percentage of .318. She was the catalyst for the Husker offense and dug the team out of a 6-11 hole in the second set with two kills out of three rallies, pushing the momentum back in the Husker direction. Hannah Werth had another huge night as well, recording 18 of Nebraska's 40 digs, and accounted for eight of the team's 41 kills on the night.
"Hannah was really good defensively," Cook said. "I thought our whole defense today did really well."
For the Illini, the match was the same old song and dance Illini coach Kevin Hambly said it's time for them to try and pick up the pieces.
"We usually struggle early on in the season, and then pick it up and finish strong, and that's what we're on pace for again this year." Hambly told ESPN. "The goal is to continue to get better as a team. We need to get above .500."
For the Huskers, the road ahead will be a true test. A matchup against No. 1 Penn State next Sunday in Lincoln is looming ever more important for the Big Ten title, but they will have to get through No. 20 Ohio State first.
"Husker nation should be fired up for this week, especially for Penn State," Cook said. "We've got Ohio State, but we know we're chasing Penn State. We gotta take care of business and get ready for great effort every night out."
sports@dailynebraskan.com