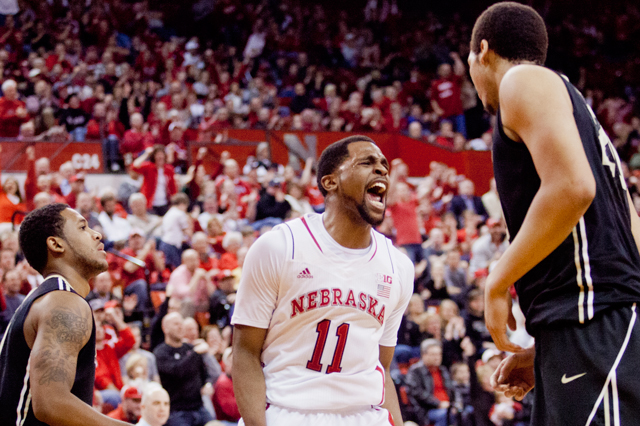 A pair of youngsters led the Nebraska basketball team on Wednesday night.
Freshman Shavon Shields and sophomore walk-on Jordan Tyrance paved the way on the offensive end for the Huskers in a 65-56 loss to Purdue. The two players combined for 28 points and 15 rebounds against the Boilermakers – something Nebraska coach Tim Miles is not happy about.
"When a non-scholarship guy, Jordan Tyrance, and a freshman have half of your points and almost half of your rebounds, it's going to be a long night," Miles said.
The coach said he needs to see more production out of his starting lineup than he got on Wednesday, but he was pleased with the way Shields and Tyrance picked up the slack for their struggling teammates.
Tyrance, in particular, gave the Huskers some life they desperately needed late in the first half and into the second, according to Miles.
"Jordan really sparked us," Miles said. "He did a good job flying around. He played with no fear just to help the team, and I thought he really did a nice job."
Tyrance, a walk-on guard out of Lincoln Southwest High School, nearly doubled his minutes on the season with 21 against Purdue. He had 22 minutes coming into the game and hadn't scored a point on the season. Miles said after the game the hometown kid will be rewarded for the way he has played in recent games.
"I thought he did a pretty good job at Michigan State too, so he is going to earn some more playing time," Miles said. "He has some inconsistencies, but I thought he had a really good night for us."
Tyrance's strong outing came as a surprise to many in the stands on Wednesday, but among his teammates, his performance was not nothing new.
"I knew he has been practicing well and going hard and everything," Shields said of his teammate. "This morning at walk-through, I told him that he was going to have a good game tonight, and he did."
Shields had a good game in his own right. The sophomore led the team with 18 points, taking advantage of some open looks.
"I was just hitting shots," he said. "I hit two threes early, and that kind of got me going. They were keying in on Ray (Gallegos) and Dylan (Talley), so when they key in on those guys, that opens things up for me to be more aggressive."
Shields has taken over a starting role for the Huskers in recent weeks with the loss of senior Brandon Ubel to injury. Shields is finally healthy after dealing with his own set of health problems early in the year.
"He got hurt right away, and now he is finally getting to practice on a regular basis," Miles said. "He finally feels like he is a normal, healthy human being. It was one thing after another for him for a while, but I think you saw tonight what he can do, and he can do it consistently for us."
Miles has high hopes for the freshman. He has the forward playing right away and expects him to get better with age.
"I think Shavon has a chance to be a really good player," Miles said. "He's really intelligent, smart about the game. He knows what it takes to be successful, and it really matters to him, but he is a freshman."
Shields said after Wednesday's game he feels like he is already a leader on the team, but he still takes a back seat to the older guys.
"I listen to Ubel and Dylan with everything that they say, but when I see something, I'll speak up," Shields said. "That's pretty much what it is. When I see something, I'll speak up, but it's usually Ubel or Dylan doing the talking."
Nebraska may rely on a few young players to keep the ship afloat this season.
sports@dailynebraskan.com