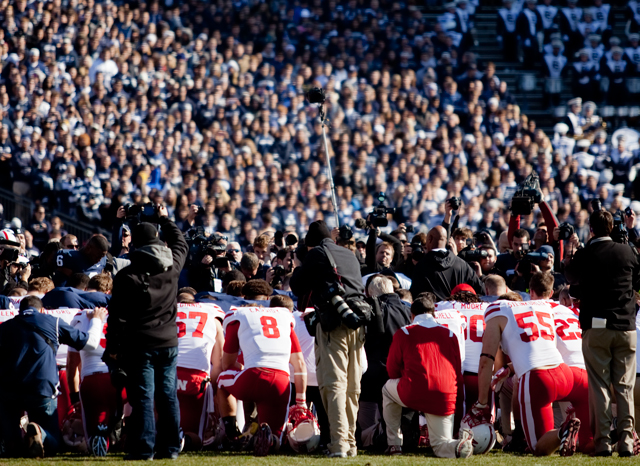 Two years ago, on the Friday before Nebraska played at Penn State in the wake of the Jerry Sandusky scandal, Nebraska running backs coach Ron Brown was in his hotel room discussing how he and the Huskers could show solidarity with a Penn State campus ministry member.
The original plan was to take a few players from each team, meet in the back of the end zone and hold a pregame prayer, Brown said. Instead, administrations from both universities agreed to include every player from each team.
Nebraska coach Bo Pelini, who after the game said he was hesitant to follow through with playing, said he hoped the moment, which went much further than a pregame prayer, would shine a light on what was really important, he said.
"No one wants to be a part of something like that," Pelini said. "That was a crazy week for us, but I can't imagine what they went through that week. Obviously it was unfortunate. I think that's one of the powers of sports. You saw two different schools and teams come together and fan bases that came to understand that day what the big picture was. There was a much bigger picture than that football game that day."
Brown said he heard from a number of people from Penn State and throughout the country who were appreciative that he led the pregame prayer.
Two years later, Nebraska will head to Penn State to play the Nittany Lions on Saturday in what will be a much different atmosphere.
Plus, Penn State's stadium, Beaver Stadium, holds more than 107,000 people – the second-largest college football stadium in the nation.
Nebraska, though, has experience playing in front of large crowds, as the Huskers beat Michigan in the largest college football stadium in the country earlier this season.
"I think I'm ready for it," freshman quarterback Tommy Armstrong Jr. said about the Penn State atmosphere. "Michigan was loud, but at the same time, I know how to key into the game and stay focused on what I'm doing. I need to communicate with my offensive line and my receivers, but I feel like it's going to be a great game, and I think we're going to do well."
Neither Nebraska nor Penn State will be fighting to stay in the Big Ten Conference title race, but that's not going to keep players from showing up Saturday, Brown said.
"Neither one of us are in a situation to win a conference title," Brown said. "But we are playing for a lot. There's a lot at stake. You can bet both teams will be laying it on the line."
Though Penn State has lost four games this season, senior offensive lineman Brent Qvale said he still has a lot of respect for the Nittany Lions.
"They play hard," he said. "They are well-coached. They are a bunch of tough guys. I think the respect comes from how they've been over the past years. They are always a solid team. When you think of Penn State, you think of football. It comes with playing up, especially at their place at a storied university. You got to have respect for the game because it is a really humbling game, as we found out earlier on Saturday, too."
sports@dailynebraskan.com