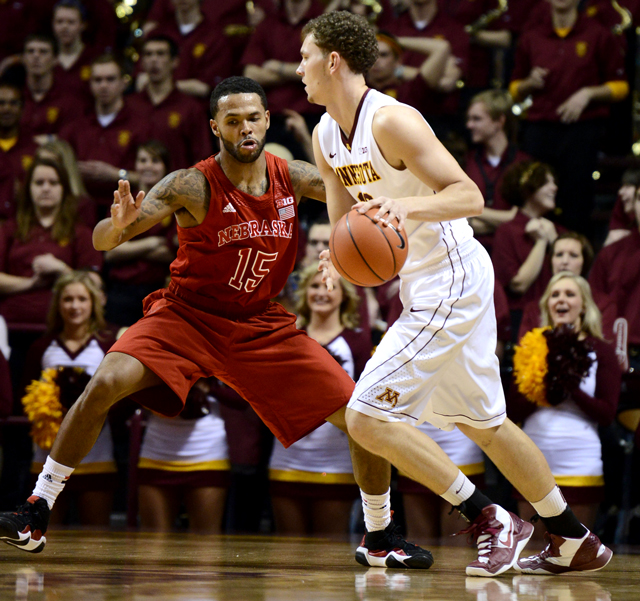 But before he could make a move, Minnesota forward Rodney Williams reached in an took the ball out of Parker's hands. In one swift move, Williams grabbed the steal and threw down an emphatic dunk, igniting the Williams Arena crowd.
It was that kind of night for the Huskers. From the get go, Nebraska struggled to keep the Gophers out of the paint and off the rim en route to an 84-65 loss. In fact, Minnesota threw down six dunks in the first half alone.
"Before the game, coach put in a couple new plays, and we were able to put them to work for a few dunks and layups," Williams said in a postgame radio interview.
For the Huskers, it was Ray Gallegos that kept them in the game in the first half. The junior guard went 8-10 from the field before halftime, scoring 20 points and taking command of the Husker attack on a handful of possessions.
"Ray was super," Nebraska coach Tim Miles said on the Husker Sports Network postgame radio show. "If it wasn't for Ray... finish this sentence right? He was just in rhythm and really smooth. I felt like we just couldn't do enough to get the ball to him."
Gallegos was answered and then some by Williams and the Gophers. Williams alone scored 23 points and picked up 7 rebounds to lead the team.
"I'm glad to see him come out of his shell, and then play the way he did," Minnesota coach Tubby Smith said in a postgame TV interview with the Big Ten Network. "We needed that."
In the second half, Gallegos cooled off a bit, leaving the Huskers without a consistent source of offense. Shavon Shields and Brandon Ubel did their best to keep the team above water, scoring 13 and 10 points respectively, but it wasn't enough without Gallegos knocking in as many 3-pointers.
Beyond Gallegos, Shields and Ubel, Nebraska didn't get much help from the rest of its roster. Miles said after the game that it is going to take time for Nebraska to build the depth it needs.
"We had some freshman that played like freshman," the coach said. "Shavon had a few mis-cues that he missed out there, and our young guys did some good things, but they are young."
The Huskers knew coming into the game it would be a struggle to keep up with Minnesota on the glass. Miles expressed concern about the Huskers lack of size and presence inside earlier this week, and his fears turned out to be justified. Nebraska was out-rebounded 34-17 on the night.
"Some of it is that they have some length and athleticism that we don't have, and that will be fixed in the recruiting process, but part of that is you just have to do your job," Miles said.
Minnesota, losers of their last four games prior to Tuesday, had a chip on their shoulder against the Huskers. Williams said negativity had surrounded the Gophers earlier in the week, but they fought through it.
"After losing four games in a row, it's hard to keep your confidence up, but we preach," he said.
Up next for the Huskers is a pair of home games against Ohio State and Penn State. The Huskers take on the Buckeyes Saturday in their next contest.
"There is another ranked team," Miles said of the Buckeyes. "I imagine we will play much better than we did tonight. They are doing the same things they always do, so we will have to handle them better than we did the last time we met."
sports@
dailynebraskan.com