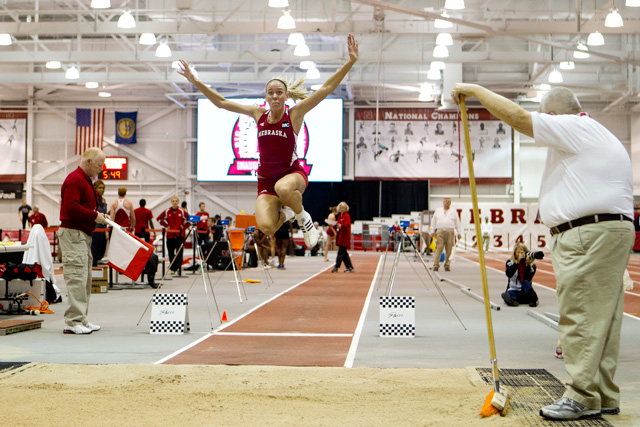 Anna Weigandt's success has been a long time in the making, and she doesn't want that to stop this year.
The junior triple and long jumper for the Nebraska women's track and field team initially got off to a slow start for the Huskers. She had to redshirt her freshman year due because of a shoulder injury that kept her from even being able to practice most of the season.
While Weigandt said she wishes she could have had a normal first year and had more time to practice, she said she feels like she is now starting to regain her confidence.
"I kind of had to go that next freshman year to really build myself up," Weigandt said. "It was kind of a shaky year. And then last year was the second year after that, and I think it was when I was finally able to get back into things."
Nebraska coach Gary Pepin said it was that setback that has made Weigandt into an even better jumper and allowed her more time to grow.
"She's gotten better every year in most all aspects of her event and I think she has continued to grow and improve this year," Pepin said. "I think she's better than where she was at this same time a year ago."
Weigandt's confidence in her performance reached a high last year when she earned the title of Big Ten Outdoor Champion for the triple jump and later ended up qualifying for the NCAA Championships in the same event. Weigandt ended up finishing 18th at NCAAs with a jump of 42-0 1/2 to earn All-American Honorable Mention.
While Weigandt said she generally prefers the outdoor season to indoor, that doesn't mean she isn't coming into this indoor season motivated to do just as well. She said while she often feels she is better prepared and more in shape for the outdoor season, she is hoping to have similar success in this indoor season by winning the Big Ten Indoor Championships for the triple jump as well as qualify for nationals.
Her success will be critical for a Nebraska team that is looking to repeat as Big Ten Indoor Champions.
"As a team I think we're looking really good we definitely have the conference championships in our minds," Weigandt said. "It's kind of far off, but I think we are making the right adjustments and preparing well for it."
While track and field may partially be an individual sport, part of Weigandt's success has come from these teammates, especially senior jumper Mara Griva. With the combination of Weigandt and Griva, both were able to lead the Huskers in the jumps category last season. Weigandt was the Big Ten Champion for the triple jump in the outdoor season and Griva was the champion in the indoor season last year. By having a teammate that has been right there with her, Weigandt said that the competition between them has pushed her to be better.
"It's friendly, and it's all nice, but I think it helps us so much in how we do, and I think having her here has definitely helped me into a better jumper competitive-wise," Weigandt said.
The combination of Weigandt and Griva, along with sophomore Ellie Ewere, will allow all three jumpers to push each other, Pepin said.
Pepin said he sees the hard work that Weigandt has put in is paying off, and will continue to in the future as her confidence continues to grow.
"I hope that she continues to improve in her event and that she comes as close as she can to maximizing out her natural abilities," Pepin said.
sports@dailynebraskan.com