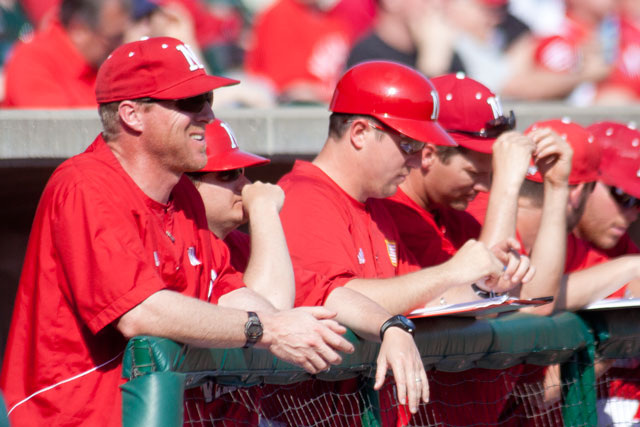 It's been a rough seven road-game stretch to start the season for the Nebraska baseball team, but the team is hoping a few home games this weekend will change that.
After beginning the season with seven straight losses, the Huskers (0-7, 0-0 Big Ten) will host New Mexico for a three-game series this weekend at Haymarket Park.
Nebraska coach Darin Erstad said his team is eager to get back on to the field this weekend and open up its first home stand of the season.
"We took Monday off like we always do," the coach said. "And they came back Tuesday, and I didn't say a word. They're ready to rock and roll. They have good energy, taking care of the baseball and all signs are good."
On Thursday, the team announced that game's two and three will be moved up an hour because of predicted cold temperatures. Saturday's matchup will now begin at 1:05 p.m. and Sunday's game will start at 12:05 p.m.
Although it won't be the most comfortable weather to play in, Erstad said his team is well prepared for the weekend's chilly temperatures.
"We have heaters in the dugout, we got hand warmers, we got every thermal shirt you can possibly think of," Erstad said. "They're ready to roll."
Junior right-handed pitcher Brandon Pierce (0-2) will take the mound for Nebraska in game one Friday, while New Mexico will send out right-handed hurler A.J. Carman (1-0).
Pierce, who goes into the series with a 9.39 ERA, said he's shaken off his early struggles.
"You go out there and you try to fall back on the work you've put in and trust your stuff," he said. "I don't think any of us are going to take the mound and say we've got to go out do what we did last week. It's all about the process. It's all about finding a way to get guys out."
But don't read too deep into the losing record. Although the goose egg in the win column isn't anything to brag about, there was some solid baseball played by the team on their road trip, Erstad said.
Nebraska got a pair of quality starts against its old conference foe last weekend and the Husker defense has allowed just three errors (.988 fielding percentage) through seven games.
Erstad said if told prior to the season those statistics would result in seven losses, he wouldn't have believed it.
"I would've told you, you were crazy, he said.
Besides the 8-2 loss in the series opener against the then No. 25 Longhorns, Husker pitchers went on to allow just six runs the rest of the series, while striking out a total of 16 batters.
Although the starters fared better against Texas than any of its first opponents, they know they're dealing with a different squad this weekend, according to Pierce.
"New Mexico's a completely different team than Texas," the junior said. "Those starts in Texas were good to build off of but that's in the past, so it really doesn't matter."
It's been a frustrating start to the season, Pierce said.
"It's hard when all your hard work doesn't pay off and you're close in a lot of games," he said. "It can be cruel. But we have a veteran group of guys, and they understand that they're close. They know that this season is not lost, there's still a lot of baseball to be played."
Pierce agrees with his coach and said he plans on using the winless record as motivation in his start Friday.
"It's a long season," the right-handed hurler said. "0-7 won't matter in May if we're where we want to be."
sports@dailynebraskan.com