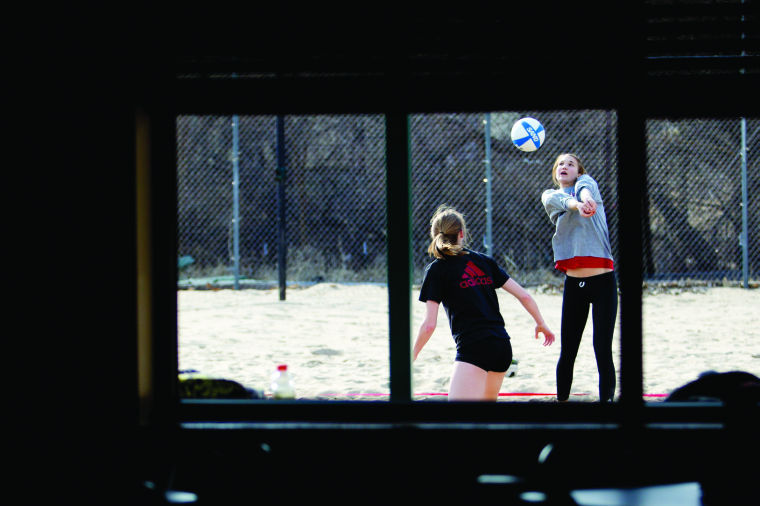 Nebraska has never competed nationally in sand volleyball, yet the Huskers are ranked No. 9 in the American Volleyball Coaches Association preseason poll.
"That's saying something for our program," junior Hayley Thramer said.
Thramer and the Nebraska sand volleyball team are in action for the first time in program history Thursday in Chula Vista, Calif. The Huskers will soon find out if a top indoor volleyball squad can hang with the best of the sand volleyball league, as the first opponents of Nebraska's inaugural sand season are No. 4 Florida State and No. 1 Pepperdine.
"We should have a pretty good shot at teams like that," assistant coach Dan Meske said. "Our one through five is fairly strong, and we feel pretty good at the top, but so do other teams."
Even though Nebraska is new to sand volleyball, Thursday's matches will be a bit of a reunion for the Huskers.
"I've always heard that Pepperdine is really good, and that'll be an exciting team to play since Lara Dykstra is out there now – an old teammate, so we'll see how it goes," Thramer said.
Dykstra played libero for Nebraska's indoor squad the past two years, but decided to leave the program and move closer to home in California to play for a beach volleyball program.
Other than knowing some of Dykstra's tendencies, Nebraska enters the season pretty cold, Meske said. Thramer also said she has not had the chance to watch any teams play, so she doesn't know exactly what to expect.
"I don't know because I haven't really seen any of the teams play necessarily," Thramer said. "I'll be able to answer (how Nebraska stands in the sand league) more after spring break."
Nebraska hasn't even had time to do any scouting, Meske said, but in order to have the team ready, Meske and staff have only been focusing on internal issues.
"We got sand volleyball so late that we just kind of focused on ourselves," Meske said. "Like when are we practicing, and what are we doing, just kind of getting ourselves organized. In the future we will end up scouting other teams. Right now we are going in pretty blind and hoping that we just do the best we can, and hopefully everything just takes care of itself."
One of the main transitions the sand volleyball team has faced is pairing its players.
"It's an interesting process," Menske said. "There's a few ways you can do it. Two players that do both things well, or you could do it with one big blocker with one defender, and you could have one person block the whole match. There are no rules against that. We've taken that into account, and we have a pretty good mix on our doubles teams."
Thramer is projected to play No. 2 with freshman Amber Rolfzen on Thursday because their playing styles mesh well, she said. While Thramer is a left side player, Amber is right. Plus both players are strong blockers and passers, Thramer said.
Nebraska is rare in the sand volleyball world, as the Huskers are the only program in the Midwest to hold an indoor and sand volleyball team, Thramer said. The transition, while difficult, has been fun, she said.
"It's something new, it's exciting, it's fresh," Thramer said. "Challenge-wise, yeah it's challenging, but that's a good thing. We're athletes; we're always up for a good challenge."
But there's a reason Nebraska is rare in this sense. The Huskers are at a clear disadvantage, Thramer said. They don't have the convenience of practicing outside on a consistent basis, as most of the league does.
"We've had experience with it, but we don't have any experience like the California girls have outside every single day," Thramer said.
How can Nebraska bridge the disadvantage gap?
"The thing that coach always says," Thramer explained, "is 'the great ones adjust.'"
sports@dailynebraskan.com