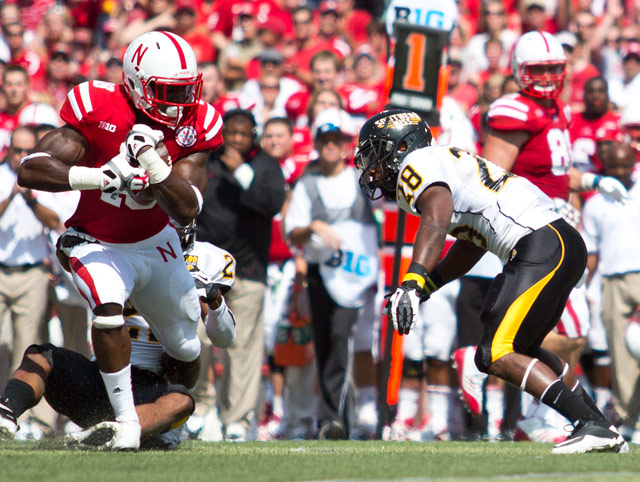 For the first time in Coach Bo Pelini's tenure at Nebraska, the Huskers will have permanent captains for the length of the season.
Permanent captains haven't been named at Nebraska since 2007. For the past several years, Pelini would name four captains to attend the coin-flip before each game, and then at the end of the season, players would vote for leaders at the end-of-the-season banquet.
Throughout the 2013 season, though, quarterback Taylor Martinez, receiver Quincy Enunwa, offensive lineman Spencer Long and defensive back Ciante Evans will be captains and senior leaders for Nebraska.
In 23 years with Nebraska, running backs coach Ron Brown has been around for both systems: season-long and game-to-game captains. He said Pelini had seriously considered naming captains to start the season for quite some time.
"I think, ideally, this is what we've always wanted, but we struggled when we first came here to find guys who had arrived at that point of being that kind of a leader," Brown said.
Now, on a team that returns 13 starters, including nine on offense, Pelini has decided the team has those types of leaders.
One is Enunwa, who will lead one of the most productive returning wide receiving corps in the Big Ten.
"I think we've kind of taken charge," Enunwa said. "When things aren't going the right way, we kind of call out the team, if it's necessary to get us back in gear, to get us going the right way. So the team knows there's a certain standard we're trying to keep and we're trying to help us out; help the team get to our final goal."
Or a surefire captain like Martinez ‑ who already has three years of leadership experience for the Huskers and holds team records such as the most touchdowns in a season, the most career touchdown passes and the most career total offense. With that type of experience and leadership, Martinez has been able to take charge of the offense more than ever, he said.
"I have a huge impact on the offense, if I don't like the play, I'll throw it out," Martinez said.
Brown said the players have adapted well to having season-long captains – even seniors who were not elected as captains.
Many players point out that just because someone wasn't named a captain doesn't mean he isn't a leader. In fact, the team is full of leaders, said Martinez, who noted that many of the experienced players have more freedom on the field this year.
"There are guys on this football team who may not be elected in certain capacities of leadership, and yet, they're still leaders," Brown said.
It's been like that for several years, Brown points out. During Tommie Fraizer's time at Nebraska in the 1990s, the quarterback and college football Hall of Famer was never elected as a permanent leader. Fraizer's personality and demeanor didn't complement the role of a captain, Brown said, but players definitely listened to him.
Just as players this season will listen to non-elected experienced players such as senior offensive lineman Jeremiah Sirles.
"At the same time we have a lot seniors, on the offensive side at least, that can go to anyone at any time," Sirles said. "We have been here for three or four years now."
Still, Sirles likes the idea of the senior captains.
"We have always said we wanted to have leaders, but now we have a face point, of someone whose face is there," he said. "They are the leader, and they are somebody that we can go up to and trust them."
sports@dailynebraskan.com