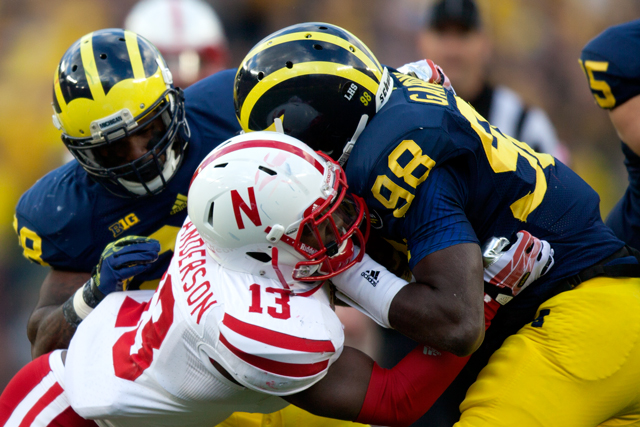 All of the sudden, Nebraska's young defense doesn't look so immature.
Instead of missing tackles and getting torched on the run, the Husker defense now looks poised and in control.
Good thing, too, because it's happening just as Nebraska's once-explosive offense is suffering a string of injuries, including offensive lineman Jeremiah Sirles' injury on Saturday against Michigan.
Nebraska coach Bo Pelini said Sirles will be out for a few weeks with a sprained MCL.
"We're a little bit undermanned," Pelini said. "We're shorthanded and we're beat up, but the character on that football team showed."
In Sirles' place, Zach Sterup came to the plate and took his turn.
"Sterup came in and made a statement," quarterback Tommy Armstrong Jr. said. "He was ready, and coach called his number."
Though junior running back Ameer Abdullah has continued to run through defenses, the Huskers have relied on their defenders to get the job done.
And they have during the past few weeks.
On Saturday, Nebraska held Michigan to -21 rushing yards and only 2.8 yards per play in the 17-13 win.
Defensive end Randy Gregory said, the defense hasn't made a ton of changes, but rather is better connected with the coaches' game plan and has had a boost of confidence from their success.
"When we put our mind to it, we can play how we want to play, and nobody can really move the ball on us," Gregory said. "I think we showed that this game."
Midway through the third quarter, Michigan had a chance to drive for back-to-back scores, which ultimately would have earned the Wolverines a dominant lead, as Nebraska's offense struggled to find momentum for much of the game.
Lined up on Michigan's 20-yard line in a 10-10 tie, the Wolverines looked to pierce the Huskers through the air. After all, Michigan had -10 rushing yards through the first half.
Michigan quarterback Devin Gardner stepped back and looked downfield. He didn't have much time to scope his options before Zaire Anderson stormed in for a sack.
Gardner bounced back, though, finding wide receiver Devin Funchess open for a short pass. Funchess steamed up field for 23 yards to the Michigan 38-yard line.
Michigan's Derrick Green then pushed forward for three yards.
But the Huskers kept the pressure heavy on Gardner, as Gregory swooped in for a sack and pressed Gardner to throw for an incompletion on third down before Michigan was forced to punt away.
"I could tell we were getting in his head," Gregory said. "Every now and then he'd be on the ground longer than he should be. Even after the game, you could tell he was just kind of out of it."
The Husker defense finished Saturday's game with 7 sacks and 15 tackles for a win against Michigan.
"A lot of situations that could have changed that football game, and guys rose to the occasion," Pelini said.
Now, while Nebraska was all but counted out of the Big Ten Legend's division after losing to Minnesota earlier in the season, the Huskers find themselves essentially playing for the Legends Division crown Saturday against Michigan State.
The goal now, Pelini said, is to find a way to produce on offense, as Nebraska faces off against one of the most efficient defenses in the nation.
Two months ago, Nebraska would have been more worried about the defense, not the offense.
sports@dailynebraskan.com