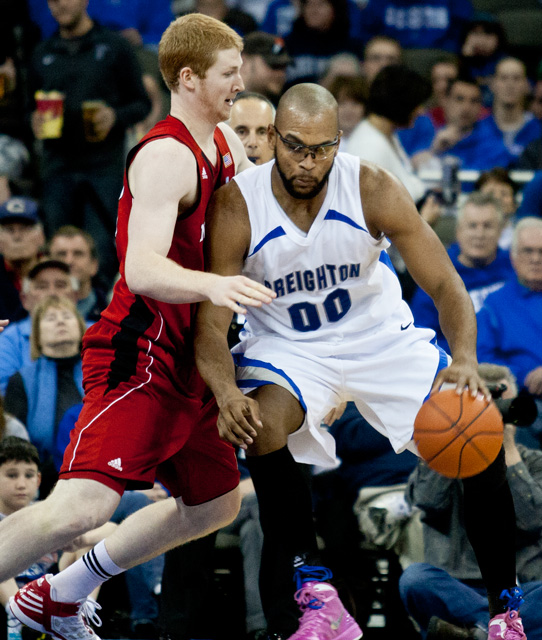 Nebraska men's basketball coach Tim Miles isn't shying away from the Creighton Blue Jays. In fact, he's embracing the in-state rivalry in his first season.
"Of course," he said of whether or not he looks at the game as a rivalry. "How could you not? They've got a marquee program right now, and we want to get to that level, and we are not there. But can we do it? Absolutely we can do it."
Miles released a video message earlier this week urging Husker fans to come out and pack the Bob Devaney Sports Center on Thursday. The coach wants the arena to be rocking for his first matchup with Creighton.
Nebraska comes into the game at 6-1 and has turned some heads with its improved play thus far. In fact, Nebraska is expecting a sell out for the game and encourages anybody who wishes to attend to get there as early as possible. Windows open at 5:30 p.m., for the 7:02 p.m. tip.
"The most important thing is we want to encourage fans to arrive early so they are in their seats for tipoff," Nebraska Executive Associate AD Marc Boehm said in a press release. "There is a lot of excitement for this matchup and we want to make sure that fans plan accordingly."
But despite the hype, Miles' team is still projected to finish at the bottom of the Big Ten by most outlets – something Miles said his team uses as motivation every day.
"We know what everyone expected," he said. "That hasn't changed. We're not picked any higher in the Big Ten. We just have to keep going out and proving to ourselves that we're not that team."
Creighton comes into Thursday's game ranked No. 16 in the AP poll and No. 13 in the USA Today Coaches Poll. The Blue Jays present Nebraska with its toughest challenge of the season, according to Miles, but also with their biggest opportunity.
"We know that it's an important game with an in-state rivalry," Miles said. "We know they are nationally ranked. They've got a great team, a team of a lifetime."
Creighton is led by forward Doug McDermott's 21.3 points per game and 7.1 rebounds per game. The six-foot, eight-inch junior was a Naismith Award finalist a season ago and is on the watch list for college basketball's top individual award this season as well.
Nebraska's big men haven't faced a player scoring as much as McDermott yet this season, but Husker forward Brandon Ubel said they have the pieces in place to slow him down. Ubel said he knows how to guard top big men from playing against them the last few seasons.
"It's always fun going against (Dewayne) Dedmon, McDermott and those guys," Ubel said. "I've played against (Jared) Sullinger, Cole Aldrich, the Morris twins, so I've kind of been through the gauntlet already."
Nebraska will counter Creighton with a trio of players scoring double digit points on the offensive end. Guards Dylan Talley, Ray Gallegos and forward Ubel, have been Nebraska's biggest threats thus far. Ubel said the team is coming along under Miles.
"We've been getting better every game," he said. "With the exception of Kent State, I think you've seen us take a step in the right direction. I think you'll see us take another step forward Thursday."
Ubel won't give any predictions for Thursday's game, but he seems confident going into the contest.
"It will be fun," he said. "A ranked opponent comes into your place, and you have an opportunity to beat them. That's big time for us, so hopefully we can pull it together and get the win."
sports@dailynebraskan.com