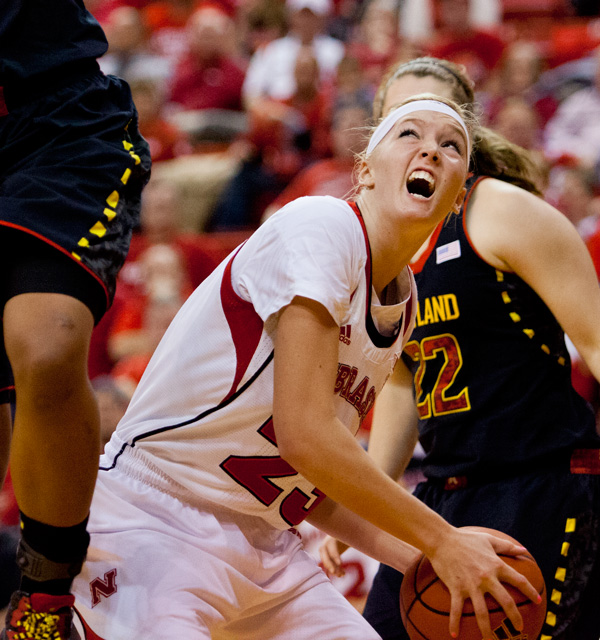 This year's Big Ten/ACC showdown showcased two of the strongest teams in their respective conferences Wednesday night at the Bob Devaney Sports Center, when No. 21 Nebraska hosted No. 11 Maryland. Attendance at the Bob Devaney Sports Center was the highest it's been all year and the match-up had everything set up for a 40-minute battle.
But the battle turned out to be no more than a skirmish, as Maryland came to Lincoln and showed Nebraska why it's an AP Top-5 preseason team, and beat the Huskers 90-71.
"There's a reason why they are a top 5 pick," Nebraska coach Connie Yori said of the 19-point loss, and added she doesn't think Nebraska will play a better team all year. "They have a legit chance to win a national championship."
In the first few minutes, the teams traded buckets until Maryland pushed out to a 17-13 lead. Trailing 19-16, senior Lindsey Moore took over the game, dishing out two straight assists to Emily Cady and Jordan Hooper to take the Huskers' first lead of the game. Then Moore nailed an open 3-pointer from the right wing, forcing Maryland to call a timeout, now down 23-21. Moore finished the half with eight points and five assists, leading the Nebraska charge.
"It was good to see we can hang around a good team like that," Moore said, who finished the game with a team-high 17 points.
But from there, Nebraska lost control of the game as Maryland's size and fast break efficiency took over in the final few minutes of the first half. Together, Chloe Pavlech and Laurin Mincy hit four straight 3-pointers on consecutive Maryland possessions, and eventually took Maryland into the half with a 9-point lead. Maryland shot 50 percent from the field in the first half, and was 5-for-9 from 3-point range.
After the half, things went downhill quickly for Nebraska. With just under 16 minutes remaining, freshman Rachel Theriot, who made the first start of her career last night, turned the ball over on the right wing, which lead to an Alyssa Thomas lay-up and foul. Thomas made the free throw, and extended the lead to 12. The Huskers wouldn't pull within 10 points for the remainder of the game.
"They had to adjust to us, and that's what we wanted them to do," Thomas said, who finished with a game-high 25 points and added 8 assists.
Thomas' dominance was a key factor for Maryland, and was a large problem for Nebraska.
"Thomas is one of the best, if not the best, player we'll face all year," Jordan Hooper said.
Thomas' presence was felt firsthand by Hooper, who was in Yori's words, covered like a blanket all game by the All-American forward. Hooper finished with 15 points and six rebounds, but was unable to get into a consistent rhythm all game long.
"She needs to continue to get better at moving without the ball," Yori said of Hooper. Yori also added she believes the team isn't as deep as it wants to be. Though Nebraska played 11 players, only six played more than 10 minutes.
The loss wasn't a big surprise to Yori.
"They're a really good team. They played well, made shots, they're well coached, they have a good player at every position," Yori said. "It's really not a big surprise we lost by 19. They're just better than us."
The loss is the Huskers' second of the year, and may very well drop the No. 21 team out of the AP poll.
"They're really good," Hooper said. "We knew they were a really good team, but at the same time, (the loss) stings."
Nebraska didn't linger on the loss too long. Shortly after the game, Yori said the Huskers are already looking forward to their next match-up against Idaho State on Saturday, their last game before a Dec. 5 game against in-state rival Creighton.
sports@dailynebraskan.com