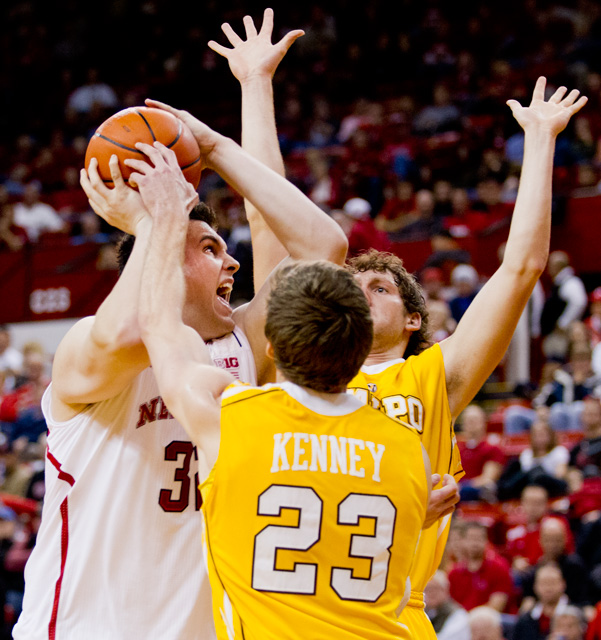 The Nebraska men's basketball team is back in the win column.
After picking up its first loss Saturday against Kent State, the Huskers (5-1) defeated Wake Forest 79-63 Tuesday night to pick up its first road victory of the season.
The 79 points marks a season-high in total points scored and marks the highest scored by NU on the road since its 79-73 victory last season against Iowa on Jan. 26.
NU head coach Tim Miles said he was proud to see his players back on the path they started the season with.
"We showed the tape to the kids and they felt bad with how they played against Kent State," he said. "They wanted to play well tonight and they did."
Guard Ray Gallegos set a career-high 20-points, while forward Andre Almeida tied his career-high with the same amount. Guard Dylan Talley also helped lead the offense with 14 points.
"I'm proud of these kids," Miles said in the post-game conference. "They bounced back from a tough loss at home, and they played well tonight."
Besides shooting 9-for-11 from the floor, Almeida also tabbed 11 rebounds to mark his first career double-double.
The center's force in the paint was a key factor in NU's largest marginal victory thus far this season, according to Miles.
"(Almeida) was as aggressive as I've seen him," the coach said. "He did a great job getting shots in the middle."
The Huskers kicked off their matchup against the Demon Deacons by nailing three of their first four field goals to jump to an 8-2 lead. However, two consecutive three-pointers and a jump shot by Chase Fischer off the bench gave Wake Forest its first lead at 16-19. A three-pointer by teammate Tyler Cavanaugh extended their team's lead to four points one shot later.
However, Nebraska would go on a 10-2 run to regain the lead and head to the locker room ahead 28-24. Senior forward Brandon Ubel led the Huskers in the first half with seven points, while Almeida and Talley recorded six and five points, respectively.
Unlike its last game, Nebraska would not give up its halftime lead in the second half.
Nebraska's big men, Ubel and Almeida, stormed back on to the court scoring NU's first six of eight points to extend their team's lead to 35-28. The Huskers would never look back, and hung on for the six-point win.
sports@dailynebraskan.com