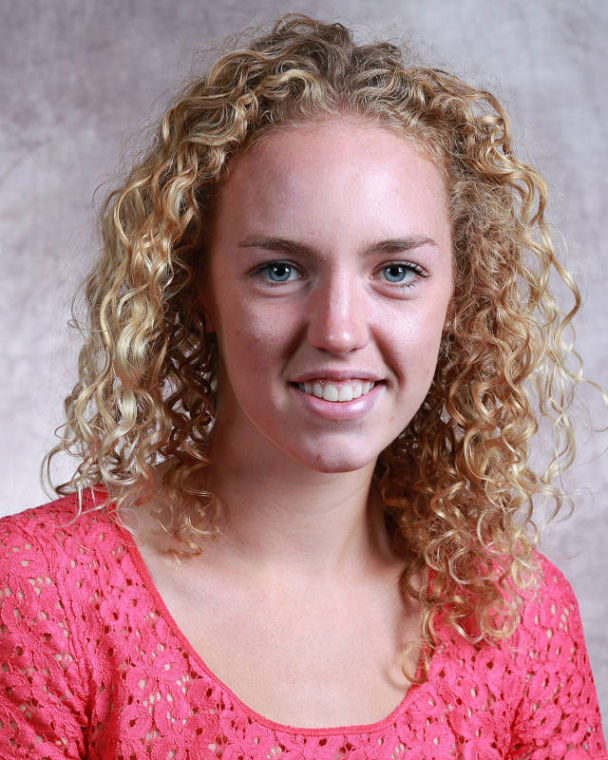 The Nebraska track and field team flip-flopped Husker coach Gary Pepin's prediction for the men's and women's team results. Pepin had thought the men would place first or second and the women would make it into the top five.
"I thought it was a very competitive meet, and very disappointing, particularly on the men's side of the competition," Pepin said. "The women exceeded what it looked like we were going to finish before the meet started and such."
The Nebraska women placed second at the 2013 Big Ten Indoor Championships with 112 points. They were three points behind conference championship winner Illinois. The Husker men placed fourth with 86.66 points. Wisconsin won with 90 points, Illinois came in second with 87.5 points and Penn State took third with 87 points.
"The men had events in which they had a chance to do better than what they did," Pepin said. "They just did not compete up to their potential in their events."
Jessica Furlan was content with the women's finish even though they were only three points from winning the conference title.
"The women did a lot better than what was projected for them, so that was really exciting," Furlan said.
The Huskers won six event titles. Nebraska continued its legacy in jumps, taking event titles in long and triple jump.
Janis Leitis earned the men's triple jump title with a leap of 52-1/2, while Patrick Raedler won the men's long jump with a jump of 50-9 1/4 inches. Raedler also finished fifth in the triple jump posting a jump of 50-9. Leitis finished third in the long jump recording a mark of 25-6.
On the women's side, Mara Griva won her third indoor Big Ten Championship in the triple jump with a season-best leap of 42-11 1/2. She is ranked sixth in the nation. Anna Weigandt placed fourth with a jump of 41-10, and Elli Ewere placed seventh with a leap of 40-3 1/4. Griva went on to win the long jump with a mark of 20-8 3/4.
In pole vault, Craig Driver and Christian Sanderfer tied for eighth place with vaults of 16-9 1/2. Beau Simmons finished 12th with a vault of 16-9 1/2 as well. Tess Merrill finished third in the women's pole vault with a height of 12-11 1/3. Paula Andrie took fifth, while Maggie Maher finished eighth with a vault of 12-7 1/2.
James White took second place in the men's high jump with a leap of 7-3 3/4. Fellow Husker Carlos Hernandez placed 10th with a jump of 6-9. In the women's high jump, Jillanna Scanlan placed second with a height of 5-9 3/4, while Marusa Cernjul came in fourth with a leap of 5-8 1/2.
Chad Wright finished second in the men's shotput with a throw of 61-10 1/2, and Taylor Shapland placed 10th with a distance of 56-9. On the women's side, Annie Jackson placed fourth with a mark of 52-7 1/2 meters, while Veronica Grizzle finished eighth with a throw of 50-9 1/2. Grizzle also competed in the women's weight throw and placed 11th with a mark of 60-2.
The Husker men's 4x400 meter relay had a stellar performance. They took the event title with a time of 3 minutes, 6.67 seconds and broke a school, facility and meet record. Nebraska's time ranks them at fourth in the nation. The women's 4x400 meter team relay placed fifth recording a time of 3:42:37.
The men's distance medley relay finished fourth with a time of 9:41:67, while the women placed 11th with a time of 12:9:19.
Furlan was an important contributor on the women's team. She won her first conference event title in the 3,000 meter run posting a time of 9:19:66. Furlan recorded a personal-best time of 4:41:44 in the mile securing her second-place finish. In the 5,000 meter run, Furlan finished fifth posting a time of 16:19:98.
Furlan was able to sum up her performances during the weekend simply.
"It was all for the team," Furlan said.
In the men's 200 meters, Dexter McKenzie finished fourth with a time of 21.26 seconds, while Mara Weekes placed fifth in the women's with 24.11 seconds. She also finished eighth in the women's 60 meter dash posting a time of 7.52 seconds.
In the 600 meters four huskers placed in the top nine. Levi Gipson led the way with a time of 1:16:84 seconds placing him third, while Cody Rush finished fourth with a time of 1:16:89.
Shawnice Williams took second in the women's 600 meters with a personal-best time of 1:29:60, while Elli Grooters finished sixth with a time of 1:30:48.
In the women's pentathlon, Jourdan Doffeny finished 10th with 3,467 points. Teran Walford finished fifth in the men's heptathlon posting 5,456 points, his personal best.
After a long weekend in Ohio, the Huskers made it home safely to a not-so-snowy Nebraska. They will take the experience they gained over the weekend and apply it to qualifying for the NCAA Indoor Championships.
sports@dailynebraskan.com