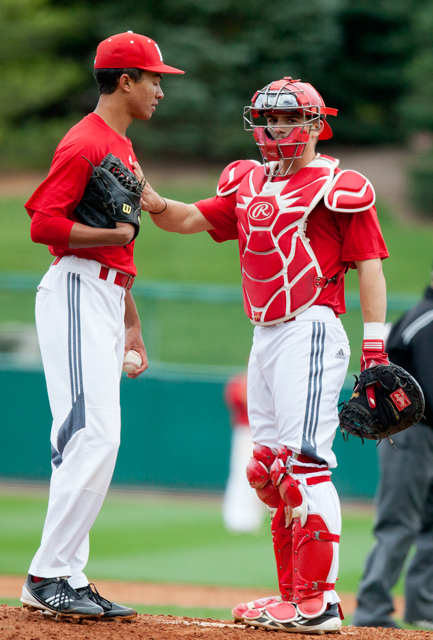 The first of three inner-team scrimmages began on Tuesday at Haymarket Park when Nebraska's red squad beat its white counterparts 4-1. Senior Zach Hirsch for the red team and senior Tyler King for the white took the mound against one another to start off the fall season.
Freshman outfielder Ryan Boldt got things going quickly for the red squad, as he led off the bottom of the first inning with a single. Boldt's hit was followed by an errant pick-off attempt by King that advanced Boldt to third base. Senior outfielder Mike Pritchard hit a sacrifice fly to centerfield later in the inning, scoring Boldt.
King settled down in the second and third inning, but ran into trouble in the bottom of the fourth. Junior infielder Pat Kelly started off the fourth by drawing a walk. Then, lefty King, tried another pick-off, which led to another wild throw that landed Kelly on third base. Sophomore first baseman Austin Christensen hit a sacrifice fly scoring Kelly, giving red the 2-0 lead. Coach Darin Erstad then brought in junior pitcher Michael Hoppes for the white team.
Hoppes started rough as well, as he walked freshman infielder Bryce Only, then gave up a single to center to redshirt freshman Matt Jones, putting runners on first and second base.
With two men on, sophomore catcher Taylor Fish hit a liner into left-center field, scoring both runners and landing a triple.
"My approach is usually up the middle, other way cause I'm not a big power guy," Fish said, "Hoppes fell behind on me 2-0 so I was just looking for a good pitch to hit and he gave me a fastball over the plate. And luckily it worked out for us."
That turned out to be all the damage the red team could muster in the fourth inning as Fish's teammates could bring him in.
From there, sophomore Jeff Chesnut for the red team and freshman Derek Burkamper for the white took over pitching duties. They both settled in and managed to go unscathed in the fifth and sixth innings.
Down 4-0, the white team looked to make its mark on the scoreboard heading into the seventh and final inning. The top of the seventh inning was started by a series of unforced errors, as Chesnut surrendered walks to freshman utility player Matt Leuty and first baseman Ben Miller.
Then suddenley the bases were loaded. Freshman infielder Michael Klein stepped up next for the white squad and hit into a fielder's choice that scored Leuty, but forced Miller out at third.
With two outs in the inning and runners on second and third, the white team couldn't take advantage of any more opportunities as Chestnut closed out the game.
Hirsch received the 4-1 win for red, while King took the loss for white.
Coach Erstad reflected on his team's performance.
"I really liked their energy and intensity they bring everyday, especially in the fall," Erstad said, "They are holding so many directions. School's first and they just have tons of tutors and classes and just a lot on their plate. And to come out here and focus and bring that kind of energy, I'm real happy with that. From a baseball stand point we have to get a lot better and that's what we'll do."
sports@dailynebraskan.com