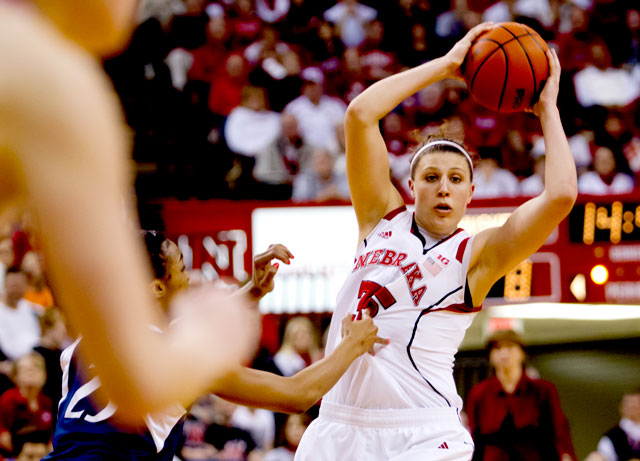 For most of the game, the No. 6 seed Nebraska women's basketball team did not have an answer to No. 11 University of Tennessee at Chattanooga's streaky offense.
Then midway through the second half, Nebraska switched to a man-to-man defense.
"Man is our base defense," Nebraska coach Connie Yori said. "We work on man all the time. We didn't necessarily go into the game preparing to play a lot of man, but it just worked out that way."
That was part of Nebraska's answer; the Huskers went on to beat Chattanooga 73-59 Saturday in the first round of the NCAA Tournament.
"I think we had a media timeout early in the second half, and coach Moore said they'd probably switch to a man-to-man defense, which they did," said Chattanooga senior guard Kayla Christopher, who finished with 11 points in the game. "From that point on, they turned the pressure up, and it was hard for us to get looks. They definitely got to us."
As Nebraska's defense began to shut down the Lady Mocs, the Huskers found huge offensive production from junior Jordan Hooper – the second part of their answer. Hooper finished with 21 points, including 18 in the second half.
After being held to only three first-half points, Nebraska's leading scorer found her rhythm late in the game.
"I think I just gained more confidence," Hooper said. "My teammates and coaches definitely gave me a boost of confidence at halftime. I came out in the second half, and they talked to me and got me going. Coach just kept calling plays for me to run, and so that gave me a lot of confidence knowing that she had confidence in me. If she's going to put me in that position, then I'm going to shoot it."
Early on, though, the Huskers struggled to contain Chattanooga, particularly behind the 3-point arc. While Nebraska focused on shutting down Chattanooga's inside game, the Lady Mocs had hit nine three-pointers in the first 90 minutes of the game.
"With Chattanooga, it is a little bit about choosing your poison. We tried to do a good job on their inside game," Yori said. "We had two Chattanooga kids go 8-for-10 from the 3-point line."
Now, Nebraska moves into the second round of the NCAA tournament, where it will face the No. 3 seed in the Norfolk Region, Texas A&M, at College Station, Texas, on Monday evening.
While Yori hadn't looked into Texas A&M much by the Chattanooga post-game press conference, she expects the Aggies to bring aggressive pressure and difficult size match-ups, especially with Texas A&M's 6-foot-4-inch center, Kelsey Bone. Still, Nebraska has had experience with larger rosters, Yori said.
"You have Morgan Johnson at Iowa," she said. "She is very different from Kelsey Bone, but she is second-team all-conference. Jasmine Hines from Michigan State is a kid who comes off the bench and is a major force when she has her game going. Pretty much everybody is bigger than us."
Beyond a size disadvantage, Nebraska will again face a team with multiple offensive threats, senior guard Lindsey Moore said.
"They are really balanced inside and out," she said. "(Texas A&M Coach Gary Blair) has them running their system well. He gets his team motivated and ready to play for every game. It's going to be a tough matchup."
A win against Texas A&M would advance Nebraska to the Sweet Sixteen of the NCAA tournament for only the second time in program history.
sports@dailynebraskan.com