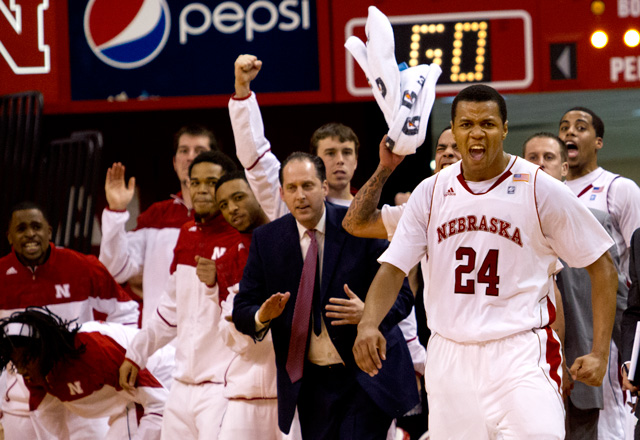 New Nebraska men's basketball coach Tim Miles is faced with a daunting task in his first season at the school: turning around a team that won only 12 games last season and lost five of its top seven scorers. Miles' team will play in arguably the best basketball conference in the nation and at a school that cares first and foremost about football.
At a recent press conference, Miles was asked where he thinks the over-under should be set for how many games his team will win this season. The coach initially chuckled at the question, but he quickly refocused on the reality of his situation.
"You want to put yourself in a position to win them all of course, but we've seen what the expectations are," Miles said. "I've seen where we are picked, and you don't hide anything from your players. I mean, it's the Information Age."
Miles' team starts its season off with an exhibition matchup on Wednesday against Midland Lutheran. The Huskers figure to get the win, but what's more important for the team is to build a foundation, Miles said.
This season is expected to be a rebuilding year for the Huskers. They are picked to finish dead last in the Big Ten by the media poll, and it would be a surprise to most experts if they got another 12 wins at most this season. Miles won't rule out the possibility of a competitive team, but he realizes there are steps that must be taken before this team can get to that.
"We are trying to build the confidence in our team," Miles said. "You don't just go out and say, 'Hey, be confident,' and then go, 'Oh, I'm confident. See how great that was?' That's not the trick. You have to earn confidence, and you have to earn victory, so that's what I look to hopefully build early this season."
Miles has a background as a turnaround artist. He's left his last two schools, North Dakota State and Colorado State, in better positions than he found them, improving the Bison from a 11-15 record in his first season to a 20-8 record in his last and taking the Rams to their first NCAA tournament since 2003 last year.
Miles is trying to infuse some life into the Nebraska program this year as well, but there are obstacles in his way. The first of those is teaching a new system.
"With a first year head coach, it's all about just getting out there and learning the system and getting more practice at it," guard Dylan Talley said. "Hopefully we get it down pat before we get out there."
It's been a slow learning process according to Talley, but the Huskers are beginning to pick it up. Should they fully grasp it, the guard said it could be a lot of fun.
"In this system, you get a lot more freedom with the dribble drive and drive closeouts," Talley said. "There's a lot more space to attack off the dribble. We get a lot of open shots. You just have to knock them down."
History would suggest Miles' offense doesn't come to its full fruition this season, but the coach urged everyone not to give up on his team before they play a game.
"Who knows what can happen," he said. "A lot of times the team you think you have in October and November is certainly not the team you have in January, February, March. That can work both ways. You can have high expectations and don't meet them, or you can have low expectations and exceed them. I know what we hope to do."
sports@dailynebraskan.com