This week, Maren Morris' "Bones" became the first single by a woman to hit No. 1 on Country Airplay and enter the top 10 on the Radio Songs chart in over a decade. The last song to do so was Taylor Swift's "You Belong With Me" in 2009. 
Since the 1990s, the number of songs performed by women that country radio DJs play has gone down, even though the classic women of country music, such as Tanya Tucker, continue to create and produce award-winning records, and new female artists, such as Ashley McBryde, are emerging every year. Recently, Country Music Television announced that it will play an equal number of music videos from each gender in an attempt to increase overall airplay for women.
Country radio stations should follow in CMT's footsteps and create gender parity on their stations to combat the systematic inequality, which has led to the dismissal of talented female country artists for the past two decades.
Women simply aren't being played enough on country music radio. From 2014 to 2018, a report from the University of Southern California's Annenberg school found that only 16% of the top 500 country songs were by female artists. That ratio converts to 1 female country artist per every 5.2 male country artists on the top 500 chart.
Women aren't being left out of the top song charts because they don't make good music. They're left out because they're excluded from the radio in general. In an analysis of country music radio airplay in North America by Jada Watson, an adjunct professor at the University of Ottawa, she reported there has been a 66% decline in songs by female artists on country radiosince 2000, dropping from about a third of radio airplay to a little over a tenth. 
Not being played on radio leads to fewer radio hits, which means fewer record sales and touring opportunities. This can also lead to less recognition during awards season.
In the past five years, only three of the 20 nominees for the Country Music Association Awards' highest honor, Entertainer of the Year, have been women. Of those three women, none of them won the award. But from 1995 to 2001, before the shift in country music radio culture that pushed women out of the picture, eight of the 25 nominees were female, and three of the winners — The Dixie Chicks, Reba McEntire and Shania Twain — were women. 
I believe there is a correlation between the decrease of female country artists being played on the radio and the decrease in awards recognition by the Country Music Association.
Some may argue that the decrease in radio play and award recognition is because female country artists aren't making good songs. Some say they're the "tomatoes" of the salad that is country music, or that people don't want to hear women. This is an idea that is perpetrated by one Michigan country radio station that has a policy to not play two songs by women back-to-back.
However, in the top 10 country songs on iTunes, four out of ten of them are by female artists or female/male duos. People want to hear female artists and are purchasing their music, but country music radio refuses to see this.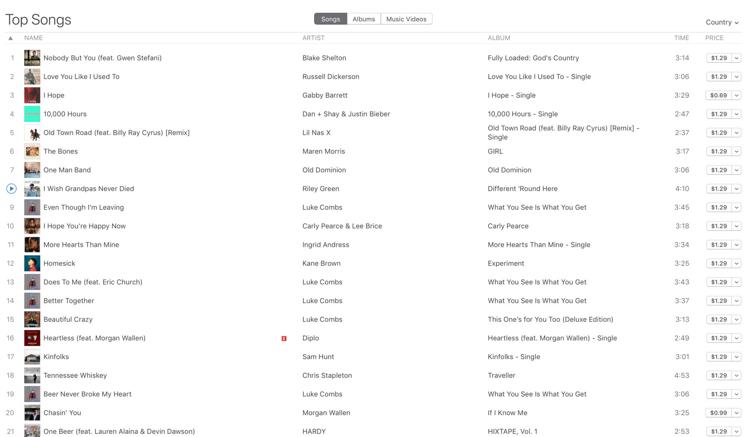 Not only do people want to hear women now, but women have always been a huge part of country music. "Mother" Maybelle Carter and her family's influence made a huge impact on the beginnings of country music, and country music legends like Loretta Lynn, Patsy Cline, Emmylou Harris, Dolly Parton, Tanya Tucker and Reba McEntire were popular and successful throughout their lifetimes. In fact, Tanya Tucker released an album last year that won two Grammys, but her album was given no recognition by country radio stations or by the CMA Awards. 
Country music was built on a foundation of talented, passionate and hard working women. While country radio may make it seem like there are less of these women each year, that is not the case: country radio stations are simply showcasing their talents less. But CMT's new gender parity policy is a remarkable start into giving more of the spotlight to the hardworking artists who put their hearts and souls into the music they make.
If you're wondering where to find all these talented female artists if they're not on the radio, here's a collection of songs by the women who country radio has either ignored or not given enough credit.
Sydney Miller is a sophomore psychology major. Reach them at opinion@dailynebraskan.com.