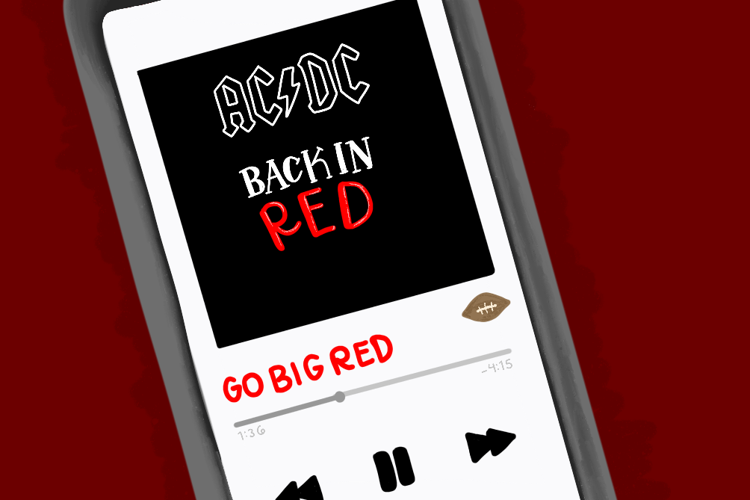 Like many Husker fans, I was thrilled to hear last week's announcement that the Big Ten would be playing football this fall, less than a month after commissioner Kevin Warren's letter stated that the conference's decision would not be revisited.
However, my personal entertainment is not worth putting players and the greater Lincoln community at a greater risk in the middle of a deadly pandemic. If that were the case, the Big Ten should have stayed with its initial cancellation.
Thankfully, having a season will not increase the risk of contracting COVID-19 in Lincoln, and the benefits of having a football season go beyond giving Nebraskans something to watch on TV this fall.
The decision about football should not be based on whether the pandemic is under control in Big Ten cities — which it is not —  but whether having a football season will make outbreaks worse. Given the strict measures the Big Ten is putting in place, I believe that athletes and their college communities will actually be safer, at least from COVID-19, with a football season.
Although the 2020-2021 football schedule number three is set to begin in October, football teams will have to meet stringent guidelines in order to take the field. These include daily antigen testing and the designation of a chief infection officer. Team and population positivity rates will determine whether practice and competitions can continue, adding an additional incentive for teams to social distance off the field.
The development of rapid antigen testing was cited as the primary reason for the resumption of the Big Ten season, and this is a protocol that can make football players safer. Without a football season, these players would not be receiving daily testing, despite still having practice. Other than playing football outdoors against other teams, which will all have to have negative tests to take the field, there is no additional risk, at least regarding COVID-19, for these players to play a football season. 
If anything, missing three weeks of practice and competition may serve as a greater motivator for student-athletes to follow CDC guidelines and avoid contracting COVID-19 than the symptoms of the disease itself. 
Still, players that want to opt out are able to without consequence, as they should be. No one is being coerced to play, and no one should be shamed by Husker fans if they would rather sit out this year.
It is also worth recognizing that high school football is already being played in most of the Big Ten country. After Minnesota's reversal earlier this week, Illinois remains as the only state with a Big Ten university without plans for a fall high school football season. At least eight high school teams are playing football, among other fall sports, here in Lincoln. None will be as safe as the Huskers if they finally take the field next month.
Somehow, much of the national media outrage was spared for high school sports, but the moment the Big Ten decided to reverse its decision, it was "the darkest day in conference sports history," according to USA Today opinion columnist Christine Brennan.
She went on to lament the "Nebraska-ization of the Big Ten."
However, along with a great headline for generating clicks, the article brings up some valid points. These rapid antigen tests for football players are not available for the general public, and that is admittedly unfair. It is also concerning that many Big Ten universities are currently facing outbreaks on campus. 
The antigen tests would not be available for anyone anyway if there were no football season, so a football season is not necessarily taking anything away from communities. I would love to see governments work as hard to bring this level of testing to the general public as football programs did, but football programs should not be demonized for trying hard to bring rapid testing to their athletes and coaches.
Also, while the pandemic is raging at many universities, separating a chunk of the student population and testing them daily does not put the general student body and community at any greater risk than before. Again, the question is not "is the pandemic under control" but "will football games make it worse?"
Then there's the other part of the decision of canceling football and then bringing it back, one that seems to be the elephant in the room for everyone involved — money.
In Warren's August letter, he wrote that "Financial considerations did not influence the [Big Ten Council of Presidents and Chancellors'] decision, as the postponement will have enormous adverse financial implications."
Oh really? The Big Ten's decision was not influenced by financial considerations? I am doubtful of that, but even if it were true, ignoring financial implications entirely does not make the Big Ten morally superior. It just makes them ignorant. 
Human life should never be blindly sacrificed at the altar of the economy. At the same time, it is important to recognize that the millions of dollars generated by Big Ten football do not just line the coffers of university executives and presidents. This money goes to small business owners in college towns, to other sports teams in athletic departments and in the case of Nebraska, some money is used to fund academic scholarships for non-athletes. 
Warren was right that the postponement would have "enormous adverse financial implications." These implications led to some sports being cut entirely at Big Ten schools, including Iowa and Minnesota. While no sports have been cut at Nebraska, more than 50 employees have been furloughed and the rest had to take a 10% reduction in their salary. Meanwhile, the university has also had to make cuts on the academic side, including ending the dance program.
The health and safety of students should take precedence in any decision, but to ignore the financial fallout of such a major decision is ludicrous.
The decision to keep fans at home this fall also cost the Big Ten a lot of money. However, a crowd of 90,000 untested people would be a far greater threat to the spread of COVID-19 than two closely monitored football teams playing against each other. In this case, the safety of the community comes before any potential revenue loss, as it should.
The resumption of football without fans will not make as much money as a typical season would, but the TV deals will help cut some of the deficit that these universities are facing. Lincoln Journal-Star football columnist Steve M. Sipple said he heard estimates of around a $40 million payout from the Big Ten in his latest column. 
This will not make financial woes go away entirely, but $40 million should help university employees and students alike.
A few more thoughts:
-Please do not thank Donald Trump for the season. He did send a tweet in support of the season, but players and coaches at Nebraska, Ohio State and several other schools deserve the praise for saving the season, not the president. On the other hand, just because Trump supports playing football does not make it a bad or dangerous idea, even if you believe he is a bad or dangerous president.
-No, the Big Ten is not conspiring against Nebraska. The Huskers have the toughest schedule in the Big Ten, and Husker fans have every right to say so, but claiming a conspiracy is not befitting of the best fans in college football.
-It is doubtful that every team in the Big Ten will play all nine games this fall, as there is no bye week to reschedule competitions. Several college football games in the ACC and Big 12 have been postponed already due to COVID-19, and the Big Ten will most likely have to do the same. However, the cancellations of individual games are still a better strategy than canceling an entire season.
-While the resumption of Big Ten football is worth celebrating and covering, this season is about more than just football. Many athletes are still fighting against racial injustice, and this deserves coverage alongside the game itself. Senior sports editor Drake Keeler has a great article about this here. Hopefully, a televised season will give these athletes a bigger platform to voice their discontent. 
This will be a football season unlike any other, but I am excited to see the Huskers back on the field this fall. I am especially thankful for the role Nebraska players, parents and coaches played in making this happen, not just in Lincoln, but across the conference.
Hopefully, Ohio State doesn't beat us too badly week one.
Brian Beach is a sophomore journalism major. Reach him at brianbeach@dailynebraskan.com.