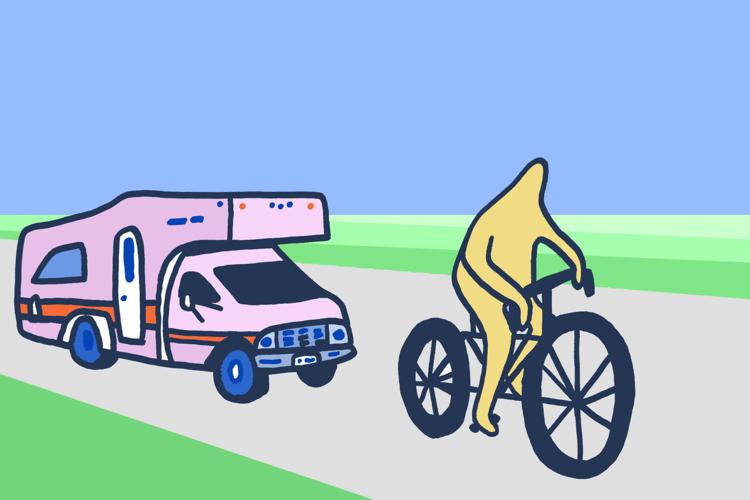 Earlier this year, the Lincoln Police Department announced it would be "cracking down" on bikes on downtown sidewalks as electric scooters are set to come to the city.
Bikes have been banned from sidewalks for at least 60 years in Lincoln, so the ordinance is nothing new. However, the enforcement of this ban has previously been very lax. Between 2015 and 2018, only five total tickets were issued for bike riding on sidewalks where prohibited, according to police data. 
The new electric rental scooters coming to Lincoln will also be banned from sidewalks, which prompted the stricter enforcement. 
As someone without a car in Lincoln, I rely on my bicycle for the majority of my transportation. Prior to the LPD announcement, I rode my bike on sidewalks. However, I have had to change my commute since the announcement, and it has been frustrating.
To be clear, I am usually a major proponent of bicycles being ridden on the streets. It's safer for a variety of reasons, and I find that it is typically much faster to ride on the road. However, I also recognize that riding my motorless two-wheeler is quite annoying to many drivers, and sharing the streets with impatient college students and semi-truck drivers coming off of I-180 does not create an enjoyable experience.
Unfortunately, the bicycle infrastructure in downtown Lincoln makes riding a bicycle on the streets more challenging than using a sidewalk.
The problem is that downtown cyclists face dangerous situations whether on the road or on the sidewalk. If Lincoln wants to ban the sidewalk, then the city must do a better job of making the streets safer for those trying to ride a bike. And if cyclists want to follow the law, then drivers must respect that decision. 
One-way streets are part of the frustration of cycling downtown. On a sidewalk, cyclists do not have to use one-way designations. However, with bikes banned on the sidewalk, cyclists must now lengthen their trips in order to use one-way streets properly.  
Additionally, one-way streets have more lanes, which makes changing lanes quite the ordeal for a cyclist. This is especially bad along 9th and 10th streets, which are both one-way streets with five lanes of traffic to cross.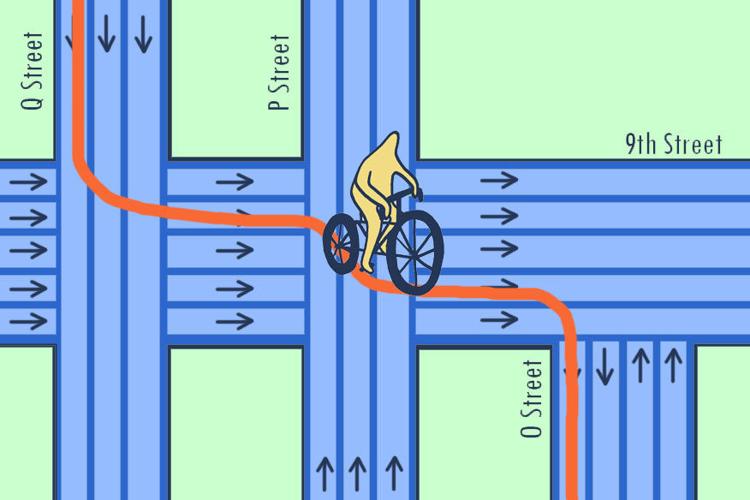 Another major issue is the O Street bridge connection to the rest of downtown. There is a wide path alongside the O Street bridge over the railroad tracks on the west side of downtown with plenty of space for pedestrians and cyclists. Contrasted with the heavy traffic speeding along O Street, the sidepath is much safer. Unfortunately, while taking the bridge back into downtown, there is no safe way for bikes to safely and legally integrate back into the downtown traffic flow. Instead, I walk my bike on the sidewalk and enter the road wherever I can. It's not the safest traffic maneuver for sure, but without bike lanes or a better integration from trails to streets, it's the only option.
To be fair, Lincoln has made strides in bike friendliness in recent years, including the Lincoln Bike Plan that was approved last year. While it creates several more bike lanes downtown, there are still many streets downtown that will remain without one. 
A half-completed bike network means that bikes still must merge into and out of traffic as bike lanes begin and end sporadically throughout the city.
One of downtown Lincoln's claims to being bike friendly is the N Street Cycle Track. It certainly looks cool and includes separate traffic control signals for cyclists. It also came in at a cost of $3.2 million, so it's unlikely to be replicated on other downtown streets for some time. This is unfortunate because in the eight months I've been in Lincoln, I have yet to use the N Street Cycle Track, and I have only seen one or two other users. 
Instead of spending this kind of money to improve the situation for one street, the city needs to implement some sort of bike lane for every street where riding on the sidewalks is prohibited. It doesn't have to include the kind of structural changes that the N Street Cycle Track has, but narrowing car lanes and adding a bike lane would slow traffic, make downtown safer for cyclists and cost a fraction of the N Street Cycle Track. 
As a Nebraska Cornhusker, it pains me to say this, but Boulder, Colorado is a place that seems to have figured it out. The city has banned bikes on sidewalks in certain parts of the city, but it also has bike lanes on 95% of its streets. 
And don't even get me started on Amsterdam.
Overall, Lincoln's bike infrastructure is quite good compared to most midwestern cities. The trail network is impressive for a city of Lincoln's size. However, bicycle commuters downtown deserve a safer and more efficient way to get around.
Brian Beach is a freshman journalism major. Reach him at opinion@dailynebraskan.com.