Two students reported items stolen from their vehicles, and another student's car was rummaged through, according to the University of Nebraska-Lincoln Police Department's Daily Crime & Fire Log during the week of Nov. 10-16. 
Disturbances and items stolen from cars were the top crimes last week, each reported four times. Minor in possession and not reportable accidents followed with three reports. Vandalism, lost or stolen items, trespassing and false fire alarm were each reported twice.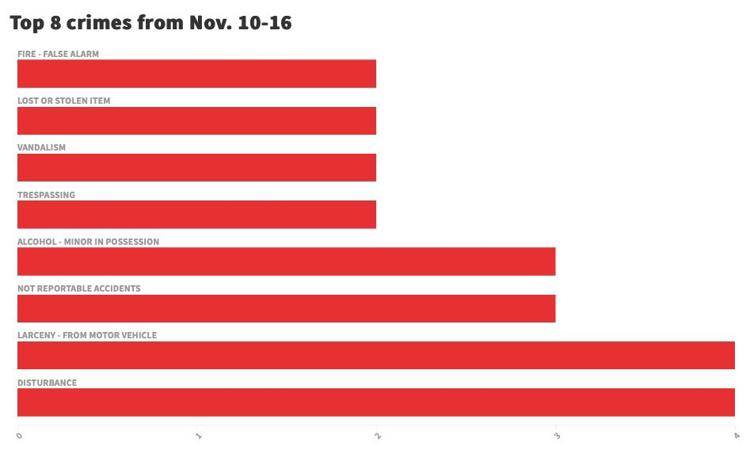 On Thursday, Nov. 14, three university students reported their vehicles parked at Harper Hall were rummaged through. One student reported nothing was stolen. Another student reported their wallet was stolen, but Officer Russell Johnson Jr. said the wallet was found by Landscape Services and returned to the student. The third student reported a jar of coins and a camera missing, which have not yet been recovered, according to Johnson. He said the three cases are believed to be connected and are still under investigation. 
A UNL student was arrested and cited for failure to comply and theft on Saturday, Nov. 16, according to the crime log. An officer was responding to another call when he found four UNL students stealing a "road closed" sign, according to Johnson. He said the students dropped the sign and ran, but the officer caught one. The student was arrested, cited and released. 
On Tuesday, Nov. 12, UNLPD received a report of trespassing at 1901 Y St., according to the crime log. Johnson said officers found a non-affiliate of UNL camping in nearby trees. There was an outstanding arrest warrant on the individual, who was transferred to Lancaster County Jail, according to the crime log. 
In the same location, UNLPD found two more individuals trespassing on Wednesday, Nov. 13, according to the crime log and Johnson. He said one of the individuals had a local warrant and was taken to Lancaster County Jail. 
On Wednesday, Nov. 13, a UNL faculty member reported a foldable table stolen from Selleck Quadrangle, according to the crime log and Johnson. The case remains open, and Johnson said UNLPD is looking for camera footage of the theft.