Layla's black Kong toy is her favorite.
She likes to gnaw it, push it away from her and then chase after it so she can continue to chew on it.
However, Layla, unlike most dogs, has tasks other than playing with her favorite toy.
Layla works for the University of Nebraska-Lincoln Police Department and helps the university during event sweeps. She moved to Lincoln from Croatia in February 2017 and was soon trained so she could be used to detect explosive materials, smell out firearms and do evidence recovery.
"It was a need that we always had and always kind of filled with other departments, but now that campus is expanding and we're getting more and more advanced, we decided it's time we get our own dogs," Layla's owner, officer Russell Johnson Jr. said. "We're hoping that not only are these dogs gonna work here, but there's a potential that they can help out other campuses in Omaha and Kearney."
During the nine-week training program, Layla learned 19 different smells and Johnson learned Layla's mannerisms and various commands.
Layla is one of two police dogs with UNLPD. She lives with Johnson because she assists him during large event sweeps and can live well in his lifestyle. Johnson said he treats Layla differently than his personal dog so Layla is motivated to go to work every day.
"If she's more comfortable being at home then she's not going to want to come to work," he said. "Her payday is coming to work, getting to play, getting to find stuff, getting rewards for it, so if she were able to come inside and hang out on the couch, [she'd think,] 'Why go to work when I can just hang out on the couch and have fun here too?'"
One of the main differences between Layla's time at work and her time at home is seen in her actions.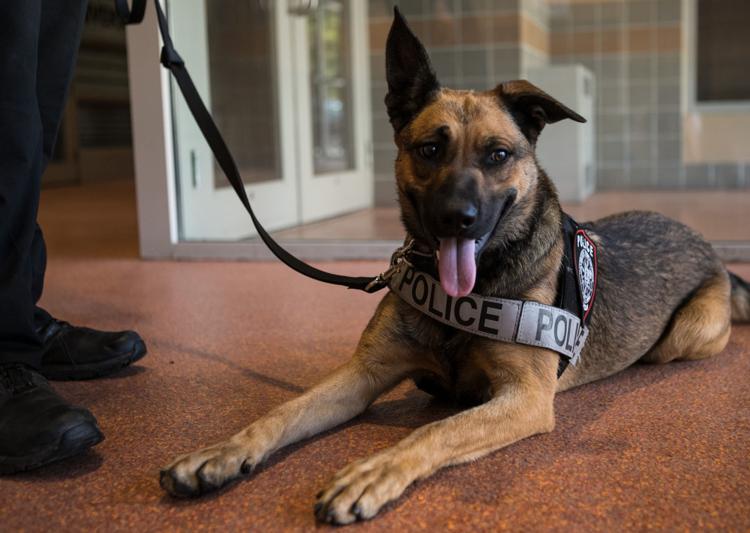 "She's very cognizant of everything that's going on," Johnson said. "She's constantly shifting and being aware of what's going on, and when we're at home she kinda turns that off and just focussed on playing with her Kong toy."
In August 2017, Johnson formed a Twitter account for Layla. The account gives Layla's perspective on different things she sees while doing her job.
"My plan is to kind of put it as her doing stuff and not so much me doing stuff because nobody cares about me when there's a dog over there," Johnson said. "So, it's just gonna be her and her daily stuff. Lately, it's been around her and her Kong ball."
According to Johnson, the Twitter account has received a lot of attention, and he was surprised by the amount of followers the account gained. Although sophomore advertising, marketing and public relations major Alexis Gass does not follow the account, she said the account is a good idea.
"I didn't even know there was a police dog for UNLPD," she said. "I think it's cute that that's out there especially since there's kind of a negative stereotype about UNLPD, so having this Twitter for their dog kind of lightens up the conversation as far as UNLPD."
Additionally, Johnson said he uses the account to broadcast her personality.
"She's very loving," he said. "She kind of has that intimidating look about her, but she's very lively, very friendly, wants people to pet her and wants to be around people."
According to Johnson, Layla has been doing well at her job and he is confident in her abilities.
"She's been doing spectacular," Johnson said. "Luckily, we haven't found anything, so that's a good thing, but I'm more than confident that if there was something there she would definitely find it."