Driving more than 40 minutes back to Lincoln from the country late at night just to attend classes the next day may sound like a nightmare. For Sophia Lentfer and Ralston Ripp, it's a regular occurrence.
Both Lentfer, a senior animal science major, and Ripp, a sophomore animal science and agribusiness double major, have shown animals at state fairs, county competitions and other events since they were young. They both showed at the 2019 Nebraska State Fair, though they competed in different categories.
Lentfer said she started showing in the fourth grade and decided she wanted to pursue a lifelong career in the livestock industry when she won her first competition at the state fair.
"The first time I won [at] the state fair was kinda like, 'Woah, I can be pretty good at this,'" she said. "It wasn't just winning, of course, I just really loved it and the connections you can make."
Lentfer said she spends countless hours at the barn where she and her family keep their pigs, her animal of choice, about 15 miles away from her house. Her duties consist of feeding and watering the pigs, letting them out for exercise and spending time with them, according to Lentfer.
"We get the pigs when they're really young, and we start training them to keep their heads up and walk smoothly for when we present them," she said. "There is no certain way to show a pig, and it's a little more difficult than showing sheep because you're constantly moving around the ring. You can't really have a pig just stand still."
Ripp, who shows cows, said her love for raising animals began when she received her first newborn calf when she was 2 years old. 
"Growing up outdoors and on the farm, it really grew my love for animals, livestock and the whole [agriculture] industry," Ripp said. "At the time, my family had bottle babies, and just seeing how you get to interact with the animals and produce them from calves to cows really grew my fondness for that lifestyle."
Both Lentfer and Ripp said that while showing animals is the primary draw of their hobby, they also enjoy the like-minded people that they meet.
"I love being around animals but also being around people," Lentfer said. "I've met so many people across the state, across the country … I get to travel a lot and make connections."
While Lentfer and Ripp said that most of their competitions are during the summer, they still have responsibilities that extend into the school year.
"Of course there are still shows during the year that I go to, such as the state fair," Lentfer said. "But the professors are usually pretty understanding, and I try my best to stay on top of my work."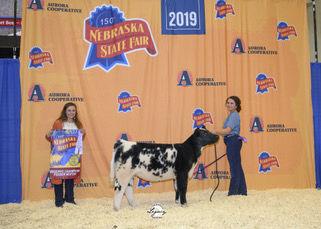 Both Lentfer and Ripp said that another rewarding aspect of this hobby is how directly it correlates to their majors.
"It's definitely fun doing the same work that relates to my major," Ripp said. "All the work I'm doing in my classes directly correlates to what I'm doing back home."
Future Farmers of America, the organization they show through, has an age limit of 21, meaning this will be Lentfer's last year of competitively showing pigs. She said she plans to stay in the industry and will help mentor the next generation of participants.
"I'll pass it on to my sister for a while," Lentfer said. "And, once I have kids and they grow up, I'll have them show too. It's hard to give up, and I'm not ready to let it go, but it's about time to move on."