When junior undeclared major Edwin Mendez-Rodriguez was in elementary school, he thought he wanted to be an architect. Now, he is designing his future by building his own business.
He's the CEO and founder of his own business, 5am:Hustle. 5am:Hustle is an e-commerce business that makes money by reselling items such as sneakers, apparel, accessories and Supreme brand items. Mendez-Rodriguez said the supply of the items he sells is low, and the demand is high, so their value goes up after they are originally purchased.
Although he started his business on his own, his family, especially his father, has greatly influenced his perspective and work ethic.
"He provided for our family, never complained about work, never didn't want to go to work," Mendez-Rodriguez said. "It never felt like he was doing this [be]cause he had to, it's kind of like he wanted to. That's something that means a lot to me."
Mendez-Rodriguez said the "5am" part of the name comes from the days when he and his father would already be up at five in the morning so he could go to work. He remembers whenever he looked at the clock, 5 a.m. always seemed to be the time. The "Hustle" part of the name is inspired by his father.
Mendez-Rodriguez said he was born in Grand Island where his parents worked at a meat processing plant. 
"It was hard work," he said. "Long hours, factory work. They worked really hard to provide for what I needed."
Mendez-Rodriguez said life was going well until his mother got sick. She had to get surgery for a hernia and was unable to work for about a month.
"When you're a family that relies on a paycheck to paycheck lifestyle, that can really hurt," he said. "The bills started piling up and my dad started taking more hours at work. It was kind of a wake up call."
Soon after Mendez-Rodriguez's mom got back to work, she got injured on the job. She was unable to work again and had to see many doctors. 
"I was the kid who was changing her ice pack every 30 minutes to calm the swelling," he said. "I was a kid serving cereal to me and my brother because that's all we could eat because mom couldn't cook."
Mendez-Rodriguez's mother traveled to her home city in Mexico to get treatment. During that time, his father worked a lot to try to keep up with the bills.
"Me and my dad would wake up early in the morning, and then I'd get dropped off at my grandma's house," he said. "I tried to sleep on the couch; some nights I couldn't sleep, but I was there."
When his mother came back from Mexico, his family moved to Lincoln.
"[Before moving] we couldn't pay our bills," he said. "We lost our house and had to sell a lot of our stuff. [Moving] was the beginning of a rebuilding process."
Mendez-Rodriguez said all this helped open his eyes and make him who he is today.
"I'm grateful for everything I have and everything I'm working for now," he said. "There's still times when you struggle here and there, but knowing that I'm doing things that will better a situation, that's what matters to me."
The struggles he faced were instrumental in inspiring him to create his business.
"In eighth grade is when all that family situation was happening, and that's when I thought I could do something bigger in order to help, not just me or my family, but others," Mendez-Rodriguez said.
He said he began to admire famous entrepreneurs, and he viewed many documentaries, articles and interviews about them.
"I was just fascinated by the way they built nothing into something," he said. "I felt like that was something I could do because I didn't have anything."
Looking back, Mendez-Rodriguez realized he's always had some sort of affinity for entrepreneurship.
"In elementary school. I used to sell pencils to my classmates, and in middle school I remember me and my friends sold origami," he said. "Stuff like selling candy and simple things to make a dollar," he said.
His senior year of high school, Mendez-Rodriguez started hearing more and more about young entrepreneurs and realized that was something he could do.
"Why wait until I finish college or save up the money? Let's just start it now," he said.
That's when he created 5am:Hustle.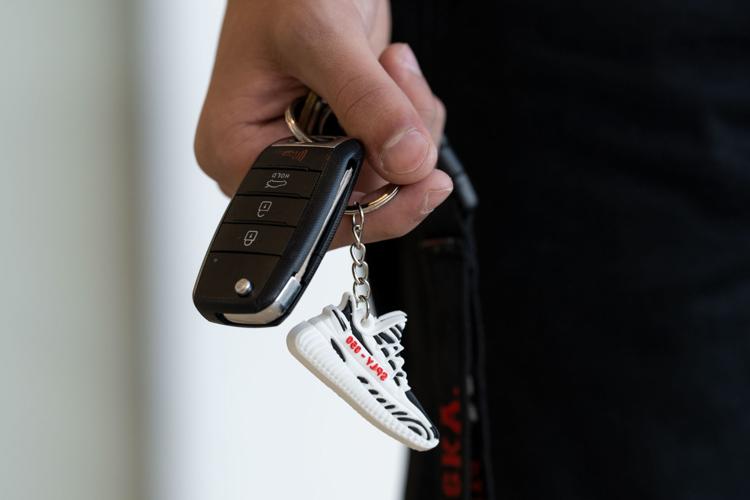 At first, he didn't tell many people about his business. He used the $10 he had in his pocket to create a website; however, everything he sold in the beginning was by word of mouth. 
"The website itself cost me $10 a month to run, and there were months that I wouldn't sell $10 worth of stuff," he said. "I was taking loss after loss, but I felt like patience was key. Patience was something I had to maintain."
Mendez-Rodriguez kept working and amped up advertising and marketing. After about a year with the business, he made his first online sale. 
Once he started college, he said he decided to put it all out there, which is when his business really started to take off. 
"We grew really big nationally, but we have grown really slowly locally," he said. "I believe we've shipped out to like 37 states and two countries."
In addition to running his business and going to school, Mendez-Rodriguez also has a part time job.
"I don't pay myself from this business," he said. "I'd rather reinvest everything we make than for me to take money from it and slow down its growth. So, I just put everything back into it."
In the future, Mendez-Rodriguez said he wants to keep growing his business and one day have an actual storefront. Additionally, he is interested in starting or investing in other businesses and wants to be able to use 5am:Hustle to give back.
In October, 5am:Hustle donated a percentage of its sales to breast cancer awareness and used pink packaging. According to Mendez-Rodriguez, 5am:Hustle has also donated a percentage of sales to other organizations and causes, such as preserving the Amazon Rainforest.
"I just want to give back. Eventually, I want to do more than just donating money," he said. "Maybe create opportunities for people to think that, you know, anything in life is reachable, no matter what situation you come from."