In an effort to spread awareness about the "Red Zone," many organizations and departments at the University of Nebraska-Lincoln are coming together to share their resources and support.
The Red Zone is a time period on any campus in which new students are in most danger, Lanie Stutz, Center for Advocacy, Response & Education advocate, said. Most often the first few weeks of school are what is considered the Red Zone. More than 50% of all sexual assaults on college campuses occur during this time period, and sometimes the Red Zone expands to Thanksgiving break, Stutz said.
On Tuesday, CARE joined Dish It Up, a weekly event put on by the Office of Academic Success and Intercultural Services, for an open conversation with students, faculty and staff about sexual assault. Charlie Foster, assistant vice chancellor for Inclusive Student Excellence and director of OASIS, said she heard about assaults on campus and wanted to provide students with a safe space to talk, learn and ask questions.
"I want to make sure that students learn information that will keep them safe and healthy," Foster said. "That's information that's good for every student at the University of Nebraska. We work together as a team to take care of each other, so we need to learn from each other."
Statistics show some populations are more vulnerable in the Red Zone than others, Melissa Wilkerson, CARE advocate, said. 
"What we know is that freshmen or new students are the most vulnerable," Wilkerson said.
CARE, the Department of Psychology, the Department of Educational Psychology and the Sexual Assault and Sexual Health Lab are collaborating with a resource table in front of the Nebraska Union Sept. 1-3. Stephanie Lim, graduate student in the educational psychology department and Rin Nguyen, first year doctoral student in counseling psychology in the educational psychology department, helped out with the resource table.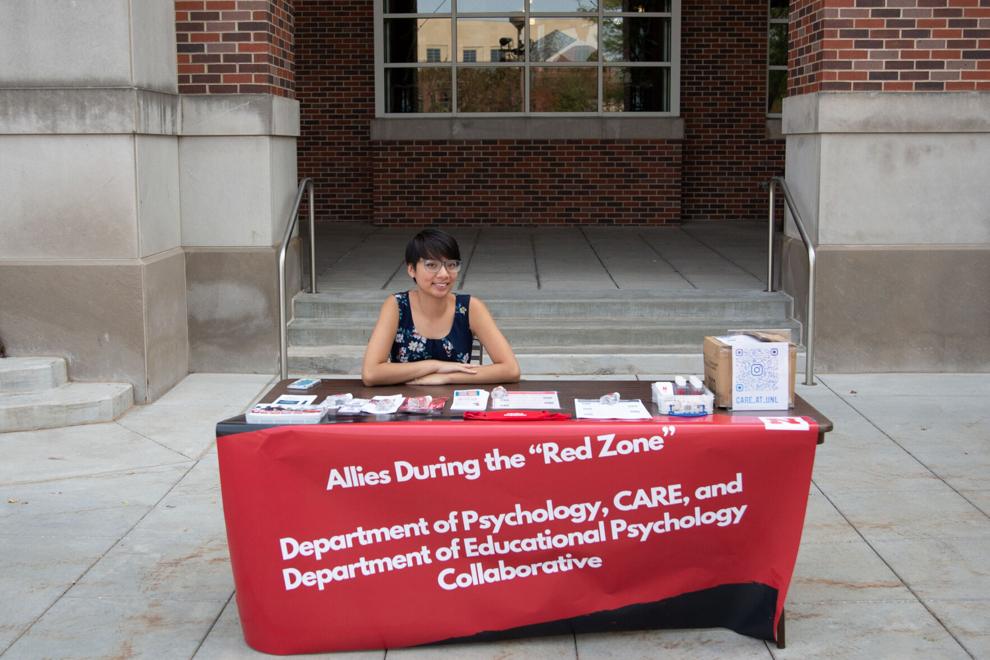 "Our main focus is to provide resources and support to survivors and allies who are impacted by recent events as well and to share [information] about the Red Zone," Lim said.
During the Red Zone period, Greek life is rushing and many parties occur. On the first night of school starting at UNL, an alleged sexual assault occurred at Phi Gamma Delta fraternity, causing protests to ensue in the following days. Another alleged sexual assault occurred later that same week at Sigma Chi fraternity. 
"I think it's becoming more apparent that the Red Zone is real and that we really need to advocate for change," Lim said.
The resource table offers information and support about sexual assault and sexual violence, Lim said. The volunteers are handing out pamphlets from Counseling & Psychology Services, Voices of Hope and the Trauma Recovery Clinic and the services they provide. They are also handing out information about how to support sexual assault survivors, what consent is and some common myths about rape.
"This is really important to me because I was also assaulted my first week on campus as a freshman, and so this is something I really care about as well," Nguyen said.
The resource table is offering additional information regarding the "Ban Fiji Forever" petition and the GoFundMe to support student protesters, Lim said.
"This is a big deal, so we're out here trying to tell people about the Red Zone and what resources they have and, of course, petition against what's going on," Nguyen said.
These organizations and departments are combining resources to provide support more effectively so that collaborations with other organizations and departments who want to lend support will continue, Lim said. 
"We're trying to maintain what students have already started and continued throughout this entire last week and also provide resources and support to survivors," Lim said. "Because we know sexual violence is prevalent, we want to ensure that we're supporting those who have either been affected in the past or recently experienced a form of trauma or violence."
Zach Wendling contributed to the reporting of this article.