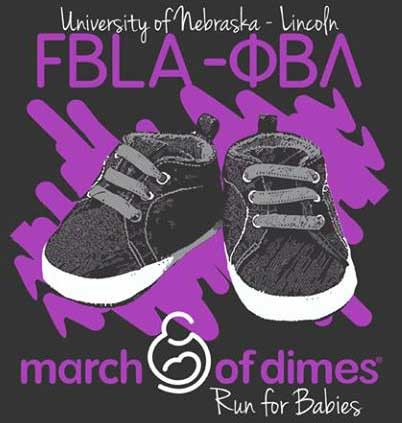 This Saturday, students are invited to run or walk for the health of babies.
At 8 a.m., the University of Nebraska-Lincoln Future Business Leaders of America-Phi Beta Lambda will host their first annual 5K run/2K walk fundraiser for March of Dimes on the City Campus Union Green Space.
The goal of the fundraiser is to get 100 participants, with a registration of $15 per person. As of Wednesday, 46 runners and walkers had registered. Registration is open online and at the event.
Every year, the national FBLA organization partners with the March of Dimes charity to earn money for families of prematurely born babies.
"It makes a big difference on a lot of families," said Tiffany Mewes-Dunn, a senior psychology and international business major.
The former president of UNL FBLA-PBL started her position as state president of the organization in January.
"March of Dimes has been crucial in helping in research to help babies live longer and healthier lives,"said Brooke Sullivan, a senior management and psychology major and the community service director of the organization.
Mewes-Dunn came up with the fundraising idea two years ago, but it was never put into place because of the lack of funds and resources. Last summer, March of Dimes gave UNL's FBLA-PBL grant money to plan this event.
"It's my baby," Mewes-Dunn said. "I thought it'd be easy to do because we're such a big university. It's been a process getting it started, but people have come together a lot to do the work for it."
The fundraiser will also help out students, Mewes-Dunn said.
"It's a great way to get in shape for spring break," she said.
Shannon Ronhovde, a sophomore marketing major, is the committee leader for the event. The organization started planning this fundraiser a few weeks ago, she said.
"We've never done anything this big," she said. "It's been interesting figuring out the details and focusing on what needs to be done for it. It's hard to say what the outcome will be, but I think it will be pretty successful."
Although it's the organization's first time with this event, FBLA-PBL has sponsored many fundraisers for the charity through the years. For both Mewes-Dunn and Ronhovde, they've been apart of March of Dimes fundraisers since their involvement in FBLA during high school.
UNL FBLA-PBL has sold bracelets, T-shirts, ribbons and baked goods to raise funds for March of Dimes, as well as volunteering at local March of Dimes events. At state and national conferences, members participate in a Mini-March for Babies from across the nation.
"These have been very successful, as our members are dedicated to supporting March of Dimes," Sullivan said.
The organization hopes to make this fundraiser a yearly event, Mewes-Dunn said.
"Everyone should come to support March of Dimes, it's a great organization," she said. "We want to make it really fun so we can build this off of what we want to do for next year, too."
news@dailynebraskan.com
If you go:
what: Run for Babies
Where: Green space in front of Selleck Quadrangle
When: 8 a.m.
How to register: Online at tinyurl.com/nvmvooh or before the event