Students at the University of Nebraska-Lincoln are trying to save the student-led community farm on East Campus after a summer of complications.
The Student Organic Farm received more than $4,000 in a fall 2017 grant from the Association of Students of the University of Nebraska's Green Fund. The farm faced serious consequences last summer when the irrigation system failed and damaged crops were stripped away by landowners.
Nash Leef, the farm's former manager and primary caretaker, said the drip irrigation was shut off for undisclosed reasons when the environmental studies junior was traveling abroad in Brazil. The plants were thriving but looked overgrown and unmaintained, leading landowners and managers to tear out the damaged produce before students could harvest.
"When they took out the crops from the farm, they took all of the fruit of our labor with it," Sustain UNL President Brittni McGuire said.
The news broke during a kickoff held by Sustain UNL at the start of the 2018 school year. The environmental club's members immediately set up a table to recruit more volunteers. Fifteen new people were interested, which nearly doubled the farm's workers.
Now, students are working to preserve what remains of the yield and rebuild for future seasons. Some patches of carrots, sweet potatoes and onions made it through the damage. The student farmers also plan to plant more cool-season crops along with cover crops to better protect the produce from weather damage, McGuire said.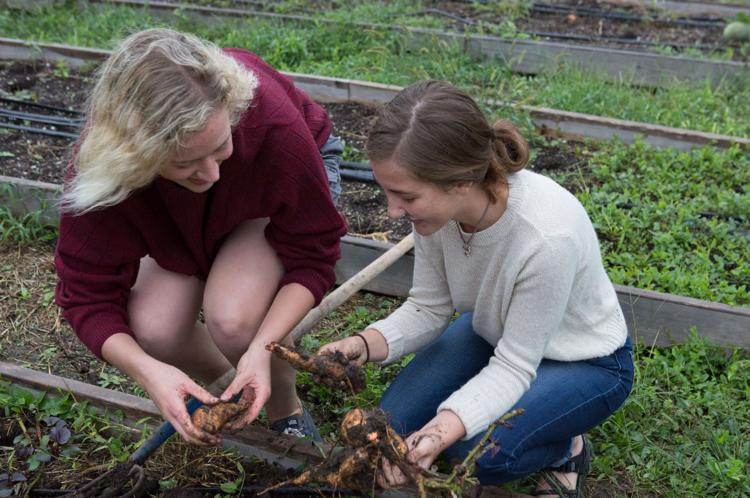 She became involved in the community farm after attending a workday hosted by Sustain UNL last year.
"I've never had an experience of growing my food or anything like that," Omaha-native McGuire said. "It was fun to go out and plant seeds and learn how to do sustainable agriculture."
Students can pick their own plot of land at the farm and plant and tend to different vegetables throughout the year. At the end of the crop season, volunteers can harvest what they want.
The student farmers plan to host a workday soon to recruit more volunteers for the farm and spark interest in its survival.
"It's really just getting people out there," McGuire said. "If you can just get them out there and let them do hands-on work, they'll just keep coming back."
Regan Gilmore, a senior agricultural economics major from Omaha, said they plan on improving the farm by switching from a production model to a community garden style.
"We love that because it's a more collaborative approach," Gilmore said. "It gives students individual incentives to come out and take care of their own plots."
Leef said most of the farm's yield goes to the People's City Mission in Lincoln, where fresh produce is donated to those in need. A portion also went to the organization Community Crops, which builds and tends to community gardens.
The farm added two projects outside of produce last year, creating both a pollinator garden and bat house.
Gilmore said the pollinator garden is filled with native Nebraskan wildflowers to attract natural pollinators like bees and hummingbirds to the area. The pollinators are given a place to live and eat while aiding crops that require pollination to produce fruit.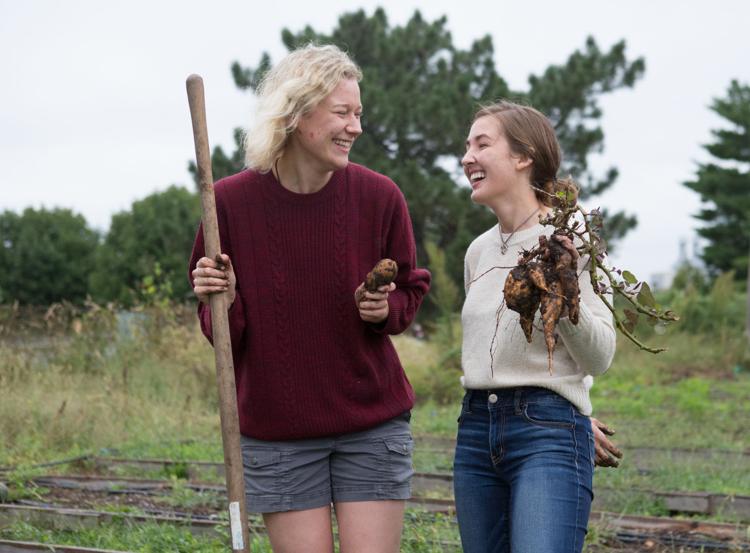 The bat house draws predators who rid the crops of harmful insects. The house can hold up to 100 bats, although it takes up to three years for the animals to get comfortable enough to permanently move into the space.
Leef said he was grateful the farm and its projects can continue to expand through Gilmore and McGuire, as he worried his departure would lead to the farm's end. He said he plans to stay involved at the farm but in a smaller, volunteer capacity this year.
"I honestly thought its dissolution would be accepted mildly as okay," Leef said. "But, that's not the case. So, I have great hope for whatever may ensue in the coming years."
Elsie Stormberg contributed to the reporting of this story.