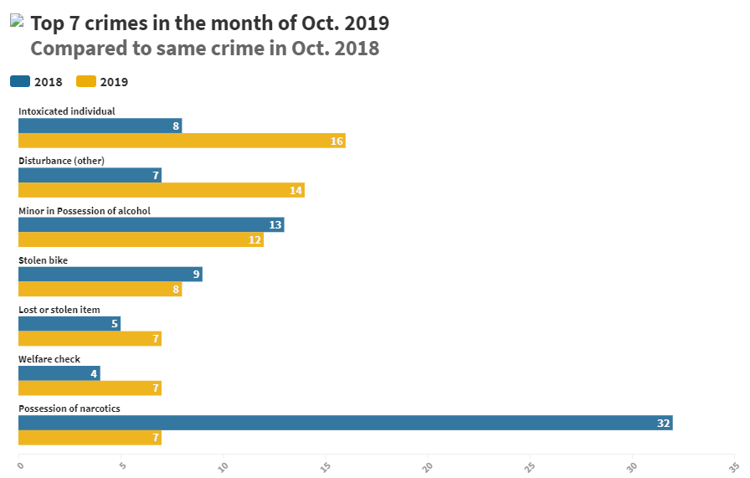 In the month of October, incidents involving intoxicated individuals were the most frequent crime at 16 incidents reported. This number doubled from eight incidents in October 2018. 
Other disturbances also doubled from this year to last year. However, possession of narcotics incidents decreased by 78%, from 32 reports last year to seven this year. Overall, crime decreased by 17%, from 172 incidents in 2018 to 142 in 2019. 
Sgt. Nolan Conradt of the University of Nebraska-Lincoln Police Department said the changes in numbers could have happened for a number of reasons, including more active patrolling or more people reporting incidents. 
On Oct. 16, UNLPD received a report of vandalism in a Smith Hall bathroom. The vandalism was racially based, according to the UNLPD Daily Crime & Fire Log. UNLPD has since closed the investigation, with no arrests made, according to Conradt. 
A student reported a rape at Sigma Phi Epsilon on Oct. 13. The investigation is ongoing, according to Conradt. 
On Oct. 6, UNLPD received a report of sex offense, according to the crime log. The entry said a student reported inappropriate behavior at Phi Gamma Delta. Conradt said the case remains open. 
An auto theft was reported on Oct. 11, the investigation for which has been closed, according to the crime log. On Saturday, Nov. 2, UNLPD sent an email to alert students about the amount of vehicular thefts. Two other auto thefts were reported Nov. 1 and are still under investigation, according to the crime log.