The sound of knives against cutting boards could be heard amidst the chatter while aromatic mint and lemon drifted through the air. At first glance, this seemed like a normal cooking class. But one thing was missing: food in the trash can.
On Thursday, Sept. 19, University of Nebraska-Lincoln Campus Recreation Center and Office of Sustainability hosted a zero waste cooking class at the Recreation and Wellness Center on East Campus. UNL students made crostini with carrot greens, pesto, shaved broccoli and feta salad and garden vegetable and lentil soup, all without letting anything go to waste, according to the class's leaders wellness services and nutrition education coordinator Lisa Graff and Campus Recreation wellness intern Peyton Millard. 
Ingredients that are normally thrown away, such as carrot tops and lemon peel, were used in the recipes. The class also discussed other zero waste practices, such as buying groceries in bulk, composting and taking advantage of the gardens on campus.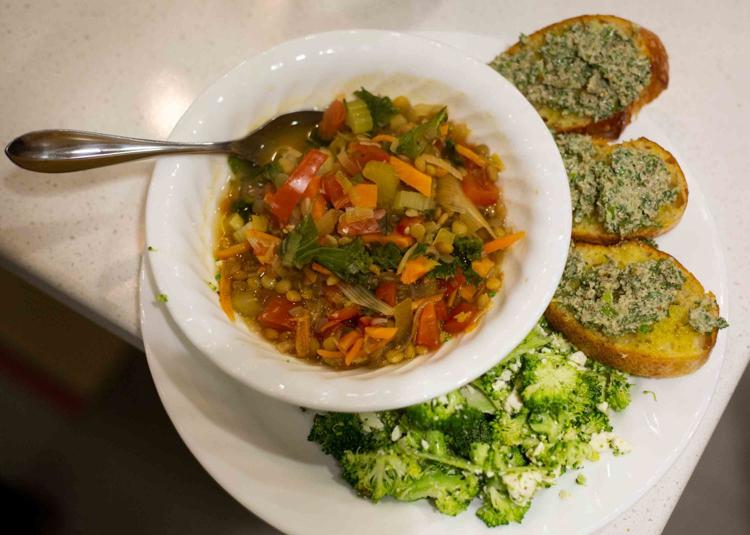 Graff said that having zero waste is important because of food waste's negative impact on the environment.
"Food waste, while it does decompose, produces a lot of methane gas, which is not great for the atmosphere and the environment," Graff said. "If we can be more mindful of the food that we're using and throw less of it in the garbage, that's going to help everyone."
Millard said another concern is wasting the food that gets thrown away.
"There's so many people who can't have the food, so why are we buying so much and wasting all of it?" she said.
Sophomore economics, environmental studies and natural resource economics triple major Kat Woerner said she signed up for the class because it went along with her zero waste lifestyle. She also said it was helpful as she transitioned to cooking more on her own.
"I had to start cooking this year because I don't have a meal plan," she said. "I was like, 'I need to get better at this, I need to learn where to go, I need to learn exactly like what I can buy', [and] I could learn some new recipes."
Senior fisheries and wildlife major Briana Kouma said she decided to attend the class because of her interest in sustainability.
"I'm just really passionate about the environment ... and when I saw this I got super stoked," she said.
Senior secondary English education major Emily Malina said she attended because of her interest in sustainability and living a healthy lifestyle. 
"I've been learning more about the environment and how to be more conscious of my decisions, and I also am really into nutrition and fitness, so I liked the idea of finding ways to eat healthier and I enjoyed that they did that with zero waste," she said.
Not only was the food healthy and good for the environment, but it also received high marks from the chefs. According to Kouma, the best part was "dipping the bread into the soup and eating them together."
Malina said she remains optimistic about the impact that the small changes discussed in the zero waste class can have on the world.
"I think a lot of times people try to make the idea of living zero waste so complicated like, 'What can I do, one person?'" she said. "But I think if you as one person can try to reduce the waste that you use, using metal straws, reusing plastic bags, using tupperware … You being one person to help the generations that we have coming up is really important."