Now, students can get a full body workout on campus in the time it takes to walk from one class to another. 
The University of Nebraska-Lincoln has installed a Fitness Court that allows students to complete a full body workout in less than 10 minutes. 
The Fitness Court was created when the National Fitness Campaign contacted the University of Nebraska-Lincoln Campus Recreation and asked to partner together. According to NFC's website, the organization wants to give people free, 24/7 access to outdoor fitness equipment and plans to bring free fitness to 1,000 cities by 2021, which prompted them to install a court by Knoll Residential Center. UNL hosted the court's launch party on Tuesday, Aug. 27 at 5 p.m. 
The Fitness Court features seven main stations: core, squat, push, lunge, pull, agility and bend. The court was designed to accommodate people of all skill levels, and each station is dedicated to different exercises. 
The installation process for the court began with the laying of the slab in July. After the slab had approximately 30 days to dry, the rest of the court was able to be installed within a week.
Additionally, senior associate director of Campus Recreation Amy Lanham said she's happy with Campus Recreation's decision to locate the Fitness Court on the corner of 17th and R streets. 
"We wanted to bring more fitness to this neighborhood of campus," she said. "And, with the Knoll Residence Hall changing over to honors, it was a nice mash." 
At the launch party, NFC training director Jonathan Binnie taught students about the circuit training system and showed them different workouts, including how to do a full body workout in seven minutes. 
Binnie said his overall goal is for ongoing activity to be happening at the Fitness Court. 
He said his favorite part of the court is the pull section because he's been able to get everyone he's ever trained to do a pull-up.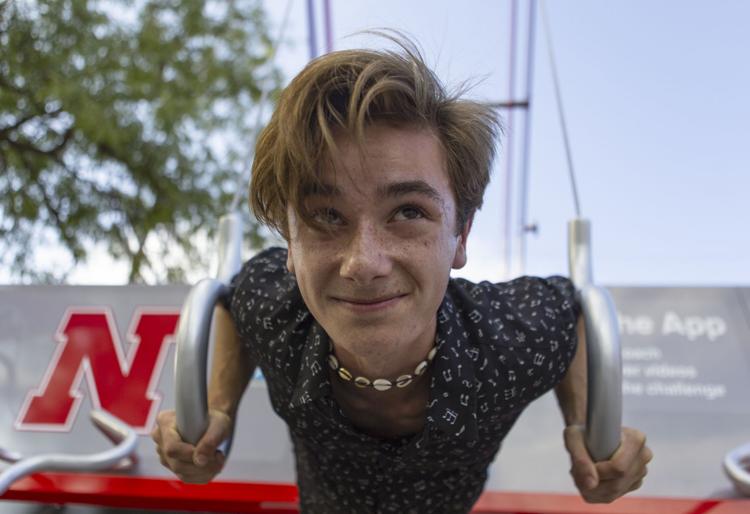 "We've designed the wall with foot strips," Binnie said. "It is very unique because lots of people are intimidated by the pull-up, and we've made it super easy and friendly for them." 
Binne also said students should download the Fitness Court app, which can introduce students to new exercises. 
 "If you download [the app], our whole thing is about making world class fitness free," Binnie said. "You can get all the workouts that I create and all the challenges on that application."
Overall, Lanham is excited for all the opportunities that the Fitness Center will create for students.
"If you go into the campus rec center right now you're pretty frustrated because it's so busy," Lanham said. "People are always asking for more facilities, so this is a way we can give them another place to play."