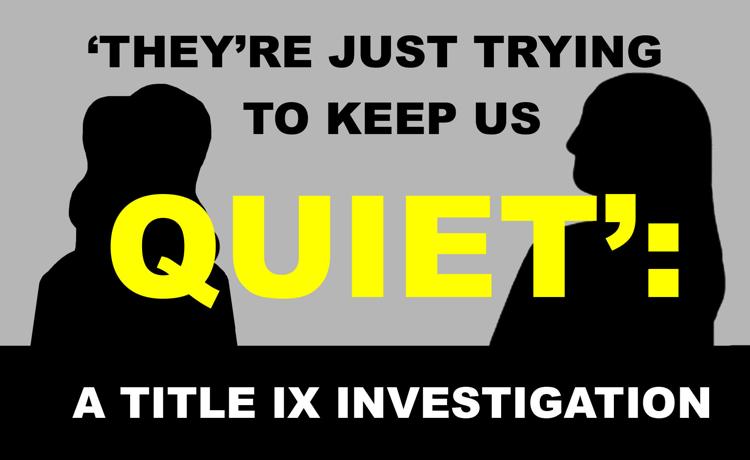 Last summer, the University of Nebraska-Lincoln announced it was ending its partnership with Voices of Hope, a counseling service for victims of sexual assault and relationship violence, to replace the resource with its own in-house victim advocate.
The shift forced the university to answer how it can protect survivors.
Since September, The Daily Nebraskan has interviewed survivors of sexual assault and harassment to understand and shed light on their experiences with the Title IX office. During this investigation, survivors voiced their concerns with what they described as an unfeeling, victim-blaming bureaucracy. Their interactions with Title IX took place while Voices of Hope was still the campus victim advocate.
Title IX has protected people in federally funded schools from discrimination based on sex since 1972. The law sprouted university offices with the express purpose of enforcing it, oftentimes themselves referred to as Title IX offices or simply Title IX. At UNL, the Office of Institutional Equity and Compliance is "dedicated to the prevention of sexual discrimination, sexual harassment and sexual misconduct, and providing a safe campus for its employees and students," according to its website.
UNL's Title IX coordinator, Tami Strickman, is responsible for coordination of compliance and safety efforts, as well as the processing of sexual misconduct reports and complaints.
Because of safety concerns, some of the survivors The Daily Nebraskan interviewed chose not to be named. The pseudonyms of these individuals are noted with an asterisk on first reference. Names with double asterisks indicate the survivor chose to use their first name but to not disclose their last name.
'I don't get any time back for the trauma'
Sheridan Thomas was raped as a 17-year-old freshman in August 2015. She said her experience dealing with the Title IX office at the University of Nebraska-Lincoln was worse than any trauma she experienced at the hands of her rapist.
"My experience with them was awful," she said. "It was … way worse than the trauma that I had already gone through, so it's just like extra trauma I didn't need. And if I would have known that, I wouldn't have gone to them."
Thomas said she first met with a Voices of Hope representative between September and October 2015.
In January 2016, she decided she wanted the rapist to be held accountable.
The same month, Thomas met with a UNLPD detective and then went to the Title IX office in March. A UNLPD investigation followed, and ultimately, the officers conducting the investigation found him not guilty.
After reading through the Student Code of Conduct, Thomas decided to appeal UNLPD's verdict. She went to Student Affairs to see if she could get a hearing to appeal the decision.
At the end of the hearing, Thomas said the board decided the perpetrator did not violate the code of conduct.
She said she didn't feel safe at school — she would see the rapist on campus and at other places in Lincoln. Back in August 2015, he saw her with friends just days after raping her in his dorm room in Cather Hall.
He waved to her.
"I feel like he thinks he didn't do anything wrong and he's, like, in denial," she said.
She said the Title IX office knew she didn't feel safe on campus, but she said they made no accommodations aside from telling the student to stay away from Thomas.
Back in March 2016, she met with Strickman, who Thomas said made her feel like she was to blame for what happened.
Thomas said Strickman made her feel like everything was her fault by asking questions like if she was intoxicated that night.
"And it just kind of comes back to the fact like that shouldn't have happened if I was drunk or if I was sober," Thomas said.
Deb Fiddelke, the chief communication and marketing officer, who spoke on behalf of Title IX, said those kinds of questions would be part of the normal process to gather facts, even though they might be uncomfortable to answer.
Thomas went to several meetings with Strickman without the Voices of Hope representative, and said she didn't understand what certain legal terms meant. The jargon made conversations with Strickman more confusing, but she said she trusted those in the Title IX office to help her, even as she relied on the representative to understand what Strickman was saying.
She decided not to sue her rapist because she felt he would have retaliated. She said she continued to feel unsafe on a campus where the Title IX office didn't protect her.
Thomas said she expected the rapist to be held accountable for his actions at the start of her process with the Title IX office. She expected a "good ending" to her story but found the opposite was true.
If she could change anything about how the Title IX office deals with cases like hers, Thomas said she'd want to change students' perception of the office. She expected the office to be her advocate, and said she's more angry about their treatment of her than the actual assault.
"I just want to see change, and I want people to actually feel comfortable going to [the Title IX office], knowing that's a resource," she said. "Accountability is the main thing because I don't get any time back for the trauma that they also put me through afterwards."
'What happened was terrible, but going through this investigation process was almost worse'
Miranda Melson was new to UNL after transferring from Nebraska Wesleyan University her sophomore year.
The 2018 graduate was a sociology, French and global studies major and had the usual student experience until she was raped by another UNL student off campus.
After she was raped, she wasn't sure what to do. Months went by, and she still was unsure if she should report anything to university authorities.
She didn't know where to start. She said she told some of her friends, who didn't understand what she was going through or know what to do next.
"They said things like, 'Oh, you should've called me,' so I started getting really down about it," she said.
Eventually, she made her way to the Women's Center at UNL, who then connected her with Voices of Hope.
Voices of Hope told her about UNL's Title IX office and gave her options on what she could do next: report the rape to Title IX or the police.
Up to that point, she had no idea Title IX was where survivors of sexual assault could go to report their assault.
"I heard it was for people being discriminated against based on gender in the classroom," Melson said.
She said she felt Title IX was a better option because of its purpose to specifically serve students and would be more efficient than the police.
After looking at Title IX's definition of consent, she thought her case had a strong chance of leading to action against her rapist.
On Title IX's website, "consent" is defined as an "agreement, approval or permission to some act or purpose, given voluntarily by a competent person. In the context of sexual activity, consent is an affirmative decision to engage in mutually acceptable sexual activity by clear actions or words."
Since she never gave consent during her assault, she was cautiously optimistic as she reached out to the Title IX office.
She contacted Strickman to set up an appointment. She said one of the first things that made her suspicious about the Title IX process was how Strickman conducted the interviews.
Melson said one other person took notes during her first interview with Strickman, but only Strickman was present in the following interviews. The meetings were also not recorded, even after Melson's request.
According to Melson, Strickman told her recording the interviews wouldn't be necessary.
"I thought this was kind of bad because there was no one to hold her accountable administratively or check on what she was doing," she said. "They were saying statements that were wrong, and it was very frustrating for me to have them not even record me."
Fiddelke said Title IX records interviews unless the survivor specifically asks the office not to, so this claim was "a bit confusing to us."
Throughout her whole experience with Title IX, Melson said that, more than anything, she was left feeling bewildered.
"[Strickman] acted like she was very busy and kept canceling our meetings and rescheduling it, acting like she didn't have time for me. This is all routine for them but this affected me daily," she said.
While she was in contact with Title IX, Melson began to fall behind in her classes. She said it was Voices of Hope that helped her make academic accommodations and not the Title IX office. Title IX told her to go to the Office of Services for Students with Disabilities to receive academic accommodations while the investigation was ongoing.
She had to personally tell her professors that a Title IX investigation into her sexual assault was why she was falling behind.
She felt even more threatened as her rapist continued to contact her after the Title IX investigation ended.
"[Title IX] could've educated my rapist and ensured that I was safe in school but they didn't do either one of those," Melson said.
Throughout the investigation, Melson said the Title IX office didn't show her any compassion.
At one point, she said Strickman said the investigation would be different if Strickman was her parent.
Fiddelke said Strickman denies this was said during the investigation.
After weeks of investigating, the Title IX office concluded that Melson's rapist did not violate any of UNL's conduct policies.
In the findings letter, the investigation found that Melson was not sexually assaulted because "the greater weight of the evidence shows the parties engaged in consensual sexual activity."
Melson said she felt the language in the results victim-blamed and was written in an accusatory tone, like she deserved what happened to her. For example, she said Strickman asked her if she only turned her head away one time from her assailant's kiss.
Fiddelke said that these would be common interview questions during an investigation, even though they would be uncomfortable to answer.
At one point, the letter said, "After the parties left the downtown area, Respondent suggested going back to his apartment. You agreed."
Melson said using the word "you" in the letter made her struggle with the findings even more.
"I started blaming myself because of my friends' reaction and things [Strickman] said like, 'Why didn't you stop kissing him on the bridge?' or 'Why did you go to his apartment?' and 'Nothing you presented me shows that this was non-consensual' and so it made me very angry with myself, and I felt suicidal," Melson said.
She asked Strickman to change the language of the letter so it wasn't blaming the victim, but Strickman she said denied the request. According to Melson, Strickman said Title IX wouldn't change the wording because it's the way it's always been.
Fiddelke said while she couldn't speak to specific Title IX cases, the office has to list facts in the case to be fair to both parties involved in the investigation. She said the university has a good record of having results not being challenged when people are found guilty because the Title IX office does it's due diligence.
"It could have been changed to 'the victim chose' instead of 'you,'" Fiddelke said, "but if it's a factual statement, it has to be reflected. And these are difficult cases."
According to the Student Code of Conduct, anyone who wants to appeal the findings must do so within seven business days, even after months of investigation. Title IX gave Melson the results of her case during dead week.
"That's not enough time to make up your mind about anything, but especially when it's one of the most important decisions of your life," she said.
She said she decided not to appeal the decision because the Title IX office made her feel like she wouldn't stand a chance.
"What happened was terrible, but going through this investigation process was almost worse," Melson said.
Even though it's been a few years since she went through the Title IX process, Melson said she is still fighting for other victims who have been traumatized by their assault and the investigation process that followed.
Melson was the vice president of PREVENT at UNL, a student organization dedicated to ending sexual violence. She also testified in support of LB 988 in 2018, a legislative bill that would have adopted an affirmative consent standard in sexual assault cases.
The way people talk about rape or sexual assault victims needs to change, she said, and it starts by rejecting a culture of victim-blaming.
"If someone was robbed, people don't say, 'Did you really get robbed, like why didn't you fight them?'" Melson said. "People aren't coming to [Title IX] for fun. They need to protect the people that don't have the power to speak up, and this is one of the most under-reported crimes, and we can't victim blame people after they've been raped."
When UNL hired an in-house victim advocate and ended its relationship with Voices of Hope, Melson said it was like a slap in the face to survivors.
"Everything just seems like it's part of the UNL bureaucra[tic] process," she said. "They're just trying to keep us quiet."
Melson's hope is that the Title IX process doesn't stay like this forever. Right now, she said the process is confusing and traumatizing, but she hopes one day it empowers more people to come forward to report sexual misconduct.
If Melson could start all over, she said she wouldn't go to Title IX. She said the process was too stressful, and in the end, it didn't solve anything. She said her experience has affected others' decisions on what to do about their assault.
"I know other survivors who don't come forward about it, and I don't blame them," she said. "I wouldn't do it now."
'I placed the blame on myself'
More than anything, Phoebe* is afraid of what she has to lose by telling her story.
She's afraid of what telling her story will mean for her future.
She's afraid of the backlash she'll face from the people she works with every day.
But ultimately, Phoebe knows that by overcoming her fears, she's supporting other survivors who felt the same powerlessness and betrayal she felt when the systems meant to protect students failed them instead.
Phoebe didn't know much about the Title IX office when she first came to UNL. She saw it as a place to go if she ever faced discrimination or experienced sexual misconduct.
But when Phoebe was sexually harassed by someone she saw almost every day, she said the Title IX office did not provide the support or help she expected.
At first, she didn't go to the Title IX office because her harasser was someone who was highly regarded in her peer group.
"I wondered if I had invited the harasser's behavior in any way," she said. "I placed the blame on myself. I did not want to disrupt my peer group, and I tried to minimize what happened, telling myself to get over it and that it was not a big deal."
After talking to a few close friends, she decided to tell a professor she trusted, who then told her she should go to the Title IX office.
But Phoebe's experience with the Title IX office left her feeling humiliated, patronized and insignificant. She said her experience with the office revictimized her and completely lacked transparency.
She said her options weren't laid out in a way that was easy to understand for someone with no legal experience. She also said the staff pressured her to identify herself in the misconduct report, thereby stripping her of anonymity. The Title IX office told her there was little it could do for her if she chose to remain anonymous.  
"My safety concerns were never addressed," she said. "The person who harassed me had 24/7 access to my workplace, had the knowledge that I had reported them and did not face any consequences to their behavior."
Phoebe said at one point, Strickman asked her what she was so afraid of.
Fiddelke said this question is part of the investigation process to establish facts in the case.
Phoebe said she had to take her safety and mental health into her own hands because the Title IX office did not help her in this regard, and ultimately, the office did not take any actions against her harasser and found no wrongdoing.
She decided against appealing the Title IX office's decision about her case because she said the initial process was too emotionally stressful and exhausting. She said it felt like she had to choose between her personal well-being and her academic future while deciding to appeal the case.
"Although I strongly felt like the decision was unfair and it was putting myself, other people and the university's reputation at risk, dedicating my time and energy in pursuing an appeal at that point of the semester would have likely meant failing at least one of my classes," she said.
If there is one thing she's thankful for about her Title IX office experience, it's that the office introduced her to Voices of Hope.
"The victim advocate at Voices of Hope was quite literally a lifesaver," she said. "I do not know where I would be if I had not had the Voices of Hope victim advocate listening to my concerns, fears and frustrations arising from both the sexual misconduct incident and the Title IX investigation process."
One of Phoebe's biggest grievances with the Title IX office is the lack of transparency and accountability.
"[The Title IX office] must stop presenting themselves as a resource for survivors because that is not what they are," she said. "They are a group of investigators making decisions on behalf of the university based on their interpretation of a policy."
Despite her experience with the Title IX office, Phoebe said she still didn't want to leave UNL. She said she cares deeply about the university and is grateful for the opportunities it has provided her to grow in her career.
"I'm not angry at UNL. I didn't move away from UNL for a reason," she said. "I'm disappointed in the system, and I know that UNL can do better, and I expect better from an institution like UNL because we are better in many other ways."
Phoebe said any survivor should prepare themselves as much as they can before they visit the Title IX office by reaching out to resources like Voices of Hope or finding a lawyer, if possible.
"I would first want to ensure to them that they are not alone, that they have allies and that they are valuable, incredibly strong individuals who can make it through this situation," she said. "It was not their fault; they deserve better, and I believe them."
'I thought that the university was helping me, when they weren't'
Sophia's* experience with the Title IX office at the University of Nebraska-Lincoln was one of contradictions, misunderstandings and misinformation.
The confusion started with her first meeting at the office, when the Title IX officer told her the stalking she had been subjected to did not qualify as an actionable offense.
She said a lower-level Title IX office told her the treatment was just regular harassment, and not sexual harassment.
Since she was told her report didn't merit a formal complaint, she verbally agreed to an informal resolution that placed a no-contact order between her and the respondent, to prohibit direct or indirect contact between Sophia and the individual who harassed her.
She had been shown no documents to define what an informal resolution was or the stipulations her verbal agreement would later hold her to, and the officer said it would be possible for her to later change the resolution to a formal complaint.
Ten months later, after the respondent's periodical, but consistent and intense harassment continued in spite of the informal resolution, Sophia learned she had been totally misinformed of her rights.
Beyond her frustration about the Title IX office's unhelpfulness, the meetings were hard for Sophia. The officers were indifferent when she recounted her emotional stories and were unempathetic to her situation and the fear the respondent had stoked in her.
"I think they maybe gave me a pamphlet once, but I would say the people I worked with came off as cold and didn't seem to understand why I was so afraid and why I was making this complaint," she said. "It was almost as if they thought I should just let it go."
Sophia's friend, Erin*, accompanied her to meetings with the Title IX office for support and was also harassed by the respondent six months after the office issued the no-contact order between Sophia and him.
Over the ten months of the no-contact order, the respondent broke the resolution by indirectly contacting Sophia. She reported the instances, but the Title IX office deemed them inconsequential and didn't take action. Ultimately, he violated the order so egregiously that Sophia had the evidence for a formal complaint — although the office only considered the most recent event in the report.
But first she had to work through a new Title IX officer who insisted a formal complaint was not a possibility, which contradicted what her previous case manager told her.
The officer said by opting for an informal resolution, she had surrendered the ability to file a formal complaint. The officer tried to show her where she agreed to give up the option, but Sophia had never agreed in writing or been told of the verbal agreement's implications.
"I was totally misinformed in that first meeting, and that impacted the entire process. I was held to things that I agreed to and was never told that I agreed to," she said. "There was no understanding or willingness to work with the situation from Title IX — they said I had agreed and that was that."
Her Title IX interactions were a tiring process that drained Sophia's energy from her classes, research and work.
Daniel*, Sophia's current boyfriend, said the process felt like a machine that took in traumatized survivors and churned out exhausted students with no hope of justice. Daniel took an active role in Sophia's case, but he soon learned they were powerless to an office that he said functions as a "PR wing of the university."
"It's really heart-wrenching as a partner when you see someone going through something that is very traumatic and painful to them, and there's very little you can do to help other than offer hope … or your condolences," Daniel said. "And in this case, there wasn't really any hope to offer."
The exhaustion spread to her friends, too.
Erin said the worry of what the respondent could do permeated her last year at UNL. She was nervous to defend her thesis and her five years of work, but was also worried the respondent would attend the defense. It was still a concern when she graduated.
"I should have been super happy; I had worked super hard for all of this, and we were worried he was going to do something crazy to any one of us," Erin said. "It really took away from my experience at UNL."
The stress became unbearable when Sophia realized she would have to take a small, discussion-based class with the respondent. The class is offered just once every two years for her program, so she asked the Title IX office for an accommodation.
The office said there was nothing it could do, even though there was still a no-contact order between the respondent and Sophia.
Her only options were to take the class with the respondent, take the class the next time it was offered and delay her graduation or take the class off her degree program entirely.
The Title IX office's dismissiveness showed Sophia she needed more help, so she reached out to Voices of Hope.
"I didn't contact Voices of Hope for a really long time because I thought that the university was helping me, when they weren't," she said. "I also had this feeling of 'Well, I don't have it that bad, I don't need that help.' But, I think if I had an advocate there from day one, the whole process could have been different."
Sophia said assistance from a Voices of Hope victim advocate slightly improved her interactions with the Title IX office as she officially began the formal complaint and investigation process.
With the nonprofit's help, Sophia learned her rights and how to demand accountability from the office.
"[A Voices of Hope representative] helped me know when I needed to stand up for myself when something was wrong and stood up for me when I didn't realize that I needed to stand up for myself," she said. "I can't imagine what the process would have looked like if I had continued to do it alone."
But even with Voices of Hope's help, the Title IX office refused to give Sophia an accommodation for the 12-person, round-table class.
"They did not seem to understand why I felt unsafe or why taking this course with him would create a hostile learning environment," she said.
The suggestion that the respondent's behavior should not make her feel unsafe was consistent throughout all her interactions with the Title IX office.
"[Title IX] didn't respond to me saying I didn't feel safe," Sophia said. "Whenever I voiced any concerns that they weren't taking any steps to make me safe, I was met with a blank stare or maybe no acknowledgement."
She said the respondent's rights always ranked above her safety concerns.
"In all those times that they stressed to me that they had to do what was fair to him, they never once mentioned doing anything because it was fair to me," she said. "It was about making sure that he felt no burden of his actions, but that I took all the burden of his actions."
In the end, she decided she wouldn't let his behavior influence her decision to take the class.
"People always look forward to it — there's always great reviews, and people learn a lot from it," Sophia said. "I didn't want to sacrifice my educational quality because of his actions."
But her fortitude couldn't stop the impact of regular contact with the respondent. Erin said she noticed how the class exhausted Sophia and said it would be impossible to learn while worrying about what the respondent could do or say.
When the Title IX office launched the investigation for the formal complaint, the process took more than 70 days. Ultimately, it concluded that the respondent had violated the Student Code of Conduct and punished him with probation and extended the no-contact order that had already been proven ineffective.
When Sophia appealed its decision in an appeals process that took more than 90 days, the Title IX office implemented what she called "theoretical sanctions." She said she feels the sanctions are theoretical because the respondent never followed them and the university has never enforced the rules.
Erin said she was shocked at how the Title IX office's unhelpfulness contradicted its mission to protect access to education.
"Title IX should have been able to help us right away, when he broke the no-contact order within a week, then a month and a half later, then six months later," she said. "At each step, I was like 'They have to do something now, have to keep him away from us, have to make sure he learns from this,' and at each step they just did nothing."
The respondent was working as a teaching assistant while the Title IX office was involved, and Erin said she couldn't believe how the university wouldn't take action against an employee's stalking behavior.
"I don't think any parent would want their daughter to be taught by someone who is a stalker, and hasn't faced any consequences, so he could do it again," she said. "I think it would be a problem for the university if parents found out he was guilty. No one wants their kid to be anywhere near someone like him, especially young women."
Because of Sophia's experience with the Title IX office, it appalled her when UNL cut ties with Voices of Hope. She said the nonprofit's advocacy helped her understand her rights and when she needed to stand up for herself.
"When I didn't know how or when to stand up for myself or my rights, it was easy for the Title IX office to make me be quiet and accept that this was all they could do and they were supposedly helping when they weren't," she said.
Erin reacted similarly, and said the university could never provide what it had surrendered by ending its relationship with Voices of Hope.
"I was disgusted after our experiences with Title IX," she said. "I wouldn't trust that anyone employed by the University of Nebraska would do the right thing."
For a year and a half, Sophia said the Title IX office traumatized her by re-victimizing her, misinforming her and creating a feeling that the office was not there to protect her, but to defend the university.
She said the office could be improved by focusing on transparency and clarity, making meeting recordings available and providing easy access to accommodations for students without formal complaints.
She said the office has a long way to go to work toward such goals.
"Overall, I just think the process was so flawed and unfriendly to me as a complainant that it was more traumatic than the harassment itself," she said.
'Right now, in this moment, I feel unsafe'
Ellie** noticed the Title IX office's cold, administrative demeanor even before she reported her rape.
She was training to become a resident assistant at the time and was listening to presentations from the Title IX office and Voices of Hope on how to handle harassment and abuse situations as an RA.
The Title IX office's presentation focused on the legalese of reporting harassment and abuse, but she said Voices of Hope gave the RAs a way to respond to the victim's needs.
It was important for her to emotionally support her residents, but she saw how administrative rules — like how she was required to report incidents of sexual misconduct under state law and university rule — blocked her from helping vulnerable people looking for comfort.
"I would have loved to not be a mandatory reporter," she said. "It really bothered me because I did have to tell that to people, and they would just be like 'right' and walk away."
She realized the rule's severity when she looked for solace in another RA after her own assault in December 2016. After a conversation where she recounted what happened, the other RA told her he had to tell their boss.
"I just remember saying 'But I'm your friend, can't you wait?'"
The tip set in motion the bureaucracy of sexual misconduct: Her report went to the Title IX office and UNLPD, and Ellie went to the hospital within 36 hours of her assault for a rape kit. She would have eventually gone through the administrative process, but said she wanted to focus on her emotional needs first.
"That wasn't what I was thinking at the time," she said. "I wasn't concerned about Title IX or being an RA or [my friend] being an RA in the moment."
Ellie went to the Title IX office in January 2017 after visiting the police and the hospital, and it took that one meeting for the office's services to seem pointless to her.
Her assault took place in a dorm room, but the assailant wasn't a UNL student. Ellie said the office emphasized technicalities like this over her own safety concerns.
She wanted to ban and bar the assailant from campus, but even as a non-affiliate, he would have had to violate the Student Code of Conduct to be banned from the public university's grounds.
Ellie said it shocked her that the school wouldn't take action against an assailant in its dorms — action that would not only acknowledge her case but could also prevent future assaults.
"Even afterward I didn't feel safe on campus," she said. "That was the kind of part that got to me the most: this happened in the dorms, with somebody who doesn't go to UNL, and he's still on campus."
The Title IX office's empathy and other accommodations also seemed to stop at the campus' borders, Ellie said.
"It wasn't a 'Well, we are concerned about your safety and that you don't feel safe on campus since he is still on campus,'" she said. "It was more of a 'Well, you know there's nothing we can do about that.'"
The Title IX office offered to ban her assailant from entering the dorms, but Ellie said she'd seen how the restriction would be ineffective as an RA.
"There are about 10 ways in and out [of residence halls] without being seen," she said. "That wasn't viable for me because I knew that wouldn't stop anything."
Mary**, Ellie's mother, was optimistic that the Title IX office could help her daughter. She said those hopes were quickly deflated when the officers focused on what they couldn't do to help Ellie feel safe instead of listening to her concerns.
"I think there was no attempt to say, 'Well, what does Ellie need?'" she said. "There was no interaction, it was almost like a presentation or a brochure. There was no compassionate space created."
Mary works for the government, but said even her bureaucratic experience wasn't enough to understand the jargon in the Title IX officer's speech. Ellie said the officer's clinical language made her feel detached and powerless.
"Instead of saying 'You, Ellie, could appeal,' it was 'The discriminated against will appeal against the perpetrator,'" she said. "It was harder for me to fight for something through the red tape and the jargon, rather than just be like 'Well, I guess I'll just accept that and move on.'"
The Title IX office's indifference and inaction impacted Ellie's life beyond the meetings. When UNLPD concluded the assailant could not be banned and barred from campus in March 2017, she said the inattention to her safety concerns changed her perception of campus.
"Right now, in this moment, I feel unsafe," she said. "It frustrated me to be shut down at every avenue, while I was trying to get that sense of safety and just being blocked on every road."
She had to take her safety and well-being into her own hands as the assailant remained active on campus. She remembered walking across campus to spend time with friends, but being stopped by text messages that said, "He's here, don't come over."
"It made me very sad for Ellie that she felt she didn't have freedom of movement and he did, and that made me very angry," Mary said. "If she was wanting to go out with her friends, they would say 'I've seen him, don't go this direction.' It was all on her — no one was protecting her. Her friends and I couldn't do it. The school wouldn't do it."
The unhelpfulness and apathy Ellie experienced from the Title IX office made the campus' loss of Voices of Hope visceral. She said she was shocked, angry and sad. She'd benefited from Voices of Hope's resources not only as a victim, but also as an RA learning to handle harassment or abuse cases.
Voices of Hope helped her navigate the process in a way that she said the Title IX office's detachment and legal jargon made impossible. She went to Voices of Hope first after her assault and said they gave her the support for her emotional recovery.
The nonprofit's resources went past scheduled meetings. Ellie said she immediately had an advocate when a representative accompanied her to the hospital and to the police after the assault. The relationship continued as she met weekly with Voices of Hope workers to discuss the impact the assault and the investigation had on her life.
Mary said it was invaluable to have an expert and advocate as she and her daughter maneuvered through the process.
"It was our first time interacting with those questions," she said. "It's a very fraught period and I hope to God it's the only time I have to ask — we were not the experts on what's possible, not even at that moment were we sure of what we needed."
Ellie said the Title IX office's legislative and bureaucratic lens makes it difficult for the office to provide victim advocacy, and her mother agreed. Mary said she didn't remember the officers ever saying, "We can help you."
"It matters how you talk to parents and victims in that moment," she said. "It matters to have the right vocabulary — it's not just a presentation and a brochure."
Ellie has already seen how her experiences with the office have dissuaded others from seeking help after an assault. After witnessing her ineffective and traumatic interactions with the Title IX office, one of Ellie's friends decided against opening a full Title IX investigation when she was assaulted.
"She saw everything I went through, and how it didn't pan out for me," Ellie said. "She didn't think having it investigated would be worth the time because of the outcome."
A neutral body
Strickman said she understands how students who go in believing Title IX is a victim advocate organization can experience it as a cold, unfeeling office.
"One of the statements that we hear, not only in this office, but across the nation … is we're often referred to the non-emotional people on campus," she said. "And we certainly don't want to be perceived that way, per say, but at the same time, we have a very difficult job to do, where we have to assess information as it's been presented to us and draw conclusions and analyses based on that information."
UNL's Title IX office conducts neutral investigations and is vested with less power than it's assumed to have, according to Strickman. She said the office doesn't make unilateral decisions, so they work with other university offices to help accommodate survivors.
Strickman said the office can work with professors and teaching assistants if a survivor's trauma causes them to need an extension on a project, but it can't make academic decisions directly. The office can also work with residence directors and assistants to accommodate those in uncomfortable living situations after an incident.
"We'll work with housing and make those types of moves," she said. "But we're not the ones that are actually doing that sort of on-the-ground work."
While Strickman said the Title IX office can improve in some areas, namely by expanding its community outreach and capabilities, she said the office accomplishes its primary job. The office currently has three investigators, and they all undergo extensive and continual training, according to Strickman.
"I think that we conduct investigations really well," she said. "I think we provide due process … We're very transparent about what the process is going to look like."
A UNL Title IX report showed that more than 64% of the 176 complaints, which include complaints of sexual harassment, sexual assault and stalking, the office received between July 1, 2015 through June 30, 2016 ended in no action from the office. More than 20% of these instances were due to its judgment of no violation, more than 12% due to a lack of jurisdiction and more than 30% due to a lack of information.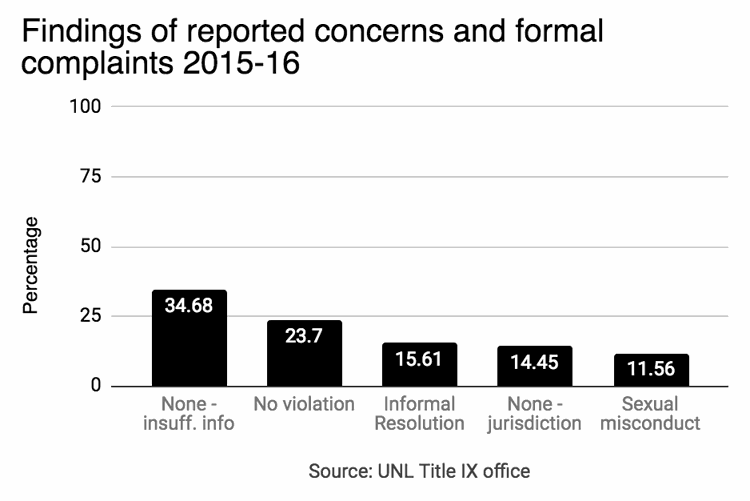 Strickman said the Title IX office is working on compiling its data from 2017 and 2018, so more recent numbers are currently unavailable. However, Fiddelke provided some data and said there were 193 complaints filed to the Title IX office in 2016-17 and 160 in 2017-18.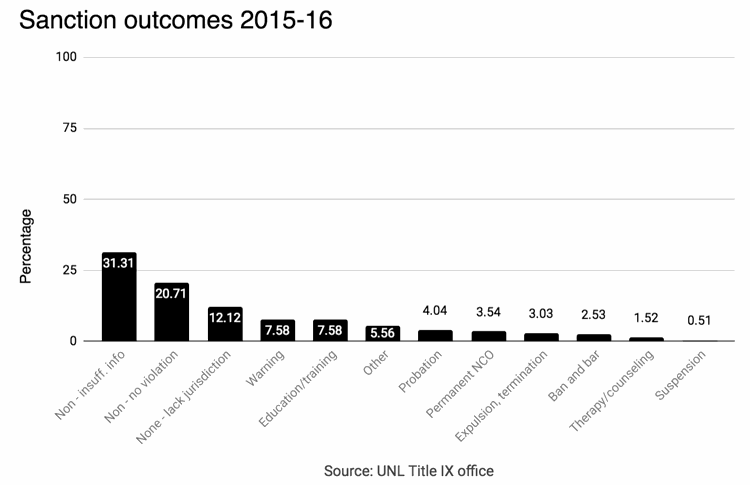 The report also said the Title IX office was unable to conduct an investigation for more than 87% of the 32 sexual assault complaints the office received that year, due to a lack of jurisdiction in nearly 13% of cases and a lack of information in more than 67%.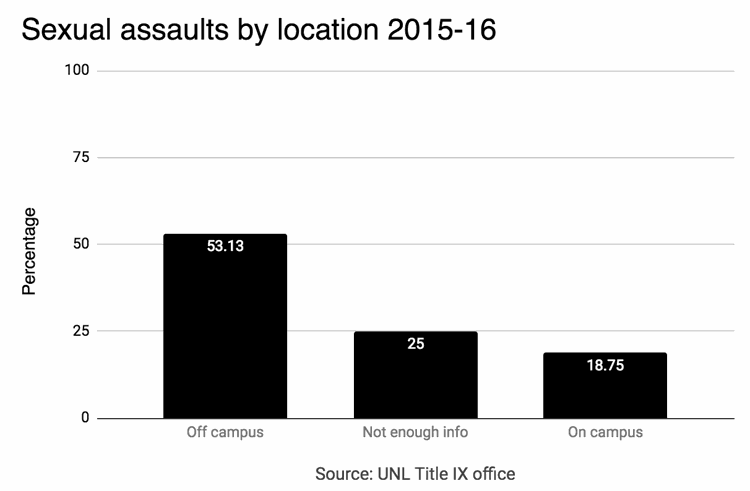 Strickman said Title IX investigators thoroughly explain the process to students, which she said generally lasts less than 60 days from the initial complaint until the office's decision.
Fiddelke said Title IX is a complicated regulation, and can be confusing for people to understand. However, she said Strickman "is one of the best people I've ever seen at trying to explain complex legal terms and issues to someone."
Some of students' dissatisfaction with the office stems from a misunderstanding of its role, according to Strickman.
"I think, sort of from the onset of sexual misconduct issues, it can oftentimes be difficult and challenging for a Title IX office because students are sometimes surprised when they learn that we are not advocacy offices," she said.
But Marla Sohl, Voices of Hope's sexual assault services coordinator, said Title IX's neutrality is no excuse for the way it's made survivors of sexual assault and harassment feel.
"You can be unbiased and still treat people well," she said. "They have traumatized people coming to them, and they're not coming at it in a trauma-informed way."
Statistics from a spring 2018 study by UNL psychology professor Kathyrn Holland show that the Title IX office claimed the lowest score of all campus resources students used after an unwanted sexual experience. The office eared a mean score of 4.17 on a 7.0 scale.
That puts the office's score two points beneath Voices of Hope's score of 6.18, which was the highest rated of all related campus resources.
Sohl said the rating affirms what she and her colleagues have worked tirelessly to do.
"Every single individual who provides services [at Voices of Hope] is 100% committed to the health and well-being of the survivors," Sohl said. "It's not just our job; it's our life."
Sohl and Marcee Metzger, the executive director of Voices of Hope, said their staff uses trauma-informed training to make survivors feel safe and comfortable even as they tell and retell their sexual misconduct stories.
"Everything that we do is run through that filter of, 'How do we make survivors safer and how do we hold perpetrators accountable?'" Metzger said. "The survivor is at the center of everything we do. Their safety is primary, and confidentiality is always maintained."
Since the Title IX office focuses on investigations, Strickman said it teams up with UNL's in-house victim advocate and Counseling and Psychological Services so survivors can get the help they need.
UNL's victim advocates, which work out of the University Health Center, are employees who connect students with campus and community resources, explain the Title IX process and inform survivors of options like academic modifications, housing changes, and "no-contact" orders, according to Leslie Reed, UNL's public affairs director.
The two in-house victim advocates provide a combined 80 hours each week of victim advocacy to the university. Reed said this constitutes a significant increase compared to the part-time support of 10 hours per week provided previously through Voices of Hope.
While the advocates have a cooperative relationship with the Title IX office, Reed said they are independent from the office and are not accountable to it.
"Our advocates' first job is to listen to victims and to provide them a safe and confidential place to find the emotional, psychological and legal resources they need," she said in an email.
Reed said UNL followed in the footsteps of other Big Ten universities by hiring a full-time victim advocate in the summer of 2018. She said Melissa Wilkerson, the university's lead victim advocate, worked as a victim advocate from 2000 to 2014 in a Colorado District Attorney's office and also has provided advocacy service to women's shelters in Kansas and Colorado.
"The university regretfully ended its contractual relationship with Voices of Hope in 2018 as part of its decision to internalize and expand advocacy services on campus," she said in an email. "This new approach brings us into line with the best practices of other universities across the country."
Despite the lost of their presence on campus, the staff of Voices of Hope is still devoted to students and the university community, Sohl said.
"We really want people to understand that we're still here for UNL," she said. "We might not be on campus, but we're here."
If you or someone you know has had an experience with the Title IX office you'd like to share with The Daily Nebraskan, please email investigations@dailynebraskan.com.