A burgundy Chevy, a beige tarp over a display of trinkets, columns of orange pumpkins and the overcast sky signified the introduction of autumn — and thus, the end of the Haymarket Farmers' Market for the year.
The Haymarket Farmers' Market takes place in the titular Haymarket District on Saturdays "rain or shine," according to its Facebook. Between May 1 and Oct. 9, vendors are welcome to sell food, produce and arts and crafts. The Lincoln Journal Star wrote in April that the market draws hundreds to downtown Lincoln each weekend.
Charuth Van Beuzekom, her husband Kevin Loth and business partner Ian Richmond have run ShadowBrook Farm since 1996, and Van Beuzekom has been vending at the Haymarket Farmers' Market since the same year. According to the farm's website, Van Beuzekom makes goat cheeses as head of Dutch Girl Creamery while Richmond manages vegetable production. 
"In the old days," Van Beuzekom said, "this was the only place we sold."
According to Van Beuzekom, after starting at the Haymarket Farmers' Market, ShadowBrook Farm expanded to sell in other places.
"The whole concept of local food and supporting your farmer are all way more popular than they were [when we started]," she added.
With more businesses doing what ShadowBrook is doing, she said she has more interested customers.
Van Beuzekom said she, Loth and Richmond will "keep going" after the end of the Farmers' Market to the Sunday Farmers' Market at College View — which closes Oct. 31 — in Southeast Lincoln and then on the ShadowBrook online store "all the way through December."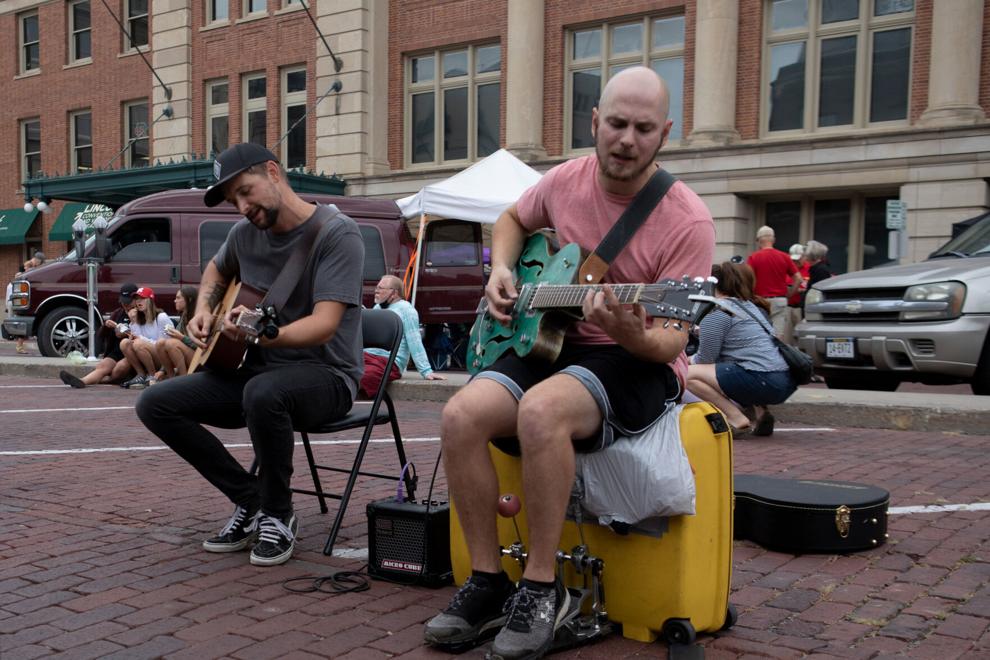 Calvin Sheldon, a junior child, youth and family studies major at UNL, and Taylor Moates, who works with Carlson Projects Inc., play guitar at the markets whenever they feel up to it.
"Every once in a while, we wake up and decide we're too tired and don't do it, but that's the beauty of the farmers market," Moates said.
The pair appreciate the relaxed environment of the Farmers' Market and the lack of pressure to perform up to anyone's standards. 
"We just come down here and scream, basically," Moates said.
With the onset of fall and colder weather, the two agreed it was a natural time to quit playing outdoors for the year.
"For us, it doesn't really matter because like when it gets cold, it's hard to move your fingers and play," Sheldon said.
Husker football game days at home bring tens of thousands of fans to the stadium, and with that comes heavy traffic and a lack of parking spaces.
"You definitely see a lag because people can't compete with the parking situation," Van Beuzekom said.
Although the markets become less popular during football season, she said ShadowBrook Farm will continue to have a booth at the Haymarket Farmers' Market.
"We can't stop because we'd disappoint our customers," Van Beuzekom said.
The next season of the Haymarket Farmers' Market begins May 7, 2022, according to its Facebook.