Below the glow of the Lied Center for Performing Arts' stage lights and amid directed health measures, the University of Nebraska community joined together to officially install Ted Carter as NU's eighth system president.
After 38 years of service in the United States Navy, six years as superintendent of the U.S. Naval Academy and now eight months as NU president, Carter took to the stage for his investiture — a ceremony honoring high-academic leaders within their first year of office. 
Carter's wife, Lynda, NU leaders and Gov. Pete Ricketts joined Carter to honor him while the rest of the NU community could watch the event via livestream.
NU Board of Regents chair Jim Pillen, who led the search committee resulting in Carter's presidency, said it was a privilege and pleasure to install Carter as the NU president and bestowed him with the official medallion of the president's office.
"In accepting this medallion you receive the powers and privileges and obligations, along with the challenges and the joys of the office," Pillen said. "You have a collective best wishes and our highest hopes, my personal regards and appreciation, and unwavering support."
Though socially distanced, Carter's ceremony emphasized teams, action and the definition of what it means to be a Nebraskan, which Carter and his wife have embraced. As Carter took the podium, he emphasized how NU leadership will continue to place students first.
"If we lead, fight and win, we will make a positive change for Nebraska," Carter said.
A highlight of Carter's investiture was the continuation and further announcement of Carter's five-year strategy, which was unveiled at the Board of Regents meeting early Friday morning.
Carter, who comes from a family of educators, said in his five-year strategy, first unveiled at the Board of Regents early Friday morning, that his background gave him a passion for curiosity and value of integrity and hard work.
"I know how education can change a person's life because I have experienced it myself," Carter said in the plan. "Now, as president of the University of Nebraska, it is my calling to help future generations of young people experience that same transformative power."
Key goals Carter identified in the strategy include:
Evaluating all university-imposed costs and limiting increases

Adopting a 4-year undergraduate graduation guarantee that should a student follow a 4-year plan and if administrative barriers, such as course scheduling conflicts, stand in the way of graduation, NU will cover the cost of tuition past the fourth year

Shifting NU's undergraduate tuition model from a "per credit" to "block" basis, so full-time students would pay the same block rate for 12-18 credits each semester, which incentives an on-time or early graduation

Strengthening pathways to higher education, including reinstating the P-16 Initiative, easing community college transfers and maximizing accessibility for adult learners

Building and testing models for guaranteed internships, jobs and debt forgiveness post-graduation

Conducting annual campus climate surveys and developing action plans

Reducing gender and racial equity pay gaps

Providing every employee with implicit bias training

Setting and achieving NU-wide sustainability goals
Carter said NU will also create a nonresident scholarship program at each campus, with tuition rates that will not be matched elsewhere in the country.
As part of the program, nonresident students will be able to take advantage of internships or jobs after a four-year graduation.
"I would ask any family, any young person in the country, who's thinking of attending a well-known university at a $50,000 tuition rate, take a look at the University of Nebraska," Carter said. "Under this program, you can attend our school every year for one-fifth of that cost, and we'll find you a job here and you will love living here, because Nebraska is truly a great place to be."
NU is also freezing any state-funded, non-faculty full-time equivalent growth at UNL, UNMC and the University of Nebraska Central Administration until faculty salary gaps at UNL and UNMC reach peer averages, according to the plan.
Melissa Lee, NU director of Communications, said in a text that UNL faculty salaries are currently 8.4% behind their peers while UNMC faculty are 2.9% behind.
NU will also reduce gender and racial equity pay gaps, as part of the strategy.
The Nebraska Promise, which was enacted April 17, has launched successfully and remains a hallmark of the strategy, according to Carter.He said the strategy will act as a living document that is designed to provide an affordable, quality education welcoming and inclusive of all voices.
Despite a pause in work due to the coronavirus, the strategy emphasizes principles thought before the global health crisis and provides Nebraskans with hope, predictability and positive outcomes, the strategy states.
"The challenges of 2020 have taught us that we must be flexible and open to change," Carter said in the strategy. "Still, our strategy gives us a clear path forward. It articulates our priorities — starting with students — and offers specific targets against which we will measure our progress."
Carter said the entire strategy is written for students to read, understand and be part of the solution.
"I can't make them successful without their own desire to be successful, but we're going to give them the tools and the resources so they can be successful," he said. "I'm looking forward to students embracing what we've written up here."
Association of Students of the University of Nebraska President Roni Miller said she was pleased with the student-focused mission of the strategy, though she said she was not surprised knowing who Carter is and what his leadership entails.
"They're very exciting and kind of serve as a beacon of hope in these times that are uncertain and challenging and frightening for many," she said, "knowing that whatever else is going on in the world that we can't control, these are the things that we can control and that we can focus on, that we can improve upon."
Miller said she looks forward to enacting the strategy and seeing the inclusivity of voices to achieving the goals of the strategy.
Ricketts, who joined Carter in person for the ceremony, said he is proud of his partnership and connection with Carter in his first year in office.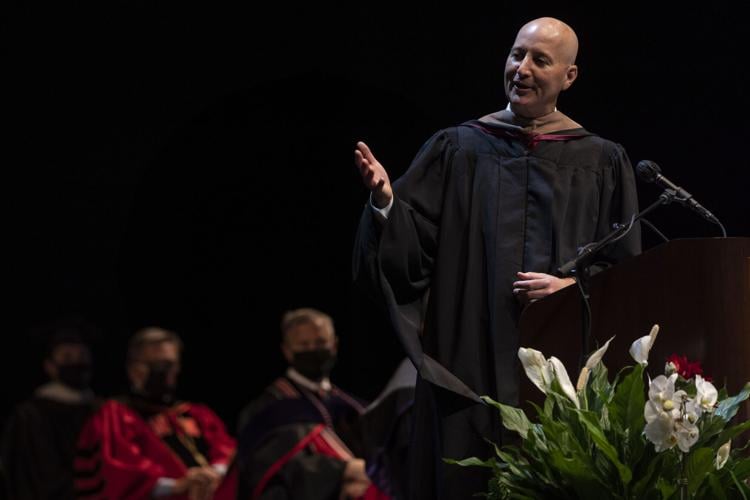 Carter proved himself, Ricketts said, as a decisive leader as the pandemic reached Nebraska, moving students off campus to protect health and then, just as quickly, committing to bringing them back in the fall.
Ricketts also referenced Carter's attendance in the United States Navy Strike Fighter Tactics Instructor program, commonly known as TOPGUN, which also prepared him for his position.
"We're getting a TOPGUN leader at a top gun university that will help us put together that strategy for how to take the university to the next level, to prepare our young people to leave this state going forward to help grow Nebraska, to make sure that we continue to have the best place to live, right here in Nebraska," Ricketts said.
In his final message of the day, Carter echoed the words of John Paul Jones, a naval commander in the American Revolutionary War, who asked those around him to join him, which Carter said is emphasized with his five-year strategy.
"Come to Nebraska, sign on, come learn, come grow, come live, come work and win, with us," Carter said. "God bless the University of Nebraska system, god bless the great state of Nebraska, and go Lopers, go Mavericks and go Big Red."