On Oct. 8, Sustain UNL students, in collaboration with the Nebraska Climate Strike movement, laid down in the green space in front of Donald and Lorena Meier Commons and pretended they were dead to protest the government's lack of action to combat climate change. 
About 20 people participated in the UNL Die In from 12:30-1 p.m. on Tuesday, Oct. 8 on the green space in front of the Donald and Lorena Meier Commons. Sustain UNL president and junior fisheries and wildlife major Brittni McGuire spoke about the consequences of climate change and the need for action. 
According to McGuire, the goal of the Die In was to acknowledge people who have felt the consequences of climate change and encourage elected officials to take systemic action for climate change in light of the IPCC Special Report that came out on Oct. 8, 2018. The report details the impacts of global warming of 1.5 degrees Celsius above pre-industrial levels. 
McGuire read sections of the report regarding the 12-year deadline to reduce carbon emissions before Earth reaches an increase of 1.5 degrees Celsius in global average temperature.
"We're here gathering today to draw attention that we have let a whole year go by, and we haven't taken action," McGuire said prior to the event. "We can't let that happen again because people are dying. We don't have the privilege to not do anything."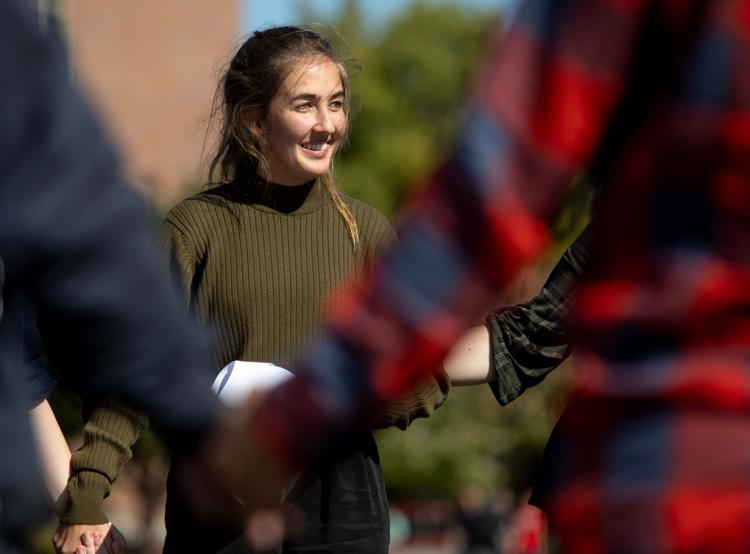 According to McGuire, climate change consequences include stronger and more frequent hurricanes and a rise in sea levels that will continue to eat away at coastlines. 
"This whole Die In is all of us coming together, and by all I mean, young, old, people of color [and] people from rural and urban areas," she said. "We're all Nebraskans uniting for this event."
McGuire said she hopes students take a minute to pause and consider the people who have lost their lives due to the consequences of climate change and climate change's impact on the future.
Kat Woerner, a sophomore economics, environmental studies and natural resource economics triple major organized and participated in the event and said she was pleased with the turnout. 
"Brittni and I were here at 12:15 [p.m.] and were a little bit worried," she said. "I was laying on the ground with my eyes closed, and then as soon as Brittni started speaking, I opened my eyes and was surrounded by people. And I just thought that this is awesome. This is the part we need. This is something that we need to unite on."
Woerner said she would like people to feel empowered to advocate for climate change legislation and to get involved in a cause that affects so many people. 
"We read the report, and we read what needs to happen," she said. "We want people to feel empowered and to embrace the change that is needed and to embrace the science and use it as a guide."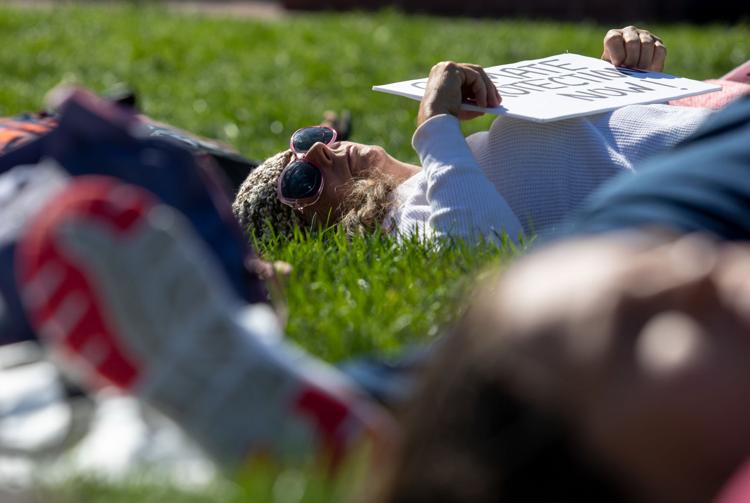 As the event ended, the protesters stood in a circle and sang a chant to convey their hope that people would take action against climate change.
"If everybody comes together, whether it is five minutes a week or dedicating your life to this cause, there will be a ton of hope," McGuire said. "We will definitely defeat this crisis. I'm hoping there is an awakening for our students, but also a ray of hope that, if we take action, we can actually do something about this."