Jacob Jurgens did not expect to see the same seven people every day when he started college two years ago.
Jurgens and his seven landscape architecture classmates from the class of 2019, are part of the smallest major within the smallest college at the University of Nebraska-Lincoln. According to the office of Institutional Research, Analytics and Decision Support for UNL, the College of Architecture had the smallest number of undergraduates enrolled for the fall of 2017 compared to other colleges.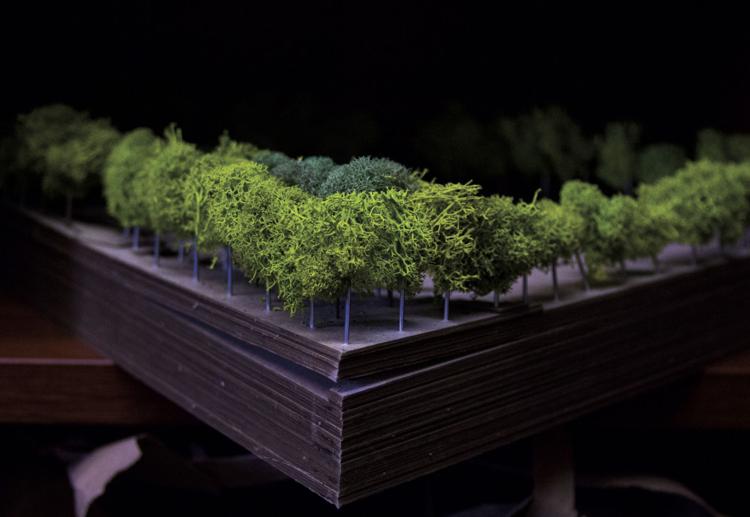 "All of us are in every single same class, same time," Jurgens said.
The small group of students can often be found at their studio classroom 115, located in the basement of Architecture Hall, at all hours of the night. There, they toil over desks usually covered with sheets of drawings, cut-out cardboards and unfinished models depicting future projects.
"I think most of us have at one point at 4 or 5 a.m. in the morning [been] like, 'Why am I in this major?'" Jurgens said.
According to Indiana University's 2016 National Study of Student Engagement, students who major in architecture spend an average of 22 hours a week working on outside class work over two hours more than any other major.
"It's basically the culture that you just have to put in the 'X' amount of hours you need to get done," fellow junior landscape architecture major, Jerry Philbin, said. "If something is due tomorrow, and you need to spend 10 hours on it, you can't just spend five on it and expect it to be done."  
Although many students knew the program's size would be small, they did not expect to become a part of such a close-knit community.
"Some of my best friends are my studio classmates," Austin Arens said. "We spend so much time together."
Arens said he spends at least 50 hours a week working with his studio classmates. Although they only have classes three days a week for four hours a day, they still go to their studio classroom outside class hours to finish their studio projects.
Amidst the busy work, Jurgens said they have gotten to know each other as friends and teammates. He admits some were shy to open up to their classmates at first. Throughout the year, they have become friends and teammates in and outside of studio.
For Jurgens, he now feels comfortable around his classmates and considers them more than just a team.
"You spend 90 percent of your time with those people," Jurgens said. "And basically, they're your family."
Because of the demanding hours that come with being a landscape architecture student, Philbin said they learn to balance their time between studio work and part-time jobs.
Some, like Arens, adapt to the rigorous work by cutting sleep to three to four hours per night in order to finish an assignment in a short deadline. And some, like Brendan Schartz, have skipped sleeping for two days in a row to refine their mock-up models during a busy week.
"I'd say I spent a good amount of 30 hours a week just doing homework, not even including the studio time," Schartz said. "It's pretty rigorous."
The grueling hours, however, do not deter the small group of students from making the studio their second home, decorating it for Christmas and even equipping it with plants, a mini fridge and toaster.
"We could practically live there," junior, Ashley Rexroth, said.
Despite the rigorous work, they learn to work together in community-driven semester projects. In three years, they had the opportunity to learn more about the environment and how they can make it a better place, locally and globally.
They previously had a hands-on studio project where they redesigned Tower Square of downtown Lincoln and also came up with designs to replace an abandoned recycling site in western Nebraska. Some even had a chance to study abroad in Galápagos Islands, where they worked with local communities to restore a polluted bay due to residential areas and helped design three parks in 11 days.
"Landscape architecture is all about working with the communities and getting other opinions," Arens said. "Because you're designing for everybody else, you're not designing for yourselves."
Although not all assignments are group based, the students support each other's work by giving feedback to refine their drawings, models and presentations. Working together for two years, Philbin said they have learned each other's greatest strengths and help each other along the way.
"When one of us is better at techniques or technology than the other, then you can go to them and ask them for help, and likewise," Philbin said. "Which is part of the perks of being eight of us."
For these students and their small community hidden in the basement of Architecture Hall, landscape architecture is the path that leads them to their future careers and has created long-lasting friendships.
"Most people think like, 'Aren't you sick of each other?' Well, we are," Jurgens said. "But, we've gotten so used to each other, and, honestly, it's so weird not be surrounded by each other."
This article originally appeared in The DN's February 2018 issue.