Just after 10 p.m. Wednesday, a small team of organizers led a crowd of hundreds in a moment of silence for victims of sexual assault outside Phi Gamma Delta fraternity. Minutes later, many in the crowd flooded Greek row, voicing disappointment, sadness, fear and rage for the second consecutive night after an alleged sexual assault occurred in the house late Monday. 
Earlier Wednesday, University of Nebraska-Lincoln Chancellor Ronnie Green announced the fraternity, commonly known as FIJI, would be closed and operations suspended pending an investigation into the reported assault and whether the fraternity violated its probation.
"We are committed to creating a safe campus environment for our students, faculty and staff," Green said in his statement. "No one should be a victim of sexual assault or harassment, and we have taken a number of steps to provide additional support and reporting mechanisms for our campus."
Protesters gathered and surrounded FIJI both in front of the main doors and on the side Tuesday. But on Wednesday, the protest's message grew to call on UNL for full accountability and ensure sexual assault never happens again on campus.
Local activist Dominique Liu-Sang said the suspension Wednesday was not enough considering FIJI's pattern of behavior.
"We're students, united," the crowd chanted. "We'll never be divided."
The university placed FIJI on a similar suspension in 2017 following an investigation that documented a pattern of "reckless alcohol use, hazing and inappropriate sexually based behavior, including a pattern of sexually harassing conduct," according to a Nebraska Today news release.
Comments made by fraternity members on Jan. 21, 2017, during the city's Women's March were also consistent with that pattern, the release said.
The suspension was set until May 2020, then-Vice Chancellor for Student Affairs Juan N. Franco said, but the house was reinstated Aug. 23, 2019, after presenting to the UNL Interfraternity Council board a plan and current steps for improvement.
Nevaeh McKinney, a junior architectural studies major, said she decided to join the demonstration because sexual violence has occurred multiple times before on campus. The problem is systemic, she said, and it needs to end now. 
When asked about feeling safe in her community at UNL, McKinney said: "Absolutely not."
"As a person of color and a girl walking around here, I feel like I'm being judged every two seconds," McKinney said. "And on top of that, if stuff like this is happening behind closed doors, I don't know what to think. I'm always watching my back."
Abbey Kneale, a junior elementary education major, updated protesters via megaphone multiple times on a change.org petition calling for UNL to ban FIJI forever. She also called on faculty, staff and administrators to join students in their fight.
The petition garnered around 135,000 in its first 24 hours and had more than 150,000 signatures as of this article's publication. 
"This is our campus," Kneale said, "and this is our responsibility and the responsibility of faculty and the administrators to make sure that we need to stay safe because we've paid to stay safe on this campus."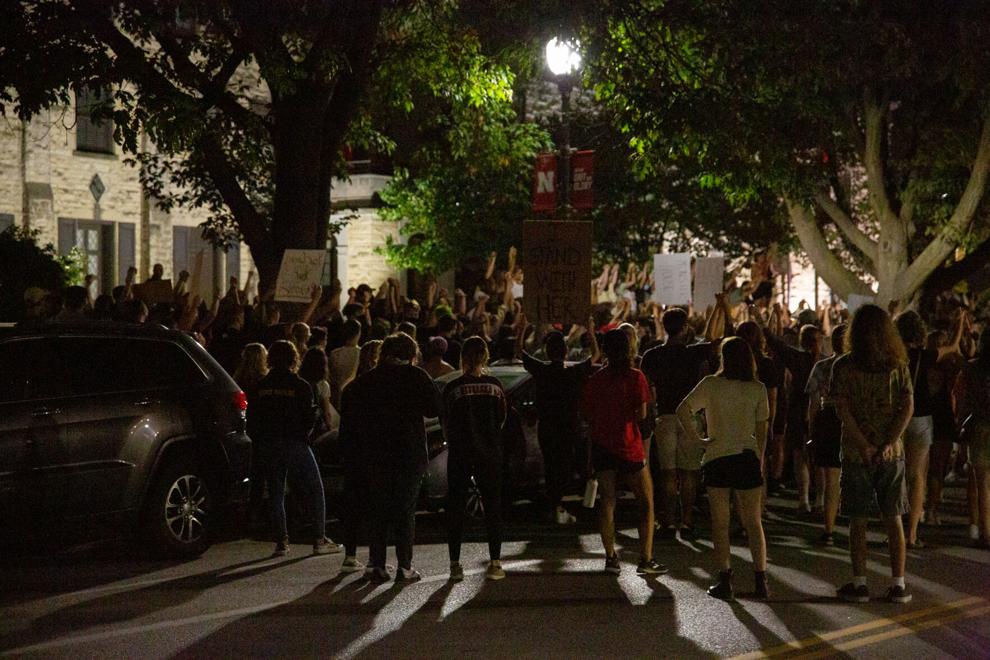 Winding down R and 16th streets and back toward the Nebraska Union, onlookers from sororities and fraternities watched as individuals yelled "F*** FIJI" and "Yes means yes, no means no."
"They need to take accountability, and they need to take it now," protesters chanted.
Though not interacting with protesters, the UNL Police Department maintained a heavy presence down 16th Street as squad cars led protesters across campus and officers directed traffic away from pedestrians throughout the night. 
As the crowd returned to the Nebraska Union, pizza, hot dogs and water were passed out. Protesters were encouraged to rest and hydrate, but emergency medical services arrived at the scene multiple times to help with heat-related illness.
In a statement, the Association of Students of the University of Nebraska echoed Green's statement and encouraged students who wish to be involved with the Student Code of Conduct process now underway to contact ASUN on social media or at asun1@unl.edu to apply.
We understand you may have questions about what Chancellor Green's statement means going forward.
See our graphics ⬇️ to learn about the conduct process and what the next steps are. pic.twitter.com/QCESfkH1mA

— ASUN Nebraska (@ASUN_UNL) August 26, 2021
Many protesters emphasized the importance of the protests and urged UNL to permanently abolish FIJI and take more definite steps to improve how sexual assault cases are treated.
"The importance is to show what is happening on this campus and to bring it to light because this thing should not be in the shadows, should not be secret," Libby Iverson, an undeclared sophomore, said. "This happened on campus to one of our fellow students. They should 100% get rid of FIJI."
Ashley Bruha, a freshman political science major, said the protest is about "getting the message out that we're done putting up with this crap'' and that "this cannot stand any longer."
"It proves that this is bigger than just the small group of people affected," Bruha said in regard to the amount of people who came to the protest. "Everyone is affected by this and the people, I'm proud of everyone that showed up because this is how movements go viral and this is how we'll get our movement out. We will keep doing this until our business is done."
Samantha Danielson, a senior child, youth and family studies major, said she thinks all Greek life needs to change. 
"I think we need to really kind of change our perspective and take a deeper look at the campus itself and say 'why do we value this system that you know allows predatory behavior and things like that?'" she said.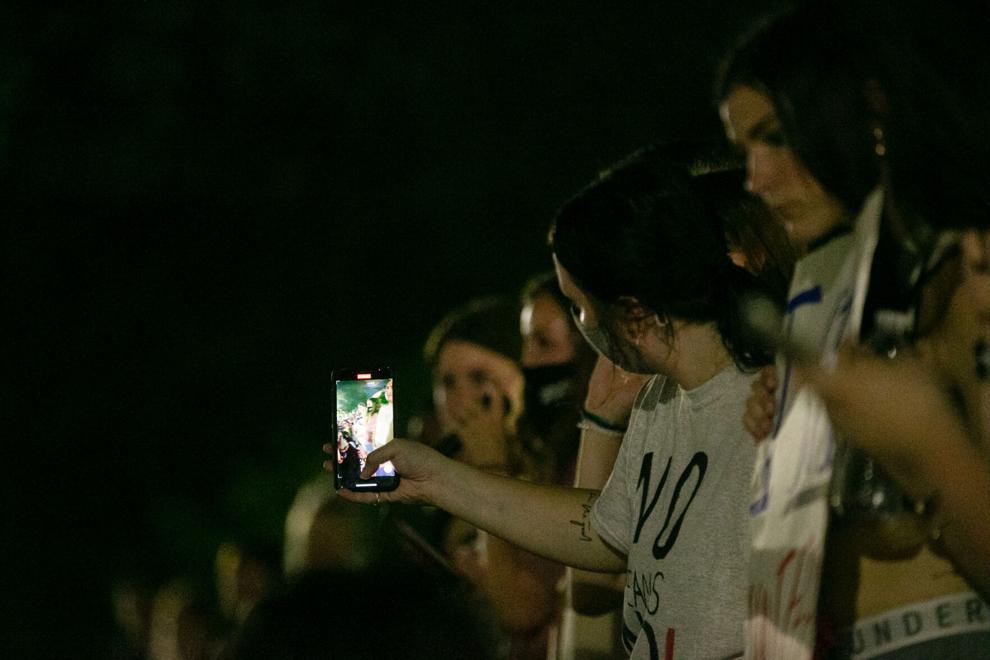 Several other speakers also called for permanent expulsion from all NU campuses and criminal charges for the perpetrator, repeatedly drawing roars from those gathered. 
Adam White, campus pastor from UNL's Lutheran Center, said it's time for the campus to come together and acknowledge it has a problem with sexual assault that has existed for a long time. 
"I hope the campus does take a hard look at its Greek system," White said. "The ways in which this history of sexual violence is relative to the Greek system, the statistically higher probability of sexual violence in the Greek system, and looks at the ways in which the structure may have some responsibility and causality of that."
Many organizers raised their middle fingers and engaged in impassioned, expletive-laden chants. 
"We know what this place is for. FIJI rapes so this is war," they chanted. 
One man spoke to say that the perpetrator ruined the reputation of men on campus, and they need to prove men can stand up for women and for each other.
"This is what community looks like," Liu-Sang said of the crowd. "This is what f***ing democracy looks like."
Multiple speakers encouraged the crowd to share photos and videos of the event online, hoping to grow the movement and capture national attention. 
"Why would I go to a university resource when the university allows rapists to go around their campus?" Liu-Sang said. 
She and others, including a student who shared his sexual assault story, also noted sexual assault happens to men on this campus as well, and men vowed to prove this experience does not represent all men.
Liu-Sang said protesters placed a "visual art demonstration" on FIJI's property of a mannequin that was meant to represent a FIJI fraternity member.
A black car parked in front of FIJI was plastered with messages in support of the protest, including: "NO EXCUSES!," "STAND UP FOR SEXUAL ASSAULT SURVIVORS!!!," "PROTECT WOMEN," "F*CK FIJI" and "ARE YA LAUGHING NOW?" in reference to a video that was airdropped to protesters Tuesday night from inside the house.
Protesters said they will continue each night "until the letters [of Phi Gamma Delta] come down" and the perpetrator is permanently removed from campus and held accountable, building upon the sentiment from Tuesday: "every day until they're gone."
If you or someone you know is a survivor of sexual assault or violence, you can reach out to UNL's Center for Advocacy, Response and Education at victimadvocate@unl.edu, Institutional Equity and Compliance at 402.472.3417 or Counseling and Psychological Services at 402.472.7450 for additional resources.
Maddie Ames contributed to the reporting of this article.