A 153-room hotel is scheduled to open on the University of Nebraska-Lincoln's Innovation Campus in June 2021.
According to the Nebraska Innovation Campus Redevelopment Plan, the vacant land at the intersection of Transformation Drive and North 21st Street will soon be home to a six-story hotel, complete with a coffee shop, restaurant and other amenities on the ground floor.
Dan Duncan, executive director of Nebraska Innovation Campus, said the development will also include a rooftop bar with a private dining room for special meetings and a fitness facility that will be open to anyone on campus.
The UNL department of Hospitality, Restaurant and Tourism Management will have approximately 2,600 square feet on the ground floor of the building for faculty offices, a student lounge and a conference room, according to the plan.
"We're hopeful that we'll be able to move the HRTM program into an area in the hotel so students will get a firsthand look at hotel operations," Duncan said.
City of Lincoln Urban Development manager Wynn Hjermstad said the hotel will be a Marriott Tribute Portfolio, although the official name of the hotel has not been released yet. According to Hjermstad, the hotel's developers have worked with the university so that they can use the Nebraska "N" on the hotel.
Construction on the $31 million project is scheduled to start in January 2020, according to Hjermstad.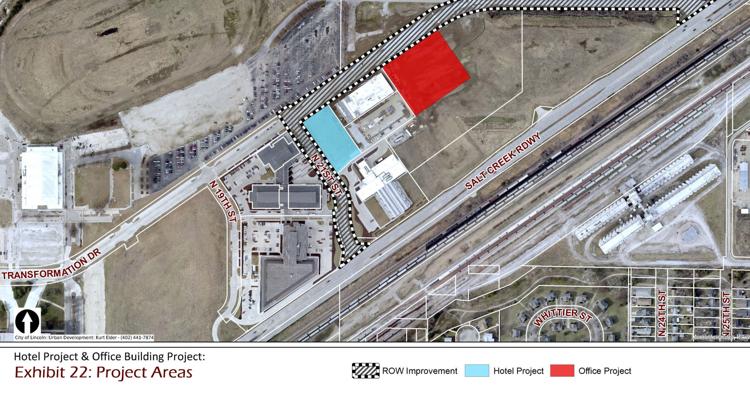 The hotel will be financed using tax increment financing because of the development's status as a public improvement to a blighted property, Hjermstad said. This means the city will lend the incremental development difference, or the net increase of property taxes generated by the development over 15 years, to the developer — in this case, Nebraska Nova. This comes at no additional cost to local taxpayers. 
Duncan said the new hotel will impact the atmosphere surrounding Nebraska Innovation Campus.
"[The development will be] another great place here at Innovation Campus for [students'] parents to stay when they come visit or teams to stay when they're doing something at Devaney," he said. "I think it'll be another amenity added to the city's ecosystem."