The University of Nebraska Board of Regents approved nearly $145 million in construction projects for the University of Nebraska-Lincoln amid continued controversies over UNL's Journey for Anti-Racism and Racial Equity and COVID-19 policies.
Among these controversies is UNL's "Commitment to Action," a year-long plan aimed at addressing inequities and ensuring disparities at the university are addressed.
Critics, including prominent Republicans like Nebraska Gov. Pete Ricketts and Regent Jim Pillen, a 2022 candidate for Nebraska governor, say the plan is divisive, unconstitutional and a tenet of critical race theory, which both UNL Chancellor Ronnie Green and NU President Ted Carter have defended.
"To have these conversations, we need to get comfortable being uncomfortable because even though these are not easy things to talk about, we will be doing our students who care a great deal about this topic, and for whom we serve, as well as our state a disservice if we ignore them or stay silent," Carter said at the meeting.
UNL Student Regent Batool Ibrahim told The Daily Nebraskan the plan is a combination of concerns Black, Brown and Indigenous university members have had since UNL's founding.
She said Green has been the only chancellor willing to be at the forefront and address those concerns, and it's been student activists and student grassroot movements that have achieved results.
"The fact that my chancellor understands that and is willing to make sure that every single Husker is able to walk across the stage holding a diploma, understanding how racism and racial disparities show up in their career path, is really important to me," Ibrahim said. "And it's going to be very exciting to me to see the changes that we will be seeing in the next coming years."
Three regents — Pillen, Rob Schafer and Chair Paul Kenney — hosted a news conference at the Nebraska State Capitol hours after the meeting saying the Journey plan must be scrapped. 
Another student-led coalition — Divest NU — returned to testify in support of full divestment, or removal, of fossil fuels.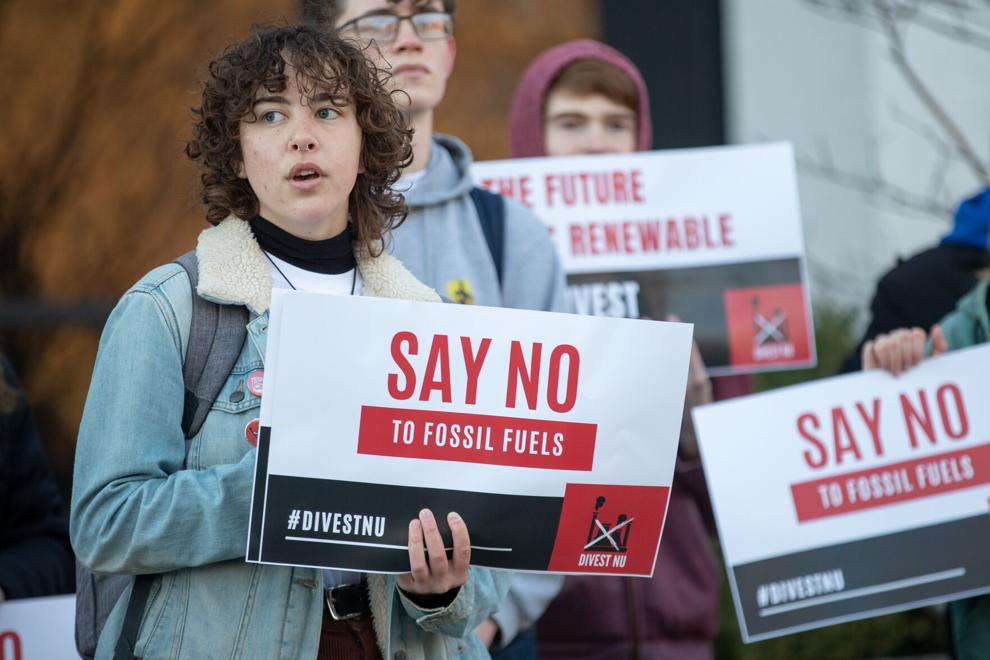 The group released four demands in the lead up to the meeting and hosted a rally about 45 minutes before the meeting, similar to one hosted in April. These include transparently committing to divestment by a "reasonable date" and crafting a plan to do so.
Aila Ganić, a senior political science major and core Divest NU member, said it would be embarrassing if UNL is one of the final Big Ten schools to divest. She said that while some in NU have said divestment is impossible, Divest NU will not accept that claim.
"We understand divestment cannot happen in one day," Ganić said. "... The students' support is abundantly clear. The hardest part is the only factor needed is your commitment to divestment or to urge you to take the moral route and commit to 100% divestment."
Ganić and Madison Whitney, a senior environmental studies and global studies double major and another core member of Divest NU, also addressed the Journey action plan and what it would mean for them.
"It is repulsive to me that some individuals are so prejudiced or they think initiatives like this are inherently anti-white," Ganić said. "I hope you all recognize the critical importance of this initiative and do not let the governor's racist political campaign cloud your judgment."
Whitney said the plan is proof NU can commit to action, which is needed for divestment.
"I also would like to say that I am proud to have Chancellor Green as my chancellor for his commitment to hear students and make changes across campus. He is exactly what we need in our leadership," Whitney said. "This work on the Journey for Anti-Racism and Racial Equity plan gives me hope in my university."
UNL Faculty Senate President Steve Kolbe spoke on behalf of the Faculty Senate Executive Committee and faculty members at-large in support of Green and the plan, which he said is a "next logical step" in achieving many parts of the N2025 Strategic Plan.
Foremost among these is the premise that "every person and every interaction matters."
Kolbe said UNL faculty stand by the plan and applaud both Green and Carter "for having the strength of conviction to do what is best for our university and the proud state of Nebraska."
"There is nothing more Nebraskan than making sure the glory we achieve is a direct reflection of the talent, grit and sweat we put into our efforts," he said.
Many Nebraska community members, including alumni, donors and parents of current students, testified against COVID-19 policies, including the Safer Community app and mandatory testing.
Some who have testified previously thanked regents for hearing their concerns and for UNL implementing recent policy changes for the spring 2022 semester, including no longer monitoring building access with Safer Community and testing all community members, not just unvaccinated individuals.
However, they stressed more can and should be done to protect students' freedom and health information.
Regents also unanimously passed the following construction projects at UNL, many fully or partially funded through LB384 that the Nebraska Legislature passed earlier this year:
A $75 million full replacement of the Westbrook Music Building.

A $25.5 million renovation and addition to the Lied Center for Performing Arts.

A $15.180 million renovation of Kimball Recital Hall.

A $10 million renovation of the Pershing Military & Naval Science Building.

A $9.325 million renovation of Bessey Hall.

A $9.265 million renovation of Morrill Hall.
Timelines for these are subject to change and contingent upon various factors. More information on these projects can be found here and in the meeting agenda.
"I think you all recognize the importance and value of the LB384 in the opportunities to the university," Green told the regents. "... It's critically important for the future of our campus."
The Board of Regents will meet for its next scheduled meeting on Feb. 11, 2022.
Becca Hummel contributed to the reporting of this article.