Gillian Allison is attempting to keep the tradition of the University of Nebraska-Lincoln Philosophy Club alive. While past iterations of the club have fizzled out, she said she hopes to grow the program and spread awareness for the importance of philosophy. 
Allison is a junior philosophy and women's and gender studies double major and the president of the Philosophy Club, which meets from 4-6 p.m. each Thursday in Louise Pound Hall Room 308. She said she hopes the club gets people to think about philosophy differently and gets them excited to engage in challenging conversations.
This goal for the club is also shared by one of the club's advisers, Jennifer McKitrick, a chairperson for and professor in the Department of Philosophy.
"My goal for the Philosophy Club is that it inspires and grows interest in philosophy, raises the profile and visibility of philosophy across the campus and draws more students into our classes and our major," she said.
Allison said she and the other officers pick the discussion topics for each meeting at the beginning of each semester. Allison sends out an email before every meeting with a brief summary of the topic and a few discussion questions, so students can choose which meetings they want to attend based on what topics interest them the most. 
While there are no specific guidelines for discussion, Allison said, on occasion, the group has to refocus because of a particularly heated discussion.
"The more concrete members, the ones that are always here, have slightly similar views," she said. "Every once and a while, we'll get someone who is very excited about a topic, and that can get a little heated."
Allison said the meeting topics center on questions about ethics, including animal rights, affirmative action, consent, induction and deduction. She said, in her experience, people are more passionate about and interested in ethics discussions.
"I think the more accessible form of philosophy is ethics," she said. "I think really considering what you do and why you do those things, what your motivations are, it's really important."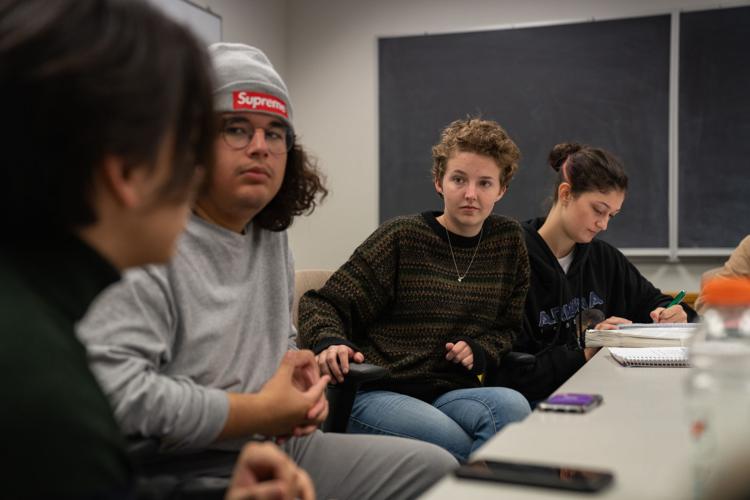 Allison said students don't need background knowledge in philosophy to attend the club. She also said the club is welcoming of students with differing opinions and tries its best to accommodate all opinions and beliefs.
"Mostly I'm trying to keep it alive, recruit more people," she said. "And, then, trying to diversify a little bit. Philosophy is stereotypically white male-dominated, so we're trying to move away from that." 
As the group gains new members, Allison said she is also trying to make it a closely-knit community like it was in the past. She said previous clubs would sometimes get together and watch movies like "The Matrix" to prepare for a discussion. 
She said the club is low commitment, and members can come to as many meetings as they like.
"[Philosophy] seems very inaccessible," Allison said. "I want this to be a place where people can come and talk about things that they're passionate about."