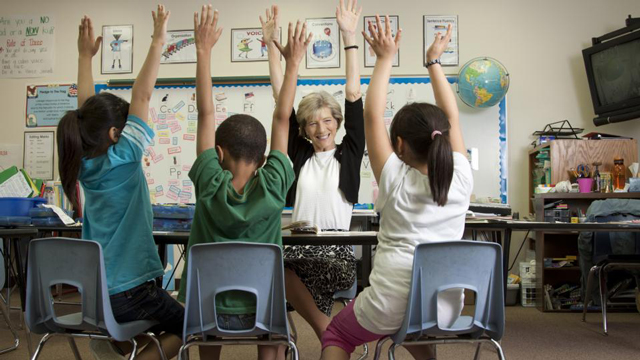 4 UNL faculty earn university-wide awards
Four University of Nebraska-Lincoln faculty will be recognized with the most prestigious University of Nebraska awards for research, creative activity, teaching and engagement: mechanical engineering professor Shane Farritor, educational psychology professor Susan Sheridan, mathematics professor Judy Walker and biochemistry professor Donald Weeks. The awards will be presented during a luncheon in April.
Farritor received the Innovation, Development and Engagement Award, which recognizes faculty who have extended their academic expertise beyond the university to enrich the broader community. He leads UNL's Robotics and Mechatronics Lab and helped create miniature surgical robots to perform minimally invasive surgery along with fellow winner Dmitry Oleynikov, professor of surgery at the University of Nebraska Medical Center. Farritor also leads a team of UNL engineers to devise a method of measuring railroad track integrity to identify weak spots that might compromise railway safety.
Both Sheridan and Weeks received the Outstanding Research and Creative Activity award, which recognizes faculty for outstanding research or creative activity of national or international significance.
Sheridan is the founding director of the Nebraska Center for Research on Children, Youth, Families and Schools. Her research is internationally recognized, and many of her findings have been applied effectively in schools and community programs.
Weeks has served as the director of the Center for Biotechnology and was the founding director of the Nebraska EPSCoR program, which has attracted more than $100 million in research and infrastructure to Nebraska campuses. He has also been chairman of the Department of Biochemistry, and his research has resulted in the major breakthrough of engineering dicamba resistance in crop plants.
Walker received the Outstanding Teaching and Instructional Creativity Award, which recognizes faculty who have demonstrated meritorious and sustained records of excellence and creativity in teaching. She has taken the lead in reviewing a general education mathematics course that had been difficult for students and faculty, and grades have improved significantly since the review. Walker has also helped spearhead the Nebraska Conference for Undergraduate Women in Mathematics.
Other university-wide award winners are:
–Outstanding Teaching and Instructional Creativity Award: Dawn Mollenkopf, associate professor of teacher education, University of Nebraska at Kearney
–Innovation, Development and Engagement Award: Dmitry Oleynikov, professor of surgery and director of both the Center for Minimally Invasive Surgery and Center for Advanced Surgical Technology, UNMC
–University-wide Departmental Teaching Award (UDTA): Department of Biology, UNK
---
Textile gallery displays 'Complexity' exhibit
UNL's Robert Hillestad Textiles Gallery is displaying "Complexity," the biennial international juried exhibition by Complex Weavers through May 9. The exhibit features works with complex weave structures that interlace threads and fibers in ways beyond plain weave. "Complex weaving is defined by the cloth produced and the mind it took to create it, not by the equipment used," according to show organizers.
Jurors evaluated 99 works, rating originality, weave structure, technical excellence, aesthetics and integration of design elements, said Wendy Weiss, director of the gallery and textile design professor. Twelve prizewinners will be announced at an open reception. Jurors were Alice Schlein of North Carolina, Marguerite Gingras of Quebec, Canada, and Weiss. All have published articles and books on weaving and exhibit their work internationally.
Complex Weavers was organized in 1978 at Convergence, a biennial meeting sponsored by the Handweaver's Guild of America. The primary goal of the organization is to encourage weavers to "develop their own creative styles, to inspire through research, documentation, and the sharing of innovative ideas."
For more information, go to http://textilegallery.unl.edu.
---
Study: Nebraska ag land values increase by 5 percent
Average statewide farmland value rose by about 5 percent as of Feb. 1 to $3,195 per acre, according to Jim Jansen, research technologist with UNL's Department of Agricultural Economics. The department annually conducts the Nebraska Farm Real Estate Market Developments survey. Surveyors across Nebraska reported percentage gains for all farmland classes from Feb. 1, 2013, to Feb. 1, 2014.
The overall increase of 25 percent in 2013 followed increases of 22 and 32 percent in the two previous years. The largest increase was by land class occurred for non-tillable grazing land at 7 percent. The class includes pasture and rangeland that doesn't have the current potential to be converted into cropland for small grain or row crop production. There were strong increases for pasture and rangeland in the state, because of record-high livestock prices. Expectations among survey participants also showed high future cattle prices to be a strong factor the increase in non-tillable grazing land.
Dryland cropland value increases varied across the state, while the western two-thirds of Nebraska had the strongest increases with an average of about 20 percent. Jansen said the trends observed for the value of tillable grazing land are comparable to those of dryland cropland for the western two-thirds and eastern third of Nebraska. Future changes in the value of hayland likely will be tied to the value of forages and cattle production in Nebraska.
For the 2012 and 2013 surveys, the land value averages had an annual increase of about 30 percent. With the smaller increases in the 2014 survey suggest the market is holding steady given current expectations and commodity prices.
The preliminary report is available at http://agecon.unl.edu/cornhuskereconomics. The survey results are preliminary findings from the UNL 2014 Nebraska Farm Real Estate Market Survey. Final results from the survey will be published in early June.
---
Ross features 'Face of Love,' 'Grand Budapest Hotel'
The Mary Riepma Ross Media Arts Center is featuring "The Face of Love" and "The Grand Budapest Hotel." The first stars Annette Bening as Nikki, a widow who meets a man who looks exactly like her deceased husband. This brings back a flood of feelings as Nikki meets the love of her life, again. The film is rated PG-13 and also features Ed Harris and Robin Williams. It will play through April 10.
"The Grand Budapest Hotel" tells the adventures of Gustave H, a legendary concierge at a famous European hotel between World Wars I and II, and Zero Moustafa, the lobby boy who becomes Gustave's most trusted friend. The story involves theft and recovery of a priceless Renaissance painting and the battle for an enormous family fortune. The movie features Ralph Fiennes, Tony Revolori, F. Murray Abraham, Mathieu Amalric, Adrien Brody, Willem Dafoe, Jeff Goldblum, Jude Law, Bill Murray, Edward Norton, Saoirse Ronan, Jason Schwartzman, Tilda Swinton, Tom Wilkinson and Owen Wilson. It will play through April 10 and is rated R.
For more information, go to http://www.theross.org or call (402) 472-5353.
---
Survey: Nebraska businesses remain positive
Nebraska businesses have a positive outlook for the state's economy in the next few months, according to the latest survey from the UNL's Bureau of Business Research. Three out of 10 respondents to the March survey predicted increased sales in the next six months, compared with 23 percent who said they expected sales to decline. Seventeen percent of businesses said they expect to expand their work force, while 6 percent expected to reduce employment.
More than six in 10 owners cited customer demand, business costs and labor quality as the most important issues facing their business. Less than four in 10 listed public policy issues such as the Affordable Care Act, government regulations and taxes. Some had concern about a potential minimum wage increase.
The survey is mailed to 500 randomly selected businesses of all sizes each month and asks owners and managers about their economic expectations for the next six months. The March Survey of Nebraska Business had 135 respondents, a 27 percent response rate.
A detailed report is available at the Bureau of Business Research, http://www.bbr.unl.edu. The bureau is part of the College of Business Administration.
---
Windows XP access to SAP, PeopleSoft blocked Tuesday
The University of Nebraska is blocking Windows XP access to administrative users of business and student information systems as a security precaution, effective April 8. Access to the Firefly employee portal and MyRed student portal will be open to Windows XP past April but users are encouraged to upgrade to a newer operating system.
The April date coincides with Microsoft's end of support for the 12-year-old Windows XP. Microsoft will not be providing security updates, leaving software and users open to numerous security vulnerabilities. Anyone who attempts to access the SAP Business System or the PeopleSoft application with a computer running Windows XP after the April date will be redirected to an informational Web page. The decision was reached by administration and campus CIOs from a recommendation from the system-wide information security council.
Information Technology Services is notifying current XP users, and is working with college and department IT staff to provide guidance in upgrading or replacing aging university-owned computers. ITS is also encouraging individuals to upgrade personal computers as well.
For questions regarding end of support for Windows XP, contact a local SAP service desk or IT support. For additional information, go to http://go.unl.edu/xp or contact the Computer Help Center at mysupport@unl.edu, (402) 472-3970 or (866) 472-3970.
---
UNL to host digital humanities forum
The 2014 Nebraska Forum on Digital Humanities will showcase exciting new research that asks fundamental questions about the humanities. The Thursday public lecture on some of the crucial digital issues that confront higher education will open the forum. On Friday invited scholars will share current research and lead a discussion on "Digital Histories and Digital Authorship," which is also the forum's theme.
"Teaching, Researching and Writing in the Digital Age," the public lecture, will feature thought-provoking talks from T. Mills Kelly of George Mason University, Matthew L. Jockers of UNL and Ruth Mostern of the University of California, Merced. The lecture will be 3:30 p.m. to 5 p.m. Thursday. William Thomas, Angle Professor in the Humanities and history professor at UNL, will moderate.
Mostern will open the public lecture with a discussion on the theory and methodology for digital history and Kelly's presentation will question how changes in the ways students use digital media affect the way the humanities can and should be taught. Jockers will summarize key arguments for why large-scale digitization and text mining represent a fair and transformative use of copyrighted books.
UNL, the home of the Center for Digital Research in the Humanities, is the forum's major sponsor. Free registration is required for Friday's sessions, which will be in the Jackie Gaughan Multicultural Center. To register, go to http://go.unl.edu/dhforum14. Participant biographies and complete abstracts for all presentations are also available at the website.
Speakers on Friday include Vanessa Holden of Michigan State University, Ben Schmidt of Northeastern University, Kyle Roberts of Loyola University, Chicago and Amanda Visconti of the University of Maryland, who will talk about their various research projects.
A roundtable discussion on issues related to digital histories and digital authorship, moderated by forum co-chairs Thomas and Elizabeth Lorang, digital humanities projects librarian in the CDRH, will close the forum.