Despite freezing temperatures and winter winds, Nebraskans from around the state marched from the Nebraska State Capitol to the University of Nebraska-Lincoln Saturday morning to express their views on abortion.
Nebraskans, their families and elected officials joined at the north steps in front of the capitol for the 46th annual Nebraska Walk for Life, hosted by Nebraska Right to Life. The march coincides with the anniversary of Roe v. Wade, as other events across the country will take place for people to express their beliefs on the issue in the coming week.
Marchers lined most of the northern end of the capitol between 14th and 16th streets before marching down 14th Street to the union. Some marchers held signs depicting how a fetus looks on day one of conception, while another group carrying a float with a poster of the Virgin Mary joined the walk. 
Most of the people who marched did not support abortion but a small group of people formed a counter protest to "support reproductive rights and the separation of church and state," according to the event organized on Facebook. The protestors held signs that expressed sentiments of "my body, my choice" and "bodily autonomy is not optional," among other phrases related to the separation of church and state and a woman's right to choose.
Nebraska Gov. Pete Ricketts spoke at the event after proclaiming a statewide day of prayer on Wednesday, the 47th anniversary of the court decision maintaining legal abortion.
"Nebraska is a pro-life state that respects the dignity of human life, no matter how small," the proclamation said. "It seems right and fitting that the citizens of the State of Nebraska are urged to pray for an end to abortion and for our fellow citizens who need our love and support."
In the proclamation, Ricketts urged all individuals to pray, whether on their own or with others in line with their faith, for an end to abortion. The proclamation also encouraged all Nebraskans to take direct action to aid mothers, fathers and families in need, "especially those expecting a child who cannot provide for themselves."
Members of the counter protest argued Ricketts's proclamation was a violation of his oath of office by breaching the separation of church and state to push his own faith.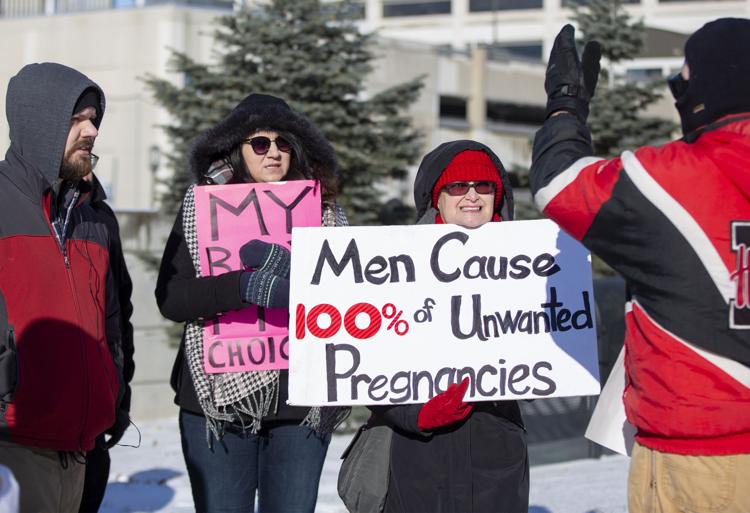 Protestor Ann Fintel of Lincoln said Ricketts and the Nebraska Republican Party "want to tell women what they can or cannot do with their own healthcare." According to Fintel, the goal of the GOP is to reverse women's rights, and she urged them to remove religion from the debate.
"If they want to go to church, fine, go to church, but don't force it on the people," Fintel said. "Don't use my tax dollars to fund your religion."
Andrew Watson of Lincoln said he marches for the babies, mothers and fathers affected by abortion every year in this country. He said he believes prayer can be a powerful motivator for change.
"What we're facing is a spiritual crisis more than any purely legislative or practical crisis," he said.
Sister Mary Gabriel of the Catholic Diocese of Lincoln joined Watson in appraising Ricketts' proclamation in the walk and said the statewide day of prayer is an opportunity to bring people together for the better.
"There's so much division in both the country and the state right now that to have a day that can bring everybody together and work for something good and also for unity is a beautiful thing," she said. "I believe every woman deserves better than abortion."
Before the march kicked off, Ricketts told the crowd that "if we ever forget we're one nation under God, then we will be one nation gone under." He thanked marchers for what they do when they have prayer vigils, help families having babies who are struggling and "brave the cold to walk for life."
Marchers of all ages journeyed from the steps of the capitol to the Nebraska Union as the Lincoln Police Department blocked off roads and watched over the event to ensure safety and assist the march efforts.
U.S. Rep. Jeff Fortenberry joined marchers and said young people are marching and "appropriately wrestling" with questions of how to be more inclusive and uphold justice for all. 
He said Ricketts's proclamation was a matter of inclusivity as well.
"The governor has a right and responsibility … of inclusivity," Fortenberry said. "A prayer has been a traditional way in which public figures in America acknowledge that the person is not just the material, there's also a spiritual side."
Through the proclamation, Fortenberry said Ricketts encouraged inclusivity and invited anyone who chooses to participate.
Prayer was a theme for the march as well, and some marchers sang hymns or prayed together going down the street. Sherri Cunningham of Lincoln said she believes God hears the prayers of the people.
"I'm praying every day for an end to abortion and for the lives of unborn children and future unborn children who may be at risk because our culture doesn't see them as part of life," she said. "I believe that we need to take care of women, but I also believe that these tiny babies in utero are people. I'm here to honor that and to honor the lives of the women and the babies that are at risk of abortion."
Jordan Zoucha of Schuyler said the day was an opportunity for people to hear "pro-life" messages. 
"Abortion is a modern Holocaust; it's taking a human life. That's why I march today," Zoucha said. "I want to march for the people who can't march today, the children who are torn out of wombs. A person is a person no matter how small, how different they look — a person's a person."
Zoucha said even people who aren't religious could use the walk and the statewide day of prayer to listen to and appreciate the "pro-life" messages.
Pro-abortion rights protestor Jo Mezger of Omaha said neither the event or the proclamation was representative of all of Nebraska viewpoints or those with wombs. 
"There's separation of church and state, and our government shouldn't have any choice in our bodies and our autonomy," Mezger said.
Ella Schwab of Lincoln said she thought the statewide day of prayer was problematic.
"I decided to march today because if we don't continue to fight for a woman's right to choose, then we will never have a society where we are equal," Schwab said. "If women do not have the right to bodily autonomy, we will never be equal anywhere in the world."
Fortenberry said the young people who participated on Saturday and the young people who will participate in the following week in Washington, D.C. are demonstrating "an amazing thing" by marching to answer the contradiction related to abortion. He said young people are speaking up, which has touched him as a political figure.
"Young people are wrestling with this contradiction, this paradox, that our law holds the ideals of the protection of everyone, except the most innocent and the women who carry them in the womb," Fortenberry said. "I'm really deeply touched as a political figure by the outpouring of young people saying, 'Please, please resolve this contradiction. This is a paradox. Everyone should be included.'"