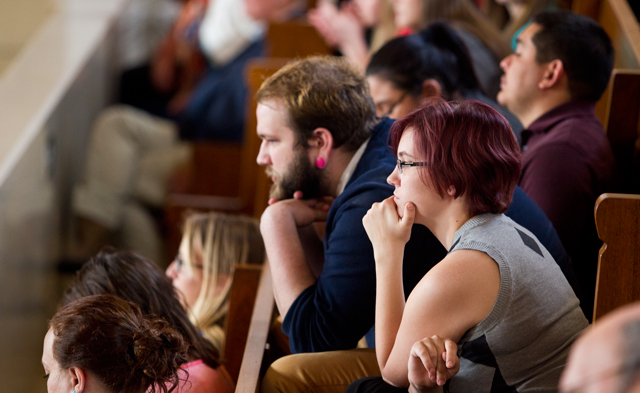 Nebraska senators failed to bring the LGBT anti-discrimination bill, LB485, to a vote on Monday.
Lawmakers voted 26-22 on a cloture that would have overcome a filibuster aimed at killing the bill. LB485 is unlikely to return to the agenda as Monday was the 56th day of the 60-day legislative session.
Debate on the bill, presented by Sen. Danielle Conrad of Lincoln, began Thursday. Conrad's bill would protect members of the LGBT community from employment discrimination by making it illegal for an employer, employment agency or labor organization to refuse a person a job on the foundation of sexual orientation or gender identity. The bill would apply to businesses with 15 or more employees, all employers with state contracts and state and local governments. But it would not apply to religious organizations. Legalizing the bill would add to the state's existing laws that bar discrimination based on race, color, religion, sex, disability, martial status or national origin.
Sens. Mark Christensen of Imperial and Beau McCoy of Omaha each introduced 11 amendments to filibuster LB485. One of McCoy's amendments was an attempt to kill the bill.
"I think it's unfortunate that the senators in the state are taking the time and energy to basically block discussion on something that's a really important matter for Nebraskans," said Pat Tetreault, director of the LGBTQA Resource Center at the University of Nebraska-Lincoln.
Tetreault was one of several members of the LGBT community gathered at the Nebraska State Capitol to show support for LB485 on Monday. She said many people don't realize that unless discrimination is prohibited, it isn't illegal.
"Currently, the current state of Nebraska condones and supports discrimination, which is why it is so challenging trying to get a bill passed," she said.
In 2012, the Lincoln City Council voted 5-0 to pass a city ordinance comparable to one in Omaha that prohibits discrimination based on sexual orientation or gender identity. However, opponents of the ordinance received enough signatures on a petition that would either require repeal by the city council or require citizens to vote. The council never acted in the matter.
"Not having this kind of legal protection for gay and lesbian citizens is placing our community under scrutiny and puts Lincoln and surrounding areas at a disadvantage," said Carl Eskridge, a member of the Lincoln City Council, at a 12:30 p.m. press conference in the Capitol Rotunda before the vote to end debate failed. "We want the sign on Lincoln's front door to be open. In short, the sign on Lincoln's door cannot say 'open for business, but with exceptions.'"
After the cloture vote, the Human Rights Campaign sent out a press release condoning the legislators who supported the bill.
"Although we did not win today's battle to secure employment protection for LGBT Nebraskans, we commend the legislators who stood on the side of fairness," said HRC Legal Director Sarah Warbelow in the press release. "The majority of Nebraska's lawmakers sent a clear message that the LGBT community should be protected from discrimination under the law."
Some UNL students also spoke at the conference Monday. The University of Nebraska Board of Regents approved a plan to extend health coverage and benefits to domestic partners of its faculty and staff in June 2012, which was implemented a year later. NU's anti-discrimination policy also includes sexual orientation and gender identity.
"I want what everyone else here wants," said Taylor Brooks, a second year law student at UNL. "I want to go to work, and I want to be judged simply off of the work that I do. In less than a year, I will be starting my own career path, and I don't want that journey to begin in fear that it could end at any time just because of who I am, how I was born or who I might love."
news@
dailynebraskan.com
---
"It would be good to have that bill. Everyone deserves these rights."
Ali Cox, junior elementary education
"It's a good bill. You should never discriminate against anyone regardless of your feelings on the topic, it's wrong."
Taylor Noel, senior chemical engineering
"I think that's an important bill. No one deserves that in the workplace."
Luke Tobias, senior nutrition science
"Just coming from an ethnic studies matter, I think that it doesn't matter. It shouldn't matter if someone is straight or gay or lesbian or what their skin color is."
Danielle Swiatek, junior English
"Everyone has a different reason to be gay or lesbian, and I think it's bad to not give him a job for what he believes."
Ahmad Aboragah, graduate student animal sciences