Even though Nebraska Innovation Studio is closed to the public due to the coronavirus, its workers have found a way to help the community by assembling plastic face shields for Nebraska's healthcare workers.
In an effort to help combat the current shortage of personal protective equipment, Nebraska Innovation Studio is using machines like injection molders and die-cutting machines to make face shields for Nebraska medical facilities like Bryan Health and the University of Nebraska Medical Center.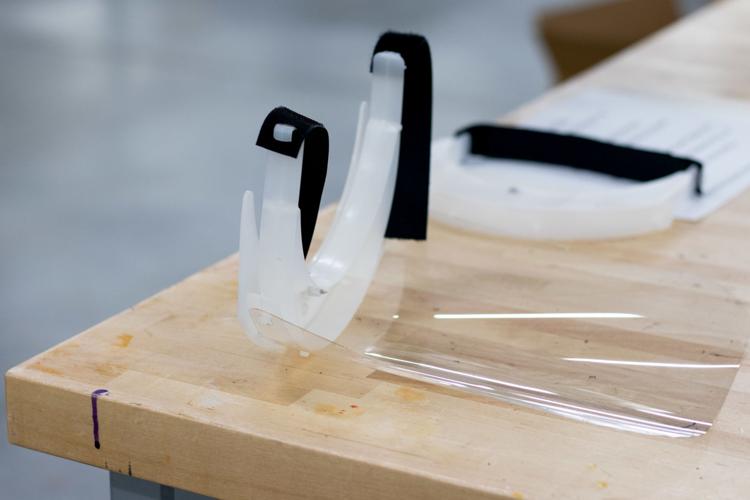 David Martin, director of Nebraska Innovation Studio, said the majority of volunteers work from 9 a.m. to 7 p.m. all week long. They have made more than 3,000 face shields, and their goal is 13,000. 
Along with making face shields, Nebraska Innovation Campus is making hand sanitizer at the Food Innovation Center, according to Nebraska Today.
According to Martin, local hospitals approached the team at NIC towards the end of March asking for help and they began planning. 
"We have a lot of people who really want to volunteer and want to be a part of the solution," he said. "People are aware that healthcare providers are on the frontlines of this and want to help protect them as much as possible."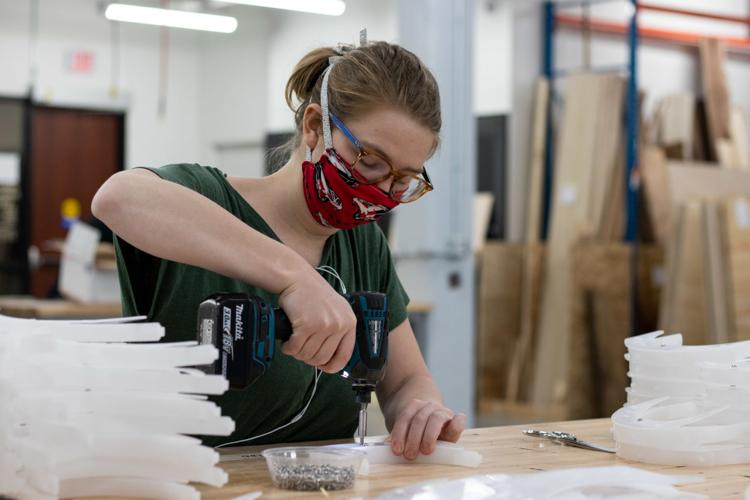 Max Wheeler, a shop instructional technician at Nebraska Innovation Studio, helped create the initial design and prototype of the face shields. He said he has seen the project through, and now he helps wherever he is needed, whether it's picking up or delivering parts, or jumping in at an empty station to assemble some of the shields. 
"Really this is a time for us to do what we normally do, but do it at full speed and do it for three weeks straight," he said.
The original prototype used 3D printed parts, but the process was taking too long. Martin said the team enlisted Ben Terry, an associate professor of mechanical and materials engineering, for help and began using Terry's injection molder to speed up the process.
Matthew Newman, a mechanical research engineer with the University of Nebraska, helped design the molds. Newman said the face shield is made of three parts: the plastic shield, visor and headband. Currently, the visor and headband are made with injection molding and the plastic shield is made with a die-cutting machine, where they take a big sheet of plastic and use a part similar to a big stamp to cut out multiple plastic shields, according to Newman. 
The injection molding machine runs at all times, and Newman said they have people constantly watching it to make sure it continues running.
"We've had a lot of people, a lot of companies, a lot of students … donating their time, donating equipment, donating materials," he said. "People appreciate the situation we're in and you just remind them of what it is and they're usually pretty cooperative."
Wheeler said the workers at Terry's lab, also known as the Terry Research Lab, have put an immense amount of time and effort into the face shields since the beginning. 
"These people in addition to working like, I think it was 100 hours over five or six days, they have been working literally around the clock on this machine," he said. "They are the ones that are doing a ton of work consistently and they are putting out some really good stuff, doing some really good work over there."
Wheeler said he keeps his energy up by using his free time to play Animal Crossing and bike, but mostly by remembering why they are doing this work. 
"All of it is just, what we're doing and what we need to be doing, it's important work," he said.