On the rainy afternoon of Monday, Sept. 9, model Iskra Lawrence could be found outside the Nebraska Union helping retail company Aerie's pop-up store employees make keychains. As customers wandered in, she reminded them to make a donation to the nonprofit Bright Pink if they hadn't already.
Without knowledge of Lawrence's 4.5 million Instagram followers or bodyguard nearby, those passing through would think she was an average person. That's the way she likes it. 
The University of Nebraska-Lincoln was Lawrence's fourth meet and greet in a month. Each year, she attends various dates of Aerie's university pop-in tour. Among customers, she's known as an #AerieREAL Role Model; however, she's also an activist, entrepreneur and ambassador for the National Eating Disorders Association. 
But when she's at a meet and greet, people see her and realize she's no different than them, which Lawrence said is her favorite part.
"My main aim is for people to see someone who has followers, who walks on red carpets, showing that they're completely normal," she said. "For me, that kind of breaks that illusion that for some reason you're not worthy or deserving."
Lawrence, 29, began modeling as a young teen and is quite familiar with the trials of comparison. According to her website, she's been told she's too big to be a straight-size model and too small to be a plus-size model. She struggled with eating disorders and body image issues before becoming an advocate for body positivity and diversity in the media.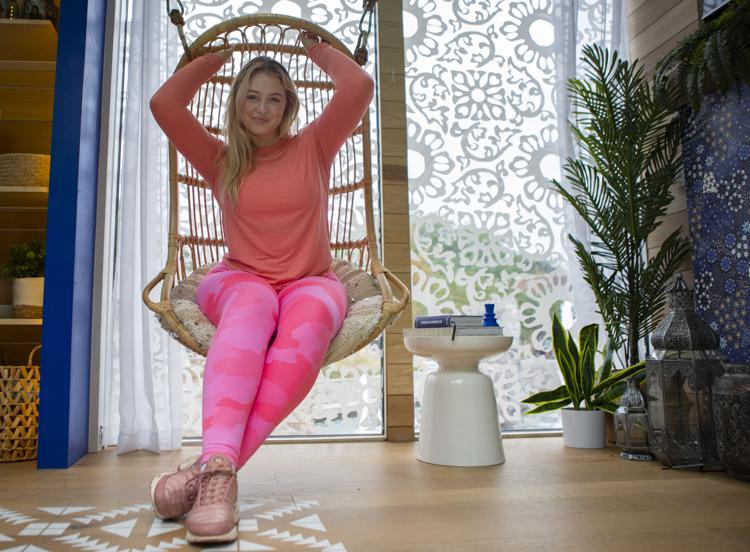 She said it's especially important to spread her message of self-love to college campuses, where students are figuring out who they are and are vulnerable to societal expectations.
"For me, college-age is where you are in the part of discovery of your life; you're figuring out who you want to be, what you want to do," she said. "Unfortunately, the beauty ideal has given people direction in what they should look like. So, at the same time, people are being bombarded with, 'This is who you need to be, this is what you need to look like.'"
Social media, she said, puts young people at an even greater risk of comparison.
"The algorithm, it pumps out the same kind of photos and imagery and accounts," she said. "So you can get trapped in that cycle of thinking, 'This is what success or beauty or happiness looks like, and my lifestyle or my looks don't match up to that.'"
For those wanting to be more body positive, Lawrence said there are three important places to start. First, she said, is using loving self-talk — and faking it in order to make it.
"Even if it feels inauthentic at the beginning because you might feel like you're lying … you kind of have to trick yourself," she said. "When you over and over again repeat an affirmation to yourself, or you write notes to yourself, it can, over time, slowly help you believe it and make it come true."
Secondly, Lawrence recommends a social media purge. Block, delete, avoid and unfollow any accounts that don't incite positivity, she said.
"There are so many great humans out there who you might relate to, who you might be inspired by, who are educating — they're all out there," she said. "Sometimes you have to search for them because, unfortunately, the algorithm will generally feed you what everyone else is also viewing. You can get sucked into that, so you really have to take the initiative."
Lastly, Lawrence said, it's important for people to reevaluate what circles they choose to run in. 
"It's okay to be alone," she said. "If you literally need to step away from all of your friends because they're toxic or they're feeding into negative body image or bullying each other and bullying themselves, you can just say, 'I need some self-love right now, this environment for me is toxic and not loving, so I'm going to step away.'"
Lawrence said she remembers the pressure of being 19 years old and not having her life figured out. Ten years later, she wishes she had known how much time she had.
"In ways, parts of my career are only just beginning, [and] that's because it's grown and developed," she said. "Any door, even if it's not opened, I'm pushing through or finding the right way to get in there. You really have just got to keep following, keep creating, keep finding new directions, and that can reinvigorate you. You've got plenty of time."
If you or a friend is struggling with your relationship with food, visit the National Eating Disorder Association.