Bing Bing Li trekked all night through the rain to get from Utica to Seward during the last weekend of September on his way to spread his message of unconditional love to Lincoln and the University of Nebraska-Lincoln just days later.
Li said he has been walking across the United States since Nov. 28, 2016, to spread his message of true, unconditional love to all. He said his goal is to walk across the entire world in 30 years.
"I believe [the message of love] is what was already within me," Li said. "And I believe the same thing is always within everybody."
On Tuesday, Oct. 1, Li arrived in Lincoln around 5:30 a.m. Each day for three days, he stood outside the Nebraska Union by the Broyhill Fountain with a cart that read "equal and unconditional love for all our fellow creatures across all space/time/matter/energy is the only way (out of the human misery)."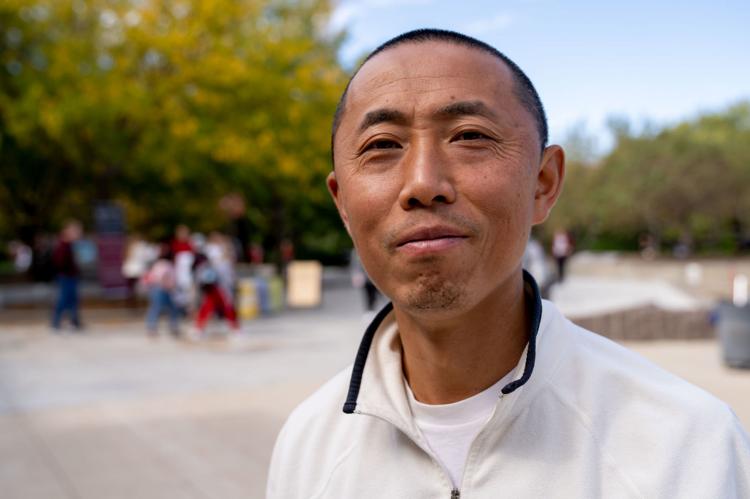 Li periodically shook maracas to encourage students to inquire about why he was on campus and shared his message with anyone who would listen. He said he visits universities because he believes knowledge is the core of the modern world and drives today's economy and society.
While some students passed Li by, others spoke with him to learn more about his cause. Paul Stephens, a senior marketing major, said he thinks Li's cause is awesome and great for the world.
"He's just spreading love and just wants human peace," Stephens said. "I respect a guy like him who just gives out love."
Li said he tries to visit as many universities as possible because university students want a future, become the future and are an integral part of the future. UNL marks about 50 universities visited. His next destination is Omaha, where he will spend about a week in the city including two or three days at the University of Nebraska Omaha. Li said it'll take him about three days to get there from Lincoln.
The main point of Li's message is to treat all living things with unconditional love, and his top priorities are downsizing, simplifying and choosing less instead of more, he said.
"[I believe in] no discrimination of any kind against any person of any certain race, cultural background or any other living thing — no matter who or what it is," he said. "We should treat all lives as our equals."
According to Li, his heart was overwhelmingly full of love and he decided he needed to share his epiphany in January 2015. By April, he was spreading his message around Vancouver, where he lived at the time. Then, he said he received the validation that he could spread his message to the world.
"It was exactly a year after that; I got up in my tent in a big park in Vancouver right on the shore," he said. "That morning, I heard the birds chirping in the trees, the wind going through the trees, the waves crashing on the shore. And on that part of the cliff atop which I camped that night, I found all that sound was talking to me. And Mother Nature told me, 'You can do this.'"
Li said he began preparing to travel to the United States, and, in mid-August 2016, he entered the country. In November, he ventured down the West Coast, traveling from Seattle to San Diego and then west to major cities like Salt Lake City and Denver.
Li said he always finds a way to keep moving forward and has been able to count on the kindness of others who have helped him share his message.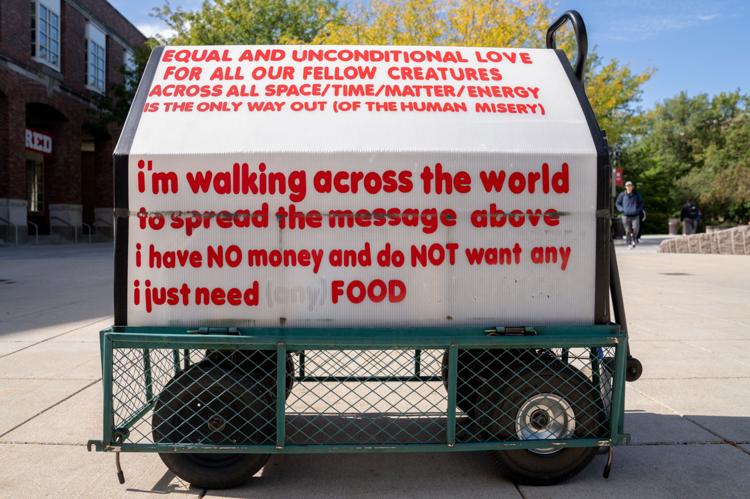 Li said he only asks for what he needs to survive, like food and shelter during tough weather. He said he doesn't accept rides because he feels automobiles, having been created by humans with money, only defy his message. Li believes he can better live out his message without money, having now lived for almost three years without it, and said he wants to live the rest of his life this way.
"Money is the most powerful, most efficient tool for humanity, for loving yourself as much as possible," he said. "Even though you can use the money for good, this money is coming from your purpose, not from doing good, but for loving yourself as much as possible. And that makes money the worst mistake."
When he eventually crosses oceans to visit other continents, he said he will only depend on sailboats and wind power.
Nature, Li said, has always been there for him, and he feels that he can rely on it when he needs inspiration.
"I feel nature," he said. "A bird, a tree, a mountain, a creek. That's what gives me the most influence to give me the most drive to keep going forward. To do this."
After Omaha, Li said he hopes to make it to Chicago by December 2019 where he will spend the winter in the city before continuing his journey east to Boston by October 2020. He will then make his way down the East Coast before traveling to South America.
"Let's save the world together," he said. "With equal and unconditional love for all living things, we start with ourselves and spread it out. We'll all be better off."