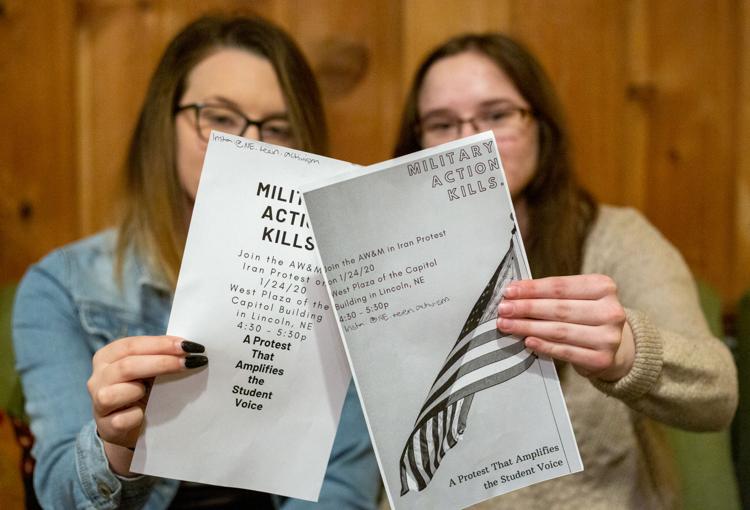 A Lincoln high school student is addressing rising tensions between the United States and Iran by organizing a student led event protesting any U.S Military action in Iran.
On Friday at 4:30 p.m. at the Lincoln Capitol West Plaza, Lincoln Southwest High School junior Anna Synya will protest against military action in Iran to give a voice to the youth of America and to deliver the message that military action kills. Synya said this protest is important to her because it enables her to speak out and protest something that she thinks is wrong.
"Military action in the Middle East is something that people my age in high school never really had to think about, but most recently we started paying attention to it and it started actually affecting us," she said. "Since I can't vote now, this protest is the only way I can really be heard by my legislature."
The idea for the protest first started when she saw a similar protest happening in Omaha. She couldn't attend so she snapchatted her friend, Lincoln Southwest High School junior Emma Drought, with the idea to organize their own protest. Drought was on board.
After that, they started a Snapchat group chat and about 30 local high school students joined who were interested in attending the protest. Other adults and parents have also expressed an interest in participating.
Drought said she hopes the protest will encourage people to question the effects military action can have on Americans, especially the civilians that have enlisted and are being sent over to fight.
"I think the most important thing is definitely just for them [people who witness the protest] to be thinking about, why is this bad? What will this do? What are the effects of it? And just recognizing the damaging effects that war can have," Drought said.
Since the protest is mostly run by students, Synya said she also wants to convey that the youth in Nebraska are passionate about what is happening in the world, and are passionate about fighting and advocating for peace. She said she hopes the protest will display those ideals as she and the other protesters stand up for what they believe in.
"I want people to know that the youth in Lincoln care about what happens," Synya said. "Regardless if it's for the policy or against the policy, the youth in Lincoln are politically active and care about the now." 
Synya thinks the protest will also help the students who participate become more actively involved with their community.
"This will be a way for students to be active in the community and a lot of them for the first time," she said. "Getting that involvement with a topic that is severely important to teenagers is important."