"Bones, bones, bones," Kim Jorgensen said as she read a storybook to three children and their caregivers, surrounded by bones and fossils, at Morrill Hall on Thursday, Oct. 3.
The event was part of Lincoln City Libraries' Pop In Storytime series. Jorgensen, a library service associate, read six storybooks to children, who also got to sing and dance to three songs related to bones and fossils, try on a skeleton costume and create their own craft skeleton by gluing paper and cotton swabs to black construction paper.
Lincoln City Libraries holds Pop In storytime at Morrill Hall on the first Thursday of every month, according to the University of Nebraska State Museum website. The stories and activities are planned for children between the ages of three and five years old, but all are welcome.
Pop In Storytimes are supported by Read Aloud Lincoln, an initiative to spread awareness to parents and caregivers that reading aloud to children for 15 minutes daily from birth to age 8 can help them become more successful in both school and life, according to the initiative's website.
The University of Nebraska State Museum is a founding member of Read Aloud Lincoln, according to Caroline Clements, the museum's public relations coordinator. She said science has shown that reading aloud to children helps improve their literacy, cognitive understanding and language skills. 
Read Aloud Lincoln's primary goal, according to its website, is to have every child ready to read by kindergarten.
Clements said each storytime is hosted in one of the museum's exhibits, with stories that tie into the exhibit's theme. She said hosting storytimes in the exhibits helps enhance the topic and allows for additional engagement.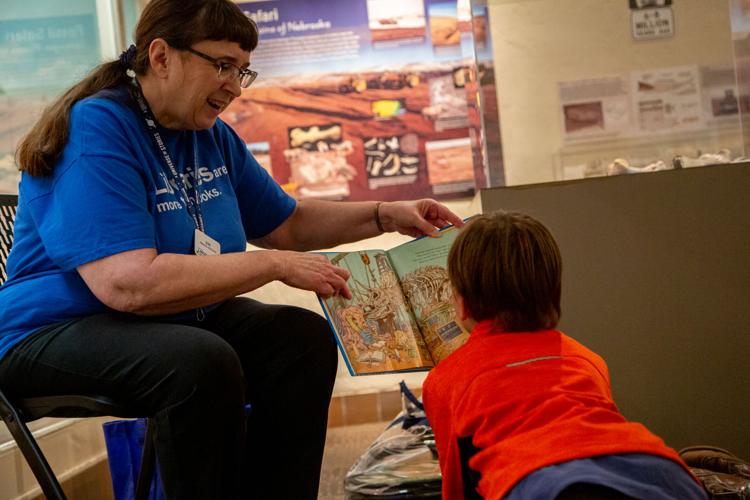 "Our hope is that Pop In Storytime will benefit children's literary growth, while also stimulating their curiosity in the world around them," Clements said in an email. 
Clements said storytimes are typically well-received by museum members and other families in the community. She said several families make a point to attend each month.
Kathleen Ousey said she and her two sons enjoy storytime with Jorgensen and spending time in the museum. One of Ousey's sons, Graydon, said he had fun at storytime because he liked making the skeleton craft. 
When asked what his favorite storybook was, Graydon said he enjoyed all of them.
"It's our first-Thursday-of-the-month tradition," Kathleen said. "We moved here from California a couple of years ago, and we just like having storytimes to go to. We love Morrill Hall."