The housing and facilities staff at the University of Nebraska-Lincoln are putting finishing touches on the long-awaited cafe in the Robert E. Knoll Residential Center.
Patrice McMahon, director of the UNL Honors Program, said the staff at Knoll is still waiting on sinks and display cases for the new cafe, which has been in the works since last spring. The additional equipment should arrive before Nov. 1, but there's no set opening date or name for the cafe, yet, according to Larry Shippen, associate director of UNL Facilities Operations. 
Along with the cafe, the Honors Program's renovation project will feature three new classrooms and a kitchen for commuter students, according to Nebraska Today. The building will also feature new security precautions. 
The Honors Program staff and students are working with University Dining Services to name the cafe, Shippen said.
McMahon said she came up with the idea for the cafe after trying to figure out how to make Knoll's pavilion a destination for students. She said it's important for students to have a space where they can relax and hang out.
The cafe will feature sushi, salads and treats from local bakery Goldenrod Pastries, McMahon said. She said students wanted local and fresh food options. 
The cafe construction and other building renovations raised a need to install doors between the corridors in Knoll, according to Larry Shippen.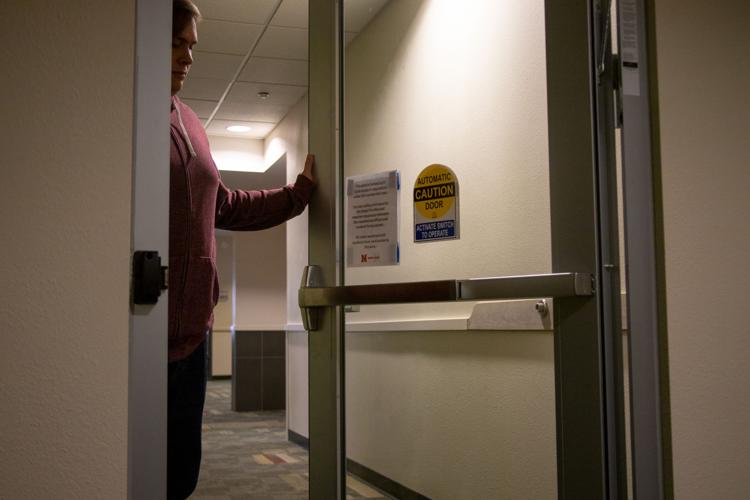 Three doors were installed in the corridors, Shippen said. He said one is in the south corridor of the first floor and two are on the second floor  in the north and south corridors leading to the student suites.
"This mixed occupancy — residential and commercial — residing in the same building requires separation as defined in the [codes] that are enforced by the UNL fire marshals representative," he said in an email. "The codes determine building separation based on occupancy and use."
McMahon said the corridor doors were also installed for security purposes. She said the staff's top priority is to keep students safe, and they have run into instances where individuals that don't live in the residential center are wandering around and approaching students.
"Because we'll have this cafe, this public space, we cannot allow anybody to walk up to where students are living," she said. "We can't protect students from life and the world, but if you're living somewhere, we want to make sure that someone from the street can't just walk in and bother students."
McMahon said she hopes the renovations makes Knoll a safe and fun place for students, staff and the Lincoln community.
"As we're thinking about N150 and the celebration of 150 years, I think what we all realize is that we started the institution for students," she said. "We want to provide them with spaces where they can study, hang out and find community."