Home football Saturdays at Memorial Stadium are usually cause for celebration, but Saturday's 28-3 victory over the Buffalo Bulls was also a day for reflection on the 20th anniversary of the Sept. 11, 2001 terrorist attacks. 
During the playing of the national anthem, a massive flag in the shape of the United States was unfurled across the field. A military flyover with a flight crew of combined forces piloting a KC-135 tanker and three F-16 fighter jets punctuated the end of the song. 
Early in the first quarter, University of Nebraska President Ted Carter and University of Nebraska-Lincoln Chancellor Ronnie Green presented Honor and Remember flags to the families of fallen Army Sgt. Jessica Jackson and Investigator Mario Herrera of the Lincoln Police Department. 
Husker Nation - join us in honoring these two Nebraska fallen heroes for their selfless service:

Lincoln Police Investigator - Mario Herrera

Lincoln native, Army Sergeant - Jessica Jackson pic.twitter.com/Nnva7yRoQI

— Nebraska Huskers (@Huskers) September 11, 2021
Honor and Remember flags are presented to families of fallen veterans and first responders by a company of the same name that works to tell their stories and commemorate their lives. 
Jackson served in Afghanistan disabling improvised explosive devices with military police in the hope that military service might prepare her to eventually serve with LPD, according to an announcement made during the ceremony. She participated in nearly 250 missions helping to locate and disable thousands of IEDs, and she was once trapped with other troops after an IED exploded beneath their vehicle.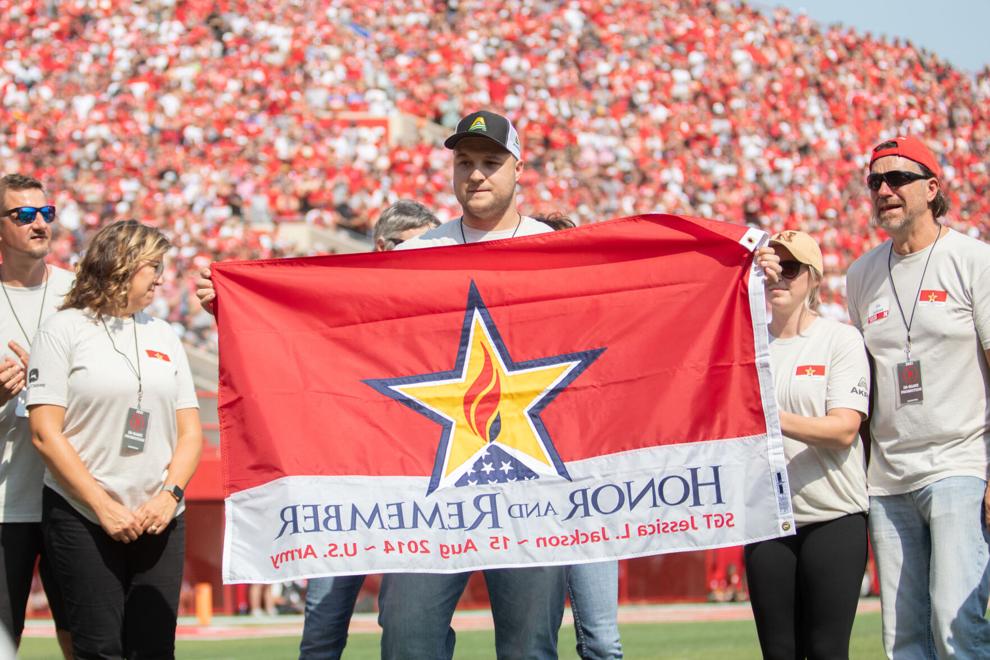 In 2014, Jackson succumbed to her battle with PTSD, according to the announcement. Jackson's brother, Justin, a former offensive lineman for the Huskers, accepted the flag from Carter as other members of their family stood on the field. 
Herrera served as an investigator and Spanish interpreter for LPD beginning in 1997, the announcement said, where helping families through difficult situations was his strength. 
On Aug. 26, 2020, Herrera was struck by a bullet in the line of duty while serving a warrant and eventually died from his injuries. Herrera's son, Carlos, who now serves with LPD, accepted the flag from Green. Herrera's wife and three daughters were also present on the field. 
Football head coach Scott Frost also presented the family of Marine Cpl. Daegan Page of Omaha with a Husker jersey after he and 12 other service members were killed on Aug. 26, 2021, in Afghanistan.
Carter, a retired vice admiral in the United States Navy with 38 years of military service, released a statement Friday on the impact of 9/11 and shared his personal memories about the day.
"Twenty years later, 9/11 is still very much with us," Carter said in the statement. "Not only in the memories of those who paid the ultimate sacrifice, including many of Nebraska's own, but also in the ways that so many of us live and work."