Many Husker fans camped in front of the University of Nebraska-Lincoln's Memorial Stadium to participate in ESPN's College GameDay.
Fans arrived on Friday, Sept. 27, to wait in line for the pregame show in Lincoln on Saturday, Sept. 28, before the Huskers against the Ohio State University Buckeyes.
This is UNL's seventh time hosting College GameDay and the first time since 2007. Several UNL students said they wanted to campout so they could attend the show, which they said is a once in a lifetime opportunity.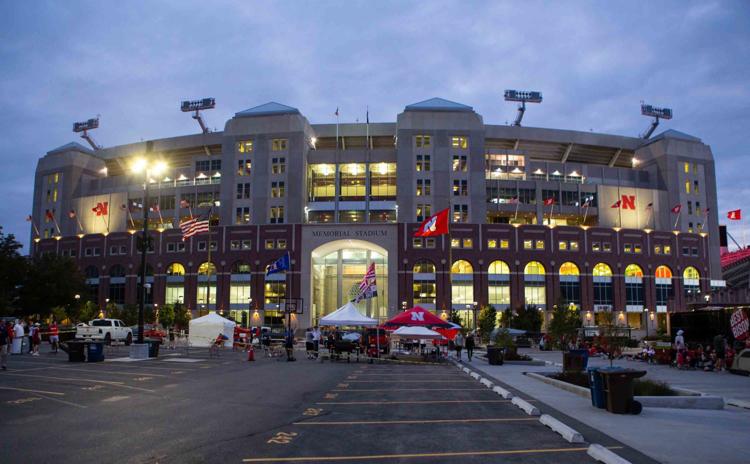 Some fans, like freshman finance major Grant Gubbels, arrived at 10:30 a.m. Gubbels said he came early because he didn't want to miss the opportunity to see the hosts in person.
"It's really cool being a part of something you've always grown up watching," he said.
Senior computer science Ryan Chadwick said he and his friend brought reclining lawn chairs to sleep in along with sleeping bags and blankets that their friends will pick up from them before the show begins at 8 a.m. 
The Nebraska Alumni Association brought pizza and hotdogs for the campers, which served as Chadwick's dinner, along with PB&J sandwiches that he packed.
A few campers brought tents for their overnight stay in the parking lot. Among them, junior accounting major Kyle Soderstrom set up a tent in case it rained later Friday evening. 
"Not sure what we're going to do with the tent afterwards," Soderstrom said. "I doubt they'll let us bring it in. I guess it's probably trash, but it's worth it."
Peyton Holubeck, a freshman journalism major, also camped out with her friends. She said they originally planned on renting two three-person tents but were told tents are not permitted, so they instead brought pillows, blankets and an air mattress.
Holubeck said she made a sign raising awareness for childhood cancer because she is a childhood cancer survivor and September is Childhood Cancer Awareness Month.
"It's very near to my heart and very important," she said.
A few Husker fans brought their school work to the campout, including sophomore chemical engineering major Melicia Robles.
"[I'm doing homework because] I'm not going to have time to do it," Robles said. "I'm going to sleep all day Sunday."
Robles said her and her roommate's strategy for camping out included energy drinks, snacks and playing board games.
Chadwick and Soderstrom said the pregame show coming to Lincoln is special from a fan standpoint because he believes it means Nebraska's football team has improved. 
"The whole country better get ready for us," he said. "It might not be this year, but soon."