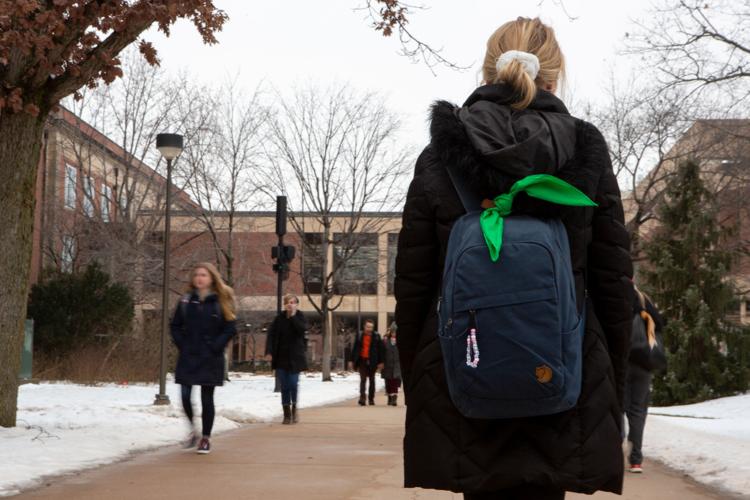 University of Nebraska-Lincoln students often sport red, but recently some have embraced the color green, tying cloth to their backpacks and wrists to support a cause.
During the men's basketball game against Michigan on Tuesday night, the Association of Students of the University of Nebraska kicked off a new campaign, the Green Bandana Project, as an effort to spread awareness of mental health resources.
According to ASUN internal vice president and junior journalism and political science double major Jared Long, the discussion around mental health has been prevalent at UNL since his freshman year, and due to other campaigns he's seen across campus, he's wanted to become more involved.
"It's something I just naturally became passionate about as a Husker," he said. "I think being a Husker means being a compassionate person willing to support your peers."
First launched at the University of Wisconsin-Madison in 2016, the project aims to spread awareness of mental health resources on campus by distributing green bandanas and resource cards to students. 
Long said students are encouraged to tie the bandanas on their backpacks or other personal items to show they are an ally, and someone that other students can come to if they need help.
"[The bandana] is to signify that they are holding a resource card that can connect students to resources on campus if a student happens to be experiencing mental health concerns," he said. "A person with a green bandana is a safe person to approach."
Senior accounting and management double major and gymnast Sierra Hassel said she first found out about the campaign when she was at a Student-Athlete Advisory Committee meeting with other Big Ten schools. Hassel said the campaign has been successful at Wisconsin, and she said she believed UNL could benefit from the project.
"I really liked the campaign because it isn't just a one-day event of awareness," she said. "Having the bandanas tied to the backpacks across campus can continue having an impact and spark conversation for a long time to come."
At the basketball game Tuesday night, student athletes walked around the student section and handed out green bandanas and resource cards containing information about different mental health resources at UNL, such as Counseling and Psychological Services and Big Red Resilience and Well-Being.
Hassel said the event at the basketball game went really well, and she was excited to see how many students had heard about the project and showed up to participate.
"It was a great start in getting a diverse group of students from campus involved and starting the conversation," she said.
On Wednesday, student athletes, members of ASUN, Out of the Darkness UNL and others handed out bandanas at booths set up in the Nebraska Union, Campus Recreation, the Recreation and Wellness Center and the Howard L. Hawks Hall as the second part of their kick off event. 
After the two-day kickoff, Long said there will eventually be permanent booths located around campus where students who did not receive a bandana can pick one up and become part of the movement.
Junior international business and Spanish double major Megan Dill visited the event after she heard about it through her roommate. Dill said the project is a smart way to raise awareness and show support of mental health. 
"It shows that there's people who care, and even if you aren't struggling with mental illness yourself, maybe someone walking around campus is, and they see you're supporting them from the bandana," she said. 
Senior advertising and public relations and child, youth and family studies double major Morgan Wallace decided to pick up a bandana after she heard about the project via social media posts. After learning more about the project through a Nebraska Today article, Wallace said she hopes the project will have a positive influence on how mental health is viewed here at the university.
"As someone who receives mental health treatment, this project is incredibly important to me," she said. "My hope for the Green Bandana Project is that the conversation about mental health at UNL will become constructive and considerate, instead of shameful."
Hassel said she hopes the campaign will not only help start a conversation around mental health but also show students they have support when they need to reach out and ask for help.
"When you tie a bandana to your backpack and take [a] resource card, you are saying that you are an ally toward mental health," she said. "I hope that students take action and do reach out to the resources provided, bettering their mental health and well-being."
Hassel said mental health is not communicated enough on college campuses, and she hopes projects like these can help build an environment where mental health is normalized and where students who are struggling can find help and support.
"College is a big life transition that comes with many changes," she said. "And on a campus as big as ours, no one should ever feel alone."